Investby Forex Broker – How Reliable Is It To Trade
Investing and Forex brokers are almost everywhere, however, not all of them are legitimate and for someone willing to start their trading journey, they are most likely searching for the most trusted platform where they can safely deposit their money, and confidently trade in their favorite market.
We will be reviewing Investby forex and crypto broker, which have lately made their way to the international forex and investing world, we will be reviewing Investby opinions and analyze if is trustworthy.
Starting from the most important feature that every trader is seeking in a broker, is the broker registry and license, and in this regard, Investby is a registered brokerage that works under the mother company TechFC LLC.
This broker offers more than 350 tradable assets that traders can choose from, leverage is maximum 1:500 and 0.03 maximum spread, there are no deposit charges and withdrawal charges are quite straightforward without any hidden charges, while trades take place either on the WebTrader or Metatrader 4.
The website is sophistically designed, in a user-friendly manner, where all the tabs and navigation bar are meaningful with no dull tabs or overcrowding on the surface.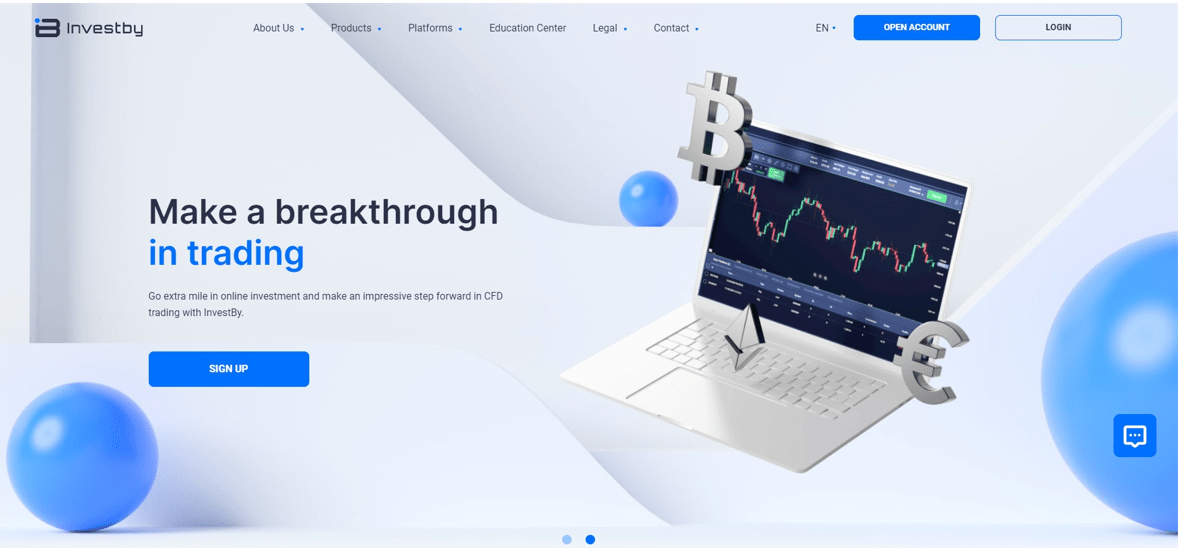 Is It Safe To Trade With Investby?
Investby pays special attention to keep a secure environment where traders put their money, for that, it is regulated by a legislative body which is probably one of the hight sorts of security for a trader and it makes sure to act in accordance. Investby is a brand company of TechFX LLC, which is regulated by the National Bank of the Republic of Belarus, with a registered license disclosed on the website of the broker, which makes it held accountable if any fraudulent activity is susceptible, given that, performing any scam is not in their favor.
Investby publishes all legal documentation on their website, which most brokers fail to provide, giving a huge advantage for Investby over any other broker to run legal investing activity and international transactions, making it a very appealing platform to trade and earn real money, with real brokers, unlike
A trader can also find agreement and deposit declaration that any viewer is strongly advised to review and analyze beforehand.
Starting Your Trading Account
The signup process is very simple, almost the same as any other broker, the trader starts by entering the personal information, followed by few questions that reflect the interest of the trader, so that brokers can better under the needs of the traders on the website, and what is the traders' experience, which facilitates the way of communication between both sides.
Additional verification includes submission of proof of identity and a utility bill is also required, in order to verify the identity of the person in terms of background, and age restriction, as well as the credibility of the trader before any trade starts.
Traders can choose from 3 types of accounts (Silver – Gold – Platinum) to begin with, and each account features a different spread, different maximum leverage, and swap discount, while all three of them have no deposit commission. The trader chooses their preferable account type based on the first deposit they would like to make, and their level of expertise as well.
In addition, Investby Crypto Broker involves every type of trader by offering an Islamic Trading Account, which is preferred by some traders who like to trade in accordance with their personal beliefs. Investby respects the differences in the traders cultural and social backgrounds, therefore, the Islamic Trading account yields no income from accumulated interest rates, and they also do not incur any additional charges for interests payments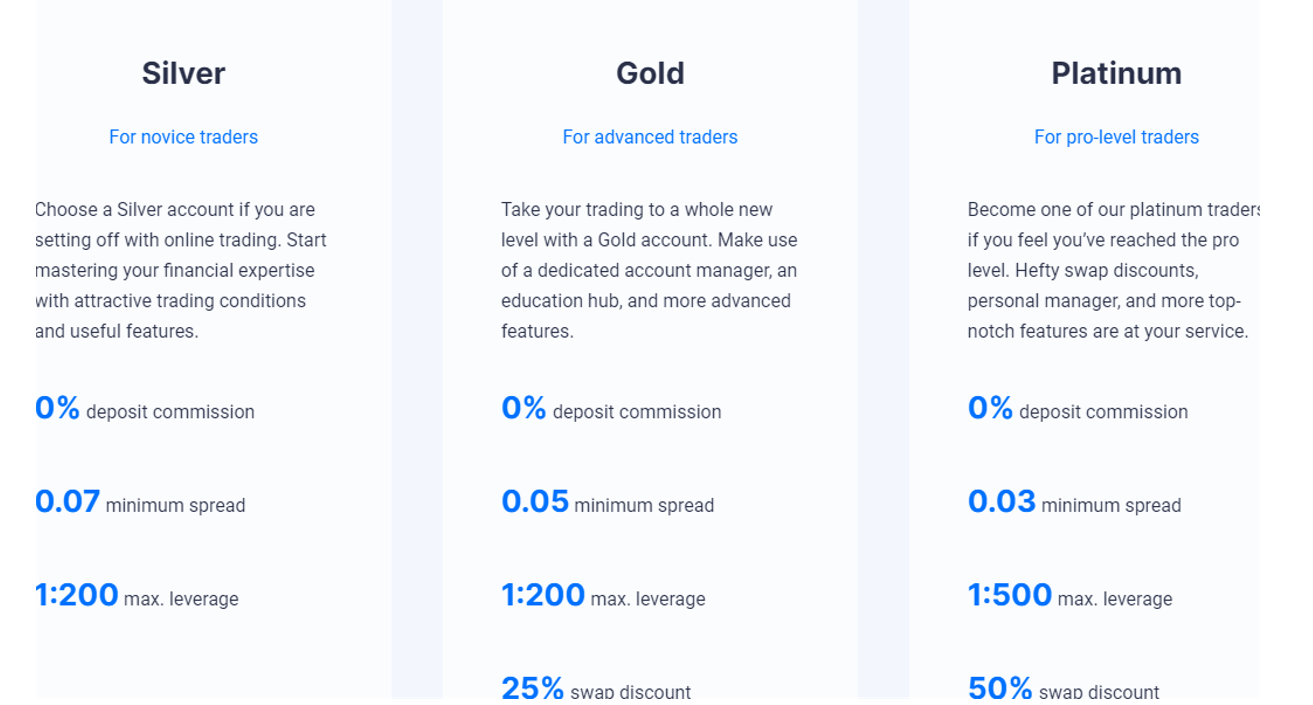 Pay & Withdraw
Funding your trading account can be easily done, Investby accepts any type of payment method, traders can use their Mastercard, Visa card, e-wallet, and wire transfer to add funds to their trading capital without any deposits commission regardless of the account type, with an instant effect so that a trader does not waste their time waiting for the funds to arrive at their account
Withdrawing from your account is similarly done, however, it has an extended instruction that is demonstrated in the well-explained file attached to the website, traders have to follow the guideline explained in the website which is designed to rule out any doubt of money laundering or fraud that might affect Investby review.
If a trader requests a wire transfer withdrawal of an amount less than 50 EUR, the broker will charge a processing fee of 25 EUR which is typically paid by the broker to the bank to process the transaction. Withdraws typically take 7 business days of the processing period.
Broker Fees
Investby Crypto broker makes sure to keep all the data regarding payments and fees as much clear as possible, unlike other brokers that claim there take no commission fees and no service fees, which is quite impossible for a broker not to charge any sort of fees – otherwise, how are they making money – Investby states it clearly that there are certain fees that traders are charged for, which are under two types:
Trading fees
These are the fees that the broker charge for an exchange of direct service, usually associated with completing deals and opening new trade positions.
Spreads are one of the ways the broker makes their money, and that is the difference between the bid and the asking price of exchange rates which is 28 pips maximum for the broker. In addition to that, they charge rollover swaps for overnight trades on Forex CFDs, and that is calculated differently according to the type of currency traded and the amount traded in that currency.
Non-trading fees
These are fees that are charged without any direct activity, such as maintaining an account, keeping the account running, and withdrawing fees.
Maintenance fees for inactive accounts take place according to how many days the account is in this state, starting from 61 days that are charged 160 EUR, and on a maximum inactivity period of +331 days will be chargeable 500 EUR. Besides that, withdrawal fees take place only if a trader requests a wire transfer withdrawal for an amount less than 50 EUR, for which a withdrawal processing fee of 25 EUR is chargeable.
What Can Traders Trade With
Investby Forex broker incorporates more than 350 assets that can be traded with almost no limits on how many openings can a trader have, which is considered the broker most important advantage, the main financial tradable markets are:
Forex
Cryptocurrency
Stocks
Commodities
Indices
Forex
+45 currency pairs can be traded. the maximum leverage is 1:500
Investby enables its traders to access the largest financial market around the world with $5 trillion traded daily, where different currency pairs can be traded. The sophisticated tools incorporated in the WebTraded help the trader identify current trends and anticipate the upcoming moves, based on which, traders can make their trading decision.
Cryptocurrency
+30 Cryptocurrency pairs can be traded. The maximum leverage is 1:2
The most trending type of trades nowadays, probably due to the huge volatility associated with this type of trades, is considered risky but highly profitable, which makes it appealing for a lot of traders.
Stocks
+30 tradable stocks. Maximum leverage is 1:10.
Classic and rich with tradable assets, traders can use corporations' published shares to trade and gain huge revenues, such trade is highly reliant on trader's understanding of current market events, and the influence of the stocks market.
Commodities
+20 commodities are offered for trade. Maximum leverage is 1:125
Commodities such as oil, crude oil, and coffee beans are probably one of the oldest traded commodities, which have developed so much into one of the most traded markets today, and to excel at such market, one needs to realize the influence of every other market on the prices of the different commodities
Indices
+15 tradable indices are available. Maximum leverage is 1:125
Trading with indices is one type of financial market, where traders keep their eye on a group of stocks, which are identified as an index, to analyze the whole index direction, such groups are huge and compile one of the biggest corporations in all the industries, such as NASDAQ and S&P 500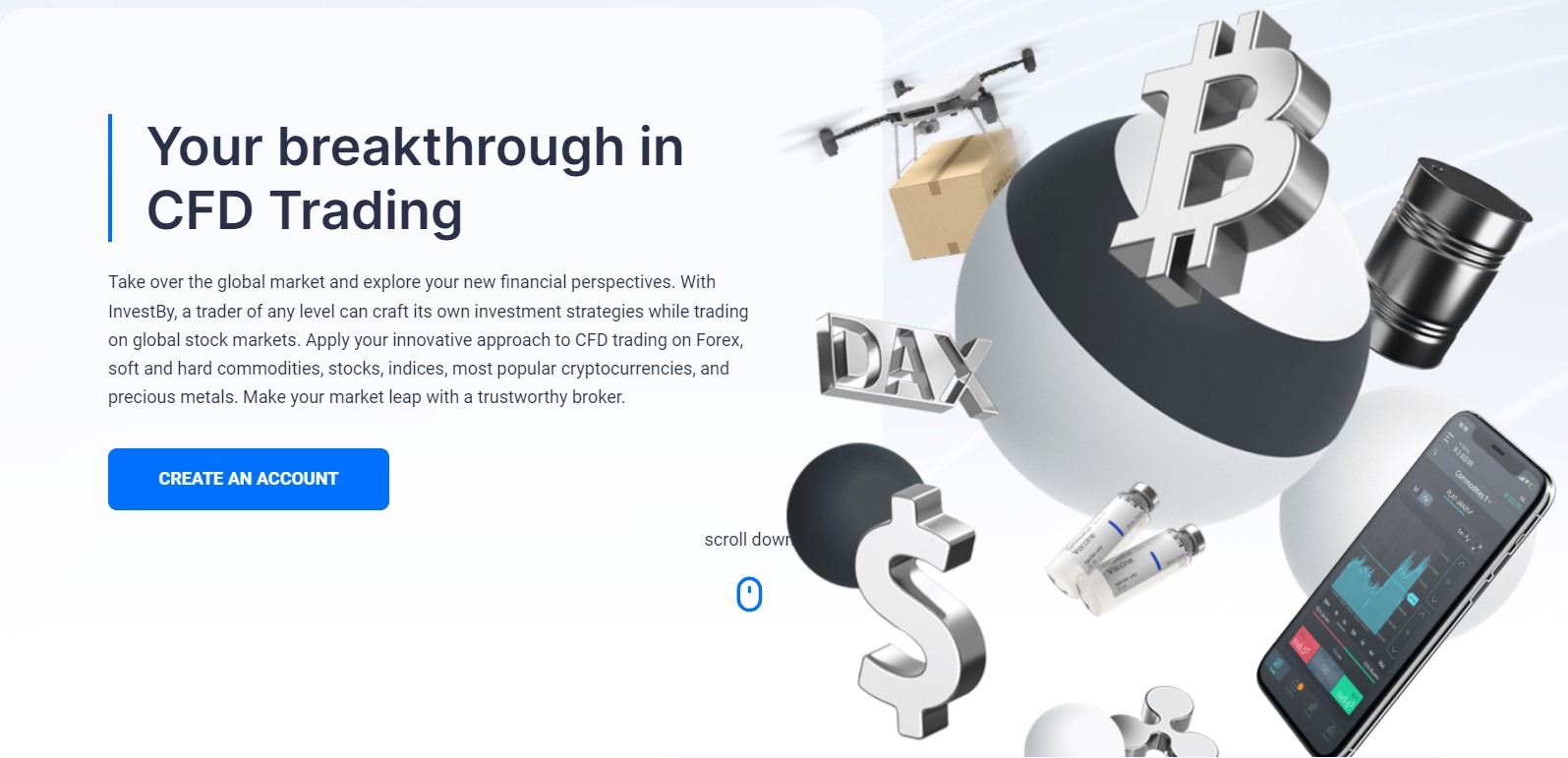 Bonuses
Investby has few types of bonuses or promotions offered for traders, only gold and platinum account holders can enjoy 25% and 50% respectively, discount on swap options, which means that brokers will be giving away fewer commission fees on exchange rates, and enjoying more returns on their trades.
Probably coming from Investby perspective that they need to pay more attention to real trading activities, as overloading the trader with lots of promotions and awards might take away from the brokers' credibility making it quite suspicious about the authenticity of these prizes.
Trading Platform
Investby offers its traders a flexible trading ability, traders can use the most commonly used trading software Metatrader 4, which is used worldwide, and it really makes Investby a legit company, since the MT4 trading platform does not partner with any company or broker that is suspicious, it only partners with brokers that are accredited and trustworthy.
Besides that, traders have the option to trade through the website built-in WebTrader, which is really a sophisticated tool that is developed by the broker which is easy to use, you can trade with any asset with it, have a live movement of the tradable assets, as well as the ability to mark few assets as favorite to keep a closer eye on the preferred trading instruments.
The website's visitors can take a glance at this WebTrader as it provides direct access for anyone who would like to see how it looks before they signup for it, a visitor is only a click away from entering the WebTrader, navigate around, and try open some trading positions to see how this smartly incorporated platform works.
The WebTrader is usable either on the desktop or on the mobile phone application, the application is quite similar to the desktop one, there are no differences and no limits. A trader can download the application from App Store or Google Play and overwatch their trades on the go.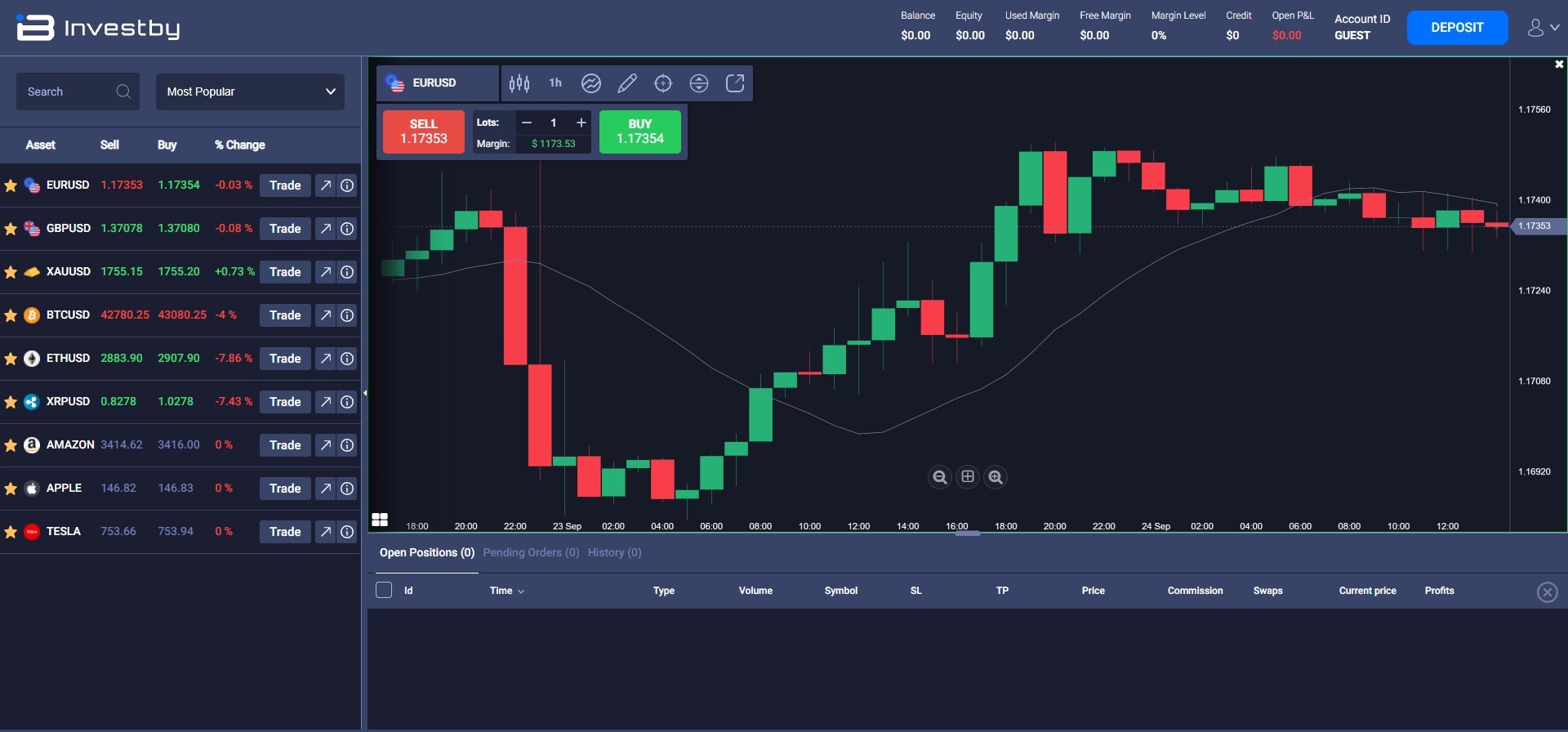 Education Hub
Investby rating is really influenced by the way the website interacts with its traders, which is well handled from the broker's side, a legitimate broker is the one that does not only facilitate trades for their customers, but they educate their customer on how to trade and what is needed beforehand, the education hub tab in the website is a really great tool for any trader, beginner or professional to enrich their information about trades and markets, it provides PDF files, reports, markets' reviews, recommendations and advices by top traders that can be followed, only to add a unique service to the traders.
Customer Support and Communication
The two-way communication established on the website is quite sufficient, you can always find someone to answer your question with the live support channel, where you can be directly linked with an agent that can swiftly get your query, have a response to it, or give you an update of your concerns.
Other ways of communication represented in the easy query application if you would like to send a question without waiting for any support agent on the live channel, sending an email to a specific support email address, calling on the telephone number provided which is very unique since most brokers do not receive calls on their numbers.
Investby takes advantage of its existence on different social medial platforms such as Facebook, Instagram, and Twitter to share updates and link with its traders about any news and updates regarding the platform and regarding a promotion the broker might be soon holding, there is also a dedicated announcement tab in the website, where they share important updates concerning the usage of the website, and regarding any privacy policy that is crucial for the customers.
In Conclusion
Investby strives to provide all the tools for its users to have a secure and safe platform for trading, something that most brokers fail to deliver, the fact of being regulated by an active license that is registered in a legitimate governing body that is The National Bank of The Republic of Belarus, make the users confident that there are no illicit activities undertaken by the website, otherwise, no national bank would like to sponsor such an activity.
The flexibility in choosing from more than 350 tradable assets does really pave a way for any trader to kick-off their trades on the website, regardless of the experience, everyone will have the tools to make successful trades, using the built-in WebTrader, as well as the well-known MT4
Traders are not left alone on the website, as they are always accompanied by the brokers who are giving ongoing updates regarding any trade, and providing clear regulations about payables and receivables for a trader, making Investby a favorite place for all traders.