It can get tedious for money managers to execute individual trades for each of their clients. And it is practically impossible to execute an identical trade for all managed forex accounts given the speed at which the forex market moves. This is where additional tools and software plugins like multi account manager (MAM), percentage allocation management module (PAMM) and lot allocation management module (LAMM) come in handy.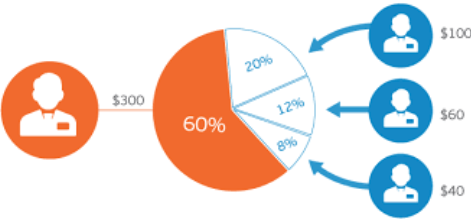 Multi Account Manager (MAM)
Multi Account Manager is a software tool which can be integrated as a plugin with any trading platform like Metatrader. MAM allows the money manager to replicate a particular trade across multiple managed forex accounts with a single click. It doesn't matter whether the trades are being carried out manually or by an expert advisor (EA). Any action taken on the master account will be replicated across all the designated client accounts. Further, a multi account manager allows money managers to automatically receive a share of the clients' profits depending on the agreement with the clients.
While the trade (buy or sell) is uniformly applied across client accounts, there are different ways in which the quantity or the lot size can be decided for each account. LAMM and PAMM are two common methods of deciding the lot size which the clients' accounts trade.
Lot Allocation Management Module (LAMM)
In a Lot Allocation Management Module trading system, the customers' accounts trade the same lot size as the money manager's account regardless of the size of the clients' accounts. This can be fine when the sizes of the clients' accounts are identical to the size of the money manager's account. However, when the clients' managed forex accounts are significantly larger or smaller than the money manager's account, this can be a big problem. For instance, if a client's account is much smaller than the manager's account, its risk is higher due to the higher leverage. On the other hand, if a client's account is much larger than the trader's account, the profit percentage will be lesser than the trader.
Percent Allocation Management Module (PAMM)
Percent Allocation Management Module fixes this problem in LAMM by distributing the profits (and losses) across all the client accounts in the same proportion as their account size irrespective of the lot size of the trade. For example, let's assume that the manager's account size is $5,000 and he has two clients, Client A with an account of $2, 000 and Client B with an account of $3,000. Now the total trading amount is $10,000 with the manager's contribution at 50%, Client A's contribution at 20% and Client B's contribution at 30%. Any profit or loss from the trades will now be distributed across these three accounts in these proportions. So a profit of $1,000 will give the manager $500 while Client A will get $200 and Client B will get $300.
Benefits of MAM and PAMM
MAM in general and PAMM in particular, can make the job of the money manager extremely simple. These systems can also provide clients with real time access to all the trades that the manager is executing, letting them keep track of their investment. Multi Account Managers provide a middle ground between the extreme options of depositing your money with money managers or providing the money managers with an unlimited power of attorney over your trading account.
Best PAMM Forex Brokers
There are a lot of PAMM forex brokers in the market and reading most of the forex broker reviews will give you a good idea about their clients' experiences. However, there are a few forex brokers who provide PAMM functionality who stand above the rest in terms of performance and customer satisfaction. These brokers include:
1. Forex4You
Forex4You allows you to open a PAMM account either as an investor or as a trader. Traders can use the system to set various parameters to determine investor eligibility. These parameters could include minimum and maximum size of accounts, commission rate and profit levels to calculate the commission.
Forex4You has started offer PAMM cent accounts which allow traders and investors to trade with the minimum possible amount at a time. Investors can also qualify for a bonus of up to 50% of their investment via the recently launched bonus program for PAMM investment accounts. Once this bonus is earned out, it will immediately be transferred to the investors' accounts and can either be invested or withdrawn.
2. Trading Point
Trading Point has started offering PAMM accounts for traders and investors since the second half of 2011. Trading point offers PAMM which allows the investors' accounts to participate in the trading activity of a particular trader and share the profits in proportion to their contribution to the total trading fund.
3. InstaForex
InstaForex allows traders and investors to use a PAMM account to trade any amount, right from a single dollar to hundreds of thousands of dollars. Investors are allowed to monitor the accounts of many traders, view their history and then decide the trader they would like to invest with. InstaForex allows investors to open different accounts in order to invest with multiple traders and hedge their risks.
InstaForex also implements a Funds protection policy which allows the money manager to only withdraw funds which aren't involved in any current deals. Opening a PAMM account requires a very simple process to be followed by both, existing and new customers of InstaForex.