MGC Logic review

MGC Logic is a CFD brokerage operating from the Commonwealth of the Dominican Republic (COTDR). The brokerage is owned and operated by New Olympia Inc which is a large digital marketing company also located in COTDR. Our MGC Logic review found out the company's deposit and withdrawal policies, such as the minimum deposit of $250 and no withdrawal limits.
The brokerage only provides services on cryptocurrency CFDs but does not facilitate the purchase or sale of real cryptocurrencies. Customers will have access to coins such as Bitcoin, IOTA, Ethereum and etc. The maximum leverage amount provided by the platform is 1:100 as well as tight spreads as low as 0.1, for pairs such as BTC/USD and ETH/USD.
MGC Logic Overview
At the beginning of our MGC Logic review, we were quite impressed by the website's layout as it was easily navigable and had the User Experience part well taken care of. Finding information regarding the broker's operations was also very easy as everything was categorized very well at the footer of the webpage.

Another great addition to the website was a completely separate section for education. The platform provides courses on things such as Technical analysis and Fundamental analysis, things that are absolutely essential for any crypto CFD trader. The education centre also features:
Asset Index
Trading Academy
Video Chart Analysis
Weekly Market Review
Calculators
Overall, nearly all of the information required for placing successful trades is provided by the website itself.
In terms of MGC Logic regulation, the brokerage relies on its parent company, New Olympia Inc which is registered in the Commonwealth of Dominican Republic and therefore comes with an FSU license.
MGC Logic trading options
As already mentioned in the intro the MGC Logic CFD broker only offers trading options on cryptocurrencies such as:
Bitcoin
Ethereum
Binance Coin
IOTA
NEM
Qtum
Others
It is quite a healthy choice of coins for a CFD brokerage, as most companies cover only three or four coins at the same time. Thanks to the application of CFD products the company is able to offer quite a lot of leverage to their users, as high as 1:100 for currency pairs such as BTC/USD and a very tight spread of 0.1 pips per trade.
The company covers only the industry standard fees on trades such as overnight fees. The primary income is generated from spreads which are quite low for a CFD brokerage.
MGC Logic security
When conducting our MGC Logic review we found out that the website is actually SSL (Secure Sockets Layer) optimized, meaning that all of the information provided by the trader, be it for their Credit Card or any other personal information is tightly encrypted, which prevents any identity theft or fraud.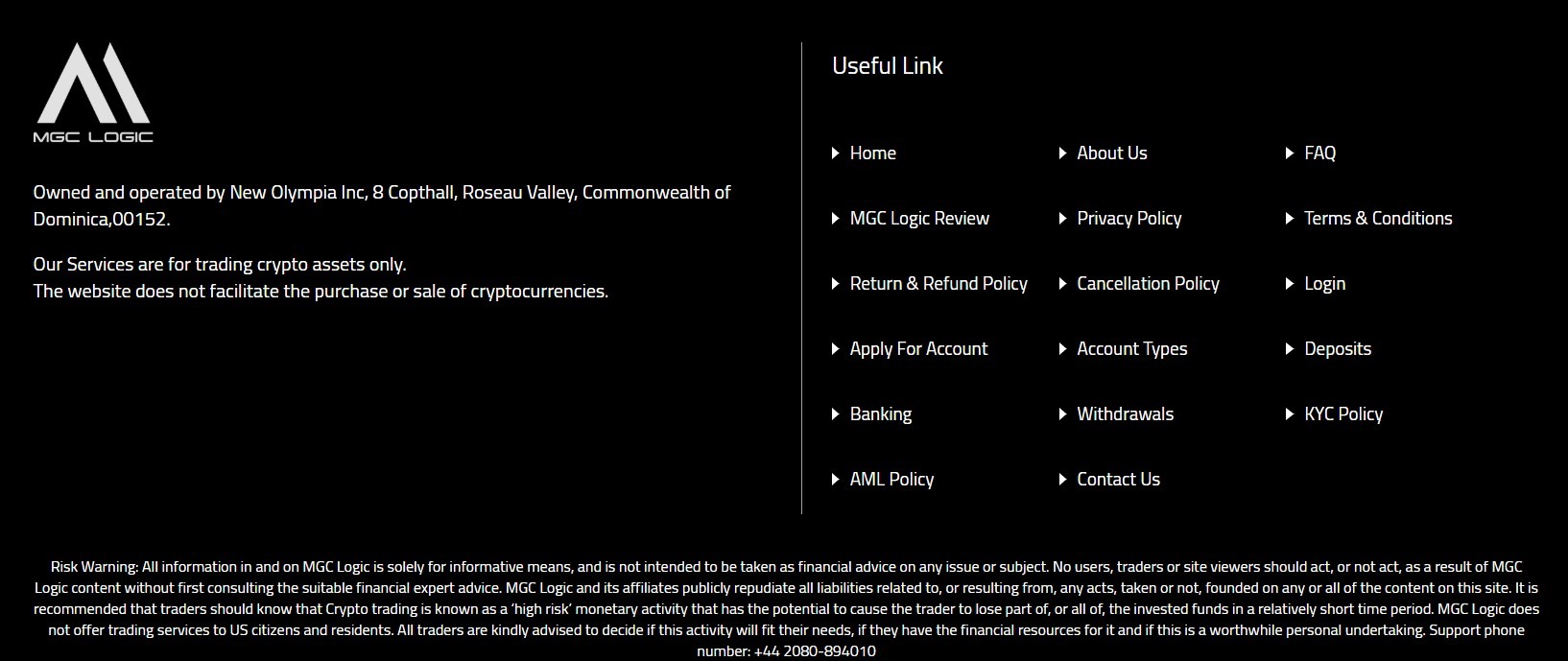 Although the SSL is not displayed on the URL as one would expect, it simply does not need to be. Simply having the SSL already makes MGC Logic safe to trade with even for beginners. Speaking of beginners.
MGC Logic deposits & withdrawals
Deposits and withdrawals are arguably one of the most important features anybody should look at when reviewing a financial company. Luckily for all of us, MGC Logic has everything squared away and has made its platform accessible for all types of beginners.
The variety that one gets for deposits is not too large, but that's beside the point. Although having more variety with deposit methods such as PayPal or even cryptocurrency would be welcomed with open arms, the WIRE Transfer and Credit Card deposits are more than enough, as they're the most common deposit methods for most traders.
Deposits
The minimum deposit for the company is $250 and the maximum is $1000 for basic accounts, but it gets larger depending on the type of account a trader chooses. If you're a beginner, then we recommend you go for the MGC Logic basic account first and then upgrade once you have some experience under your belt.
Withdrawals
When it comes to withdrawals it's a bit more complicated. For safety reasons the company requires that the customer provides information such as their:
Personal ID (It could be their ID card, driver's license or birth certificate)
Proof of Adress (which needs to be dated within the last six months)
Photo proof of them holding their credit card, and covering everything besides the last four digits.
The company is taking these measures to prevent any money laundering cases and provide as much safety possible to its clients. All of the methods listed above are industry standard procedures.
Neither the withdrawals nor the deposits carry any fees and take three to seven business days to process.
MGC Logic account types
During our MGC Logic review, we also found out that the company features quite a lot of account types. Normally, we'd expect around two or three types from a CFD broker, but MGC Logic fields six different options, all with its perks and advantages. They are:
Basic (€250)
Bronze (€10,000)
Silver (€50,000)
Gold (€250,000)
Platinum (€500,000)
There is also the sixth option, called "Black", but no information was disclosed on it to us. Only the VIP traders could access it by contacting their Account Manager.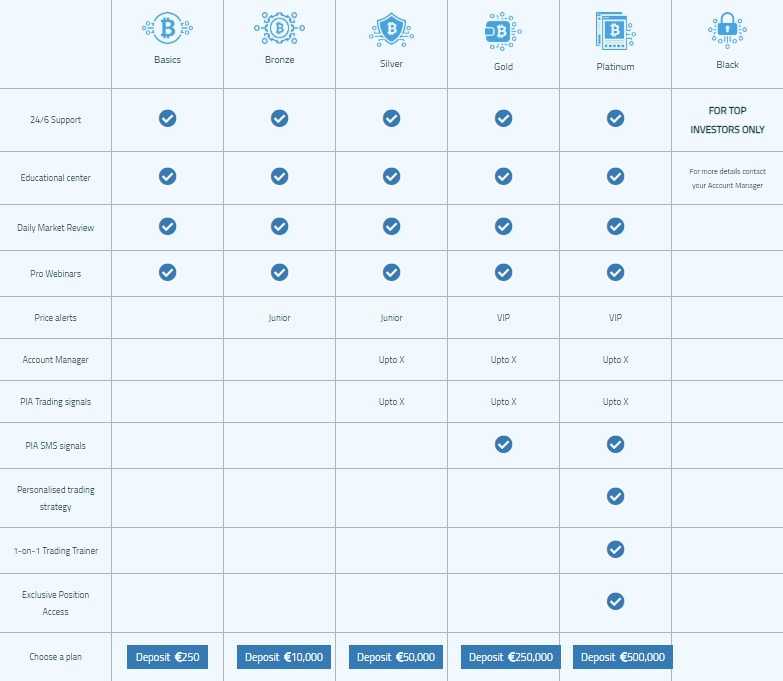 Can MGC Logic be trusted?
Overall, the company is able to field industry standard features. The leverage, spreads and fees connected with the platform are overall compliant with all of the customer needs and deliver on them quite quickly.
We also enjoyed that the platform is very beginner friendly and provides educational material for all to see. So overall, we believe that MGC Logic is legit and acceptable for any crypto CFD beginner and veteran alike.