MGC Logic review

In online trading, partnering with a credible broker can have a massive effect on trading outcomes. Brokers provide a trading platform with various offerings like leverage, bonuses, and so on. And if the broker is fraudulent, it'll undermine the trader's financial stability, as well as pose the threat of stealing their deposits.
Not to go too far, you don't want to have business with a scam broker. And to help you choose the best brokerage for your needs, we have prepared yet another review of a pretty popular broker. So, in this MGC Logic review, we'll take a look at the broker's website, some of the tradable options and securities, trading terms and conditions, and the licensing.
Initial outlook
MGC Logic is a pretty popular CFD brokerage that deals with the contracts for difference and allows traders to exchange them for profit. The brokerage was established in the Commonwealth of the Dominican Republic (COTDR) and is operated by New Olympia Inc.
The main trading asset group that the broker offers is crypto CFDs. However, the broker claims to also provide real cryptocurrencies like Bitcoin, Ethereum, and others for trading. And for those assets, the broker offers a mind-blowing 1:100 leverage, as well as spreads that can go as low as 0.1 pips.
These numbers will definitely mesmerize many inexperienced traders, however, those who know how the crypto trading market works, they'll find some greyish areas in those offerings.
MGC Logic Overview
The first thing that jumps to our eyes right after we visit begin our mgclogic.com review is the design of the website. To give the devil its due, we think that the broker has put a lot of effort to design the interface and construct a website that should evoke a sense of professionalism. However, the effort certainly doesn't conclude with the relevant outcome: the website still looks unprofessional and overly stuffed with unnecessary visuals.
Just take a look at the decorations: those rich blue images with high definition and quality. While we don't want to downplay the broker's effort, this interface is very exhausting to the viewer's eye. Not only that, it distracts them from attaining information from the website.
As for the thematic sections themselves, we have to admit that they're well-positioned and separated into relevant categories like Bitcoin trading, Cryptocurrencies trading, Account types, etc. However, because of that overcomplicated design, this benefit quickly disappears.

Another important aspect of the broker's review is its educational section. The licensed brokers have the obligation to provide educational material to their clients, and the MGC Logic Forex broker has certainly done that. However, the looks don't necessarily translate into real results. The MGC Logic educational panel includes Technical analysis, Asset index, and other tutorials that should be informative enough for all traders, however, they're poorly written and don't contain much information about these features.
All in all, software support clearly lacks the professional touch on MGC Logic. It boasts with its rich visuals but fails to offer a balanced and simplistic interface.
MGC Logic trading options and offerings
As already mentioned in the intro the MGC Logic CFD broker only offers trading options on cryptocurrencies such as:
Bitcoin
Ethereum
Binance Coin
IOTA
NEM
Qtum
Others
Admittedly, having a selection of almost 40 different cryptocurrencies is a healthy feature for the crypto CFD broker, however, when you take a look at the trading terms and conditions, you'll suddenly start to feel that they are too good to be true.
For instance, one of the MGC Logic promotions is the 1:100 leverage. Now, if we were reviewing the Forex broker with real currencies as trading assets, a 1:100 leverage ratio would be totally normal. However, when it comes to cryptocurrencies, it's certainly over-the-top and not very realistic.
The majority of crypto brokers offer a leverage of 1:2, 1:5, or a maximum of 1:20. That's just how the crypto trading market works. And when a broker claims that it offers leverage that's at least five times bigger than the market average, you should suspect that something like the MGC Logic scam should be going on here.
The same can be said about spreads. As the broker says, its spreads start from 0.1 pips per trade. And since the broker has no commissions on transactions (other than a wire transfer), the following question arises: how does Atecs Capital maintain its business with such low spreads and without commissions? The answer to this question can easily be found in suspicious areas.
MGC Logic security
When conducting our MGC Logic review we found out that the website is actually SSL (Secure Sockets Layer) optimized, meaning that all of the information provided by the trader, be it for their Credit Card or any other personal information is tightly encrypted, which prevents any identity theft or fraud. Or at least that's what the broker claims.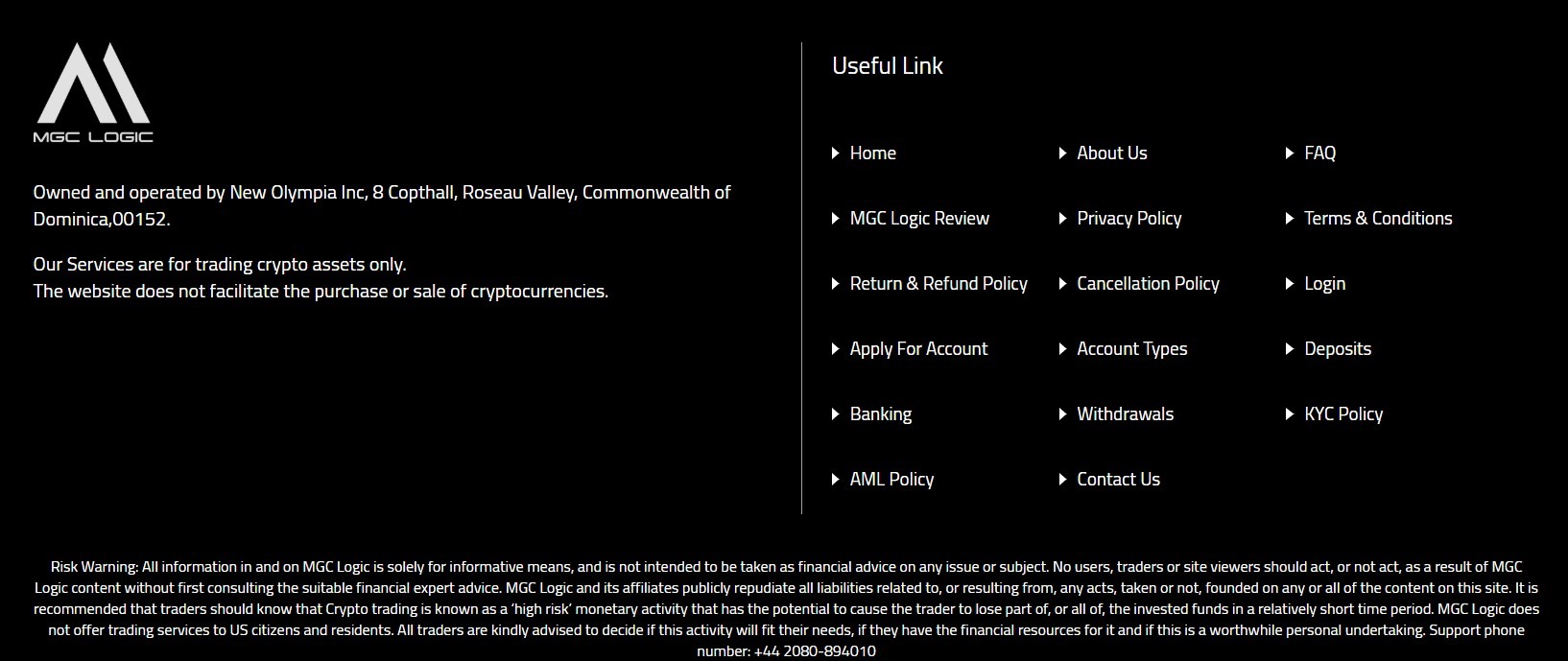 Sure, the URL shows that the website has an SSL protection but when it comes to the transaction platforms and services, we wouldn't guarantee that your finances would be safe. The next chapter will explain what we mean by the lack of safety.
MGC Logic financial platforms
MGC Logic FX brokerage can be considered a company that plays it safe, without taking necessary steps to ensure its clients' security. Granted, it has SSL protection, but the deposit and withdrawal platforms are still very obsolete and don't keep up with the current developments.
So, we have credit cards, bank wire, and e-wallet transactions on MGC Logic. While the broker doesn't specify the time necessary for transactions, it can even take days to complete just one withdrawal. And as for security, well, you can make your own conclusions about how secure credit cards are.
One more interesting and rather strange aspect that we need to discuss is the fact that the broker doesn't have crypto payment solutions. On the one hand, it offers cryptocurrencies for CFD and regular trading, on the other hand, however, it doesn't allow traders to make deposits using those platforms. It's not clear for us what the thinking behind this decision was but it certainly doesn't improve our MGC logic opinion, which is quite low at this point.
Deposits
As for deposits themselves, the broker requires a minimum of $250 initial deposit from the new clients who are opening the basic account. While it's certainly not too high, many inexperienced traders would still refrain from making such a hefty financial commitment in a financial exchange. It would certainly be a better option to have a demo account with zero deposit requirements for such people.
Withdrawals
When it comes to withdrawals it's a bit more complicated. Supposedly for safety reasons, the company requires that the customer provides information such as their:
Personal ID (It could be their ID card, driver's license or birth certificate)
Proof of Adress (which needs to be dated within the last six months)
Photo proof of them holding their credit card, and covering everything besides the last four digits.
While the company claims to demand these measures for the sake of safety and eliminating the threats of money laundering, we cannot help but suspect that those identity credentials can be abused quite easily. That's why we suggest that traders refrain from providing any personal information until they make sure that the broker is trustworthy.
MGC Logic account types
Another important aspect to mention in our MGC Logic review is the account diversity. We have to admit that the five accounts offered by the broker are pretty well suited for various traders with different experience levels. So, here are those account types:
Basic (€250)
Bronze (€10,000)
Silver (€50,000)
Gold (€250,000)
Platinum (€500,000)
But it's not like these accounts are completely fault-free. While there's a nice separation between them, the actual differences are not very defined or significant. For instance, the price alerts, account manager, or SMS signals are undoubtedly quite useful features but certainly not worthy of an extra thousand dollars for their respective accounts. And again, it would be nice if the broker also offered a demo account for its beginner traders. This way, they would step into this field much more easily and with no casualties.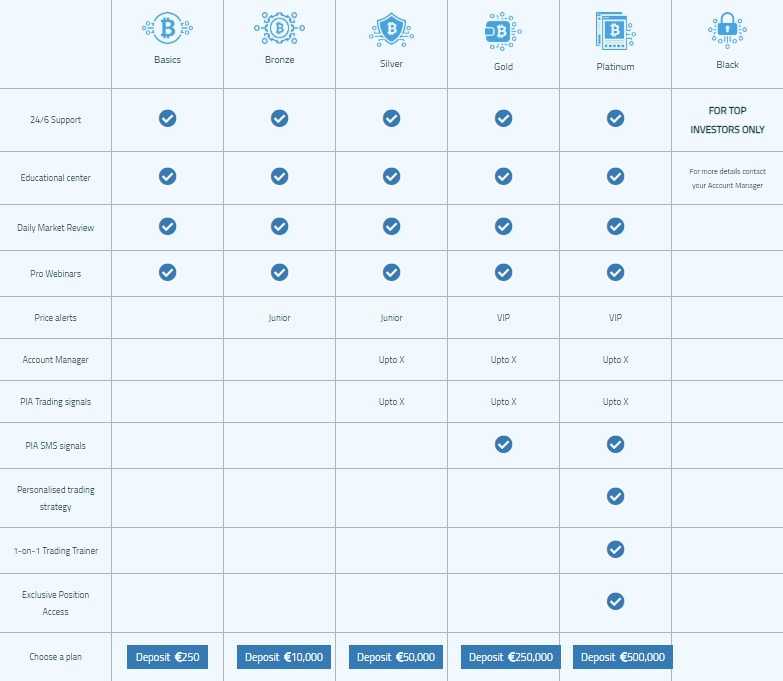 FSU license
Last, but certainly not least, the license. As we have already mentioned at the beginning of this review, the broker was registered in the Commonwealth of the Dominican Republic (COTDR) and operated by New Olympia Inc. Both the parent and successive companies are regulated by the FSU license.
Some people would think that the FSU license is a credible legislative piece that holds the broker against higher financial standards. But can MGC Logic be trusted in real life? We think not and here's why: the companies that choose to register on small and distant islands such as COTDR choose to do so for several reasons.
First, they want to hide their earnings from the more powerful governments and make unsolicited profits unnoticed. But more importantly, they also want to hide their illegal activities – scams, Ponzi schemes, or other manipulations. One way or another, they're free to do what they want in COTDR and similar countries. Therefore, no, MGC Logic cannot be trusted for its license.
Can MGC Logic be trusted?
So, what's the conclusion from all this? We think that the broker can very well be a fraudulent entity that tries to undermine its clients' financial stability using any method. MGC Logic offers a seemingly comprehensive website that is only comprehensive because it has complex visuals. But when it comes to the informative side of the website, it clearly lacks any professionalism.
As for the trading terms and conditions, the broker certainly goes over the top with its leverage and spread offerings, making them too good to be true. And the licensing stamps the existing MGC Logic opinions and leads us to the final conclusion: the broker cannot be trusted. So, if you value your financial stability, don't make business with MGC Logic.