Monzo
Monzo is a digital bank that aims to bring the convenience of a mobile phone application to the banking industry. The company has already acquired a million customers through its debit cards that can be used with Apple Pay as well as the Monzo application. The main focus of the company is building a mobile bank that is easy to use and understand.  "We're doing things differently. For too long, banking has been obtuse, complex and opaque. We want to change that and build a bank with everyone, for everyone," – says the company's website. Monzo currently employees over 300 people and is a quickly growing company that is expanding its services and customer base.
Monzo focuses on transparency and user experience
Transparency is something that the company is trying to achieve to differentiate itself from the traditional banks with physical branches. Monzo is able to do this through offering various services like annual reporting, which makes it easy for the customers to analyze the documents. It also encourages whistleblowing and has a System Status that gives live information on issues that might affect the customers in any way. "Any serious issues also feed into the Monzo app and appear at the top for everyone to see," – says the company.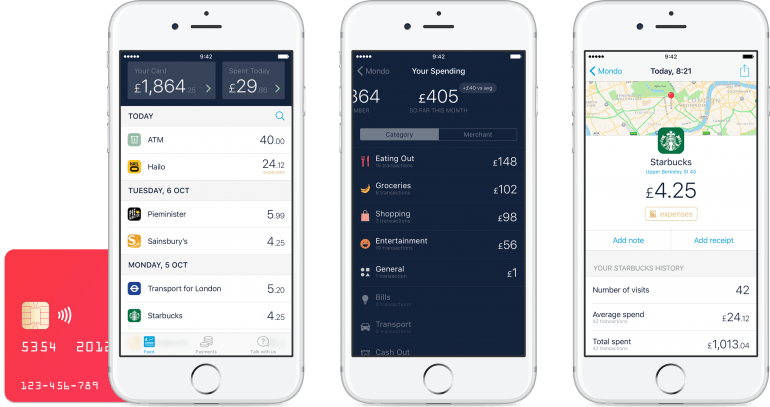 Some of the additional services offered by the company include the ability to set spending targets that generate interactive infographics inside the application that make it easier to control the funds. The peer-to-peer transactions are also facilitated by allowing transactions through Bluetooth and bank transfers that arrive instantly. International money transfers are a lot cheaper using the app than through the alternative channels. For certain customers, Monzo also makes available an overdraft, a functionality that can be switched off at the will of the customer. Regarding the security issues, the company is protected by the Financial Services Compensation Scheme (FSCS), which insures funds of up to 85,000 British Pounds.
Switching to Monzo is easy and fast as well
Monzo has also made arrangements for those who might not want to deal with the hassle of moving from one bank to another. The company has teamed up with Current Account Switch Services that is able to move a whole bank account or just a handful of payments to Monzo in 7 days. There's is a guarantee as well which ensures that all funds are moved to a new account and the payments addressed to the old account end up there as well. "We'll move your money and payments (like Direct Debits and standing orders), and close down your old account for you," – says Monzo.