Coinbase Exchange Review
What is Coinbase Exchange?
Coinbase is the unicorn startup that evolved into one of the most popular cryptocurrency exchanges on the market.  Founded by Brian Armstrong in 2012, the company is headquartered in San Fransisco, United States. At the moment of this writing, the company serves more than 20 million customers coming from 32 countries. The supported countries are United States, United Kingdom, Singapore, Australia, Canada, Austria, Belgium, Germany, Poland, Croatia, Bulgaria, Cyprus, Czech Republic, Finland, Greece, Hungary, Ireland, Italy, Jersey, Latvia, Liechtenstein, Luxembourg, Malta, Monaco, Netherlands, Norway, Portugal, San Marino, Slovakia, Slovenia, Spain, Sweden and Switzerland.
Being headquartered in the US should instil some confidence in the exchange, as such service providers have to meet the strict regulations, both on the country and state level. Therefore, is Coinbase legit? Our answer is yes and here is why. According to our findings, Coinbase complies with various laws and jurisdictions within the US, including the Bank Secrecy Act, The USA Patriot Act, and different states' money transmission laws. Moreover, Coinbase is registered with FinCEN as a money services business.
Unlike the US, in other countries where Coinbase operates, no licenses are required to provide the services.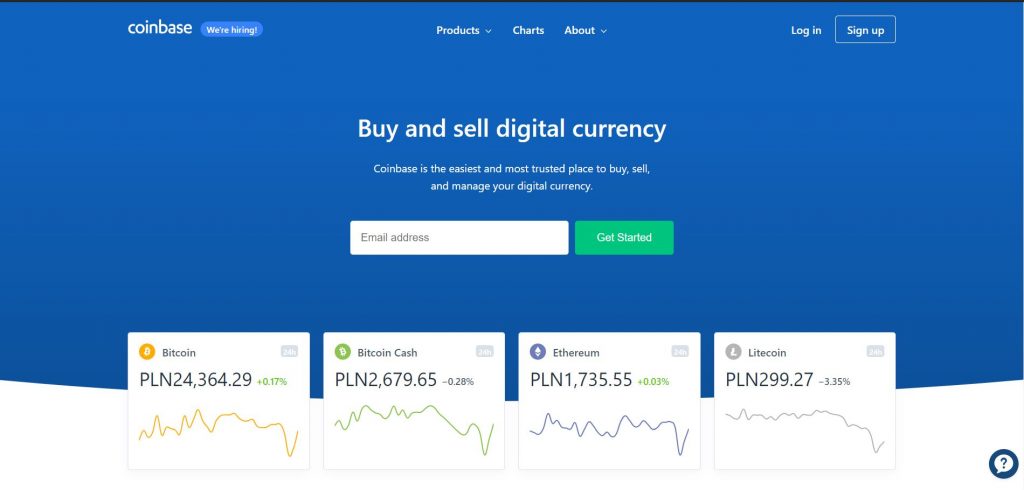 How Secure is Coinbase?
Indeed, one of the main concerns about the cryptocurrency exchanges remains the security of funds. Recent Bithumb hack, where perpetrators stole $31 million, startled the traders worldwide once again. Although Coinbase is considered one of the safest exchanges on the market with no hacking precedents, it is important to know which security measures Coinbase implements to protect its clients' money.
First of all, the company stores 98% of the clients' crypto in the cold storage, while the remaining part of the cryptocurrency stored online is protected with an insurance against any security breaches.  Additionally, all of the clients' fiat money is kept at the segregated accounts at the custodian banks. On top of that, US residents have their Coinbase USD wallets secured with FDIC insurance with the potential coverage up to $250,000. Coinbase users can aslo protect their account data by enabling the two-factor authentication (2FA).
Considering all of the above, is Coinbase safe? We are inclined to believe that yes.
Opening an Account at Coinbase
The account opening procedure is kept simple at Coinbase. One has input the name, email and password to sign up. In addition, the user has to verify the account with email and phone number. Once so, the new client can proceed with the payment.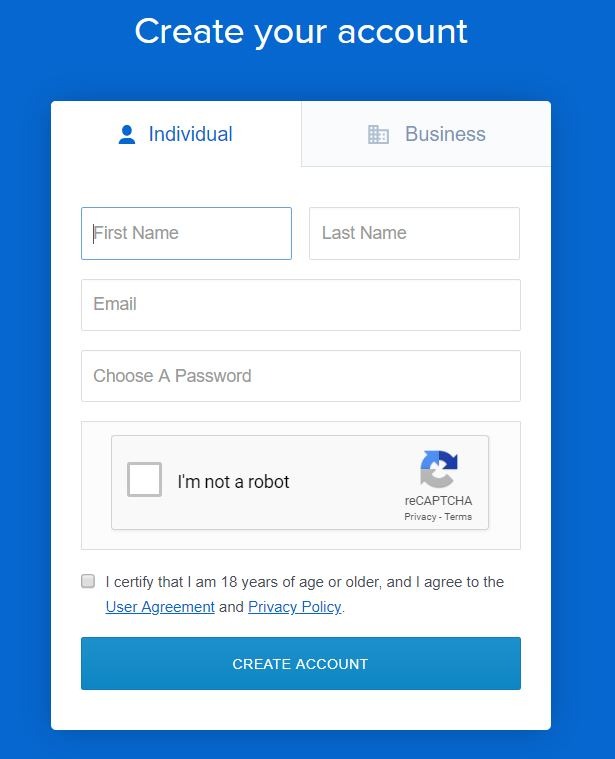 We should also underscore that there are certain transaction limits imposed on the new customers. In order to be able to transact up to $50,000 for US clients and $30,000 for European clients per week, one has to become fully verified by providing the necessary KYC documentation.
Payment Options at Coinbase
Coinbase provides several ways of funding the account, namely the digital currency transfer, bank transfers (SEPA and US only), wire transfers (US only) and debit card payments (in USD, GBP, and EUR). Please note that it takes 1-3 business days for funds to reach your account in case of bank and wire transfers (4-5  business for ACH transfers). Other transfers are almost instant. Besides, Coinbase charges the transfer fees, although they depend on the payment method. Generally speaking, they range from 1.49% up to 3.99%. No fees apply to digital currency transfers.
Our Coinbase review also figured out that the exchange allows its users to instantly buy the selected cryptocurrency with debit cards. Similarly, the user can link the PayPal account to Coinbase, but only for selling the digital currency.
Coinbase Account Tracking Review
There is, however, one controversial issue to be aware of. Coinbase tracks where the clients send their cryptocurrency, while also prohibiting some types of transfers (e.g. related to darknet purchases, adult services, gambling). This raised a major criticism in the crypto community.
Supported Cryptocurrencies
When it comes to buying or selling cryptocurrencies on Coinbase, there are only 4 of them available: Bitcoin, Bitcoin Cash, Ethereum, and Litecoin. Other virtual currencies are currently unavailable at this exchange, but the list can be extended in the future.
Coinbase Reviews: Trading Platform
From the software perspective, Coinbase offers two trading platforms – regular Coinbase and Coinbase Pro. While regular Coinbase is aimed at simple buying and selling of the cryptocurrency, Coinbase Pro (former GDAX), as the name suggests, provides more advanced features tailored for actual trading. Regular Coinbase platform is also available in mobile apps for iOS and Android.
Coinbase Pro allows viewing the charts in 6 timeframes and 2 overlays – EMA12 and EMA26. Additionally, Coinbase Pro users can place 3 types of orders such as Stop, Market, and Limit. At this point, the list of Coinbase Pro features end. It would be fair to stress that Coinbase Pro functionality is somewhat limited in comparison to other platforms like Bitfinex. If Coinbase Pro plans to keep up with the competitors, it should extend its cryptocurrency selection, improve order and charting customization, enable the margin trading etc. Right now the platform leaves a lot to be desired.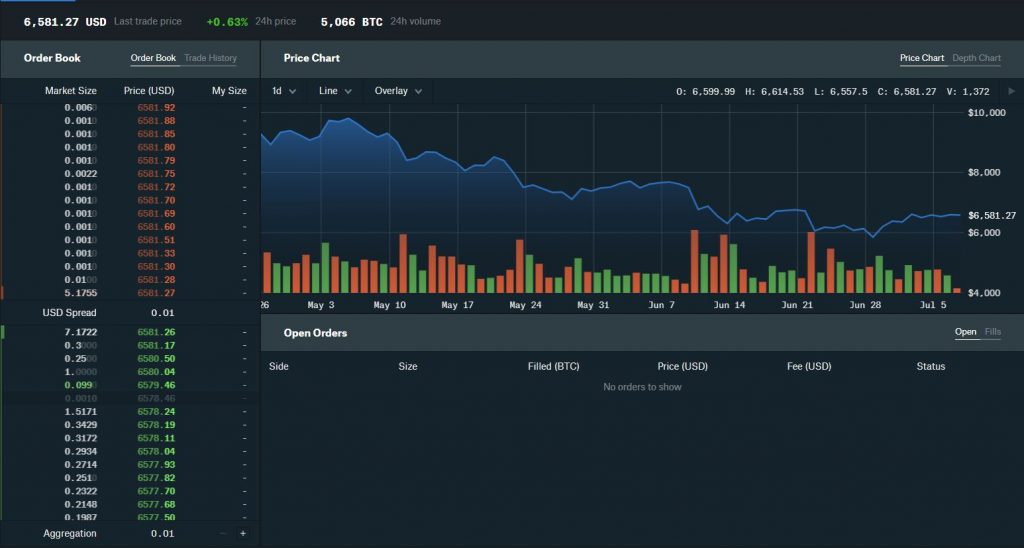 Trading Fees
For using Coinbase Pro, traders can incur the small fees depending on maker/taker status as well as the 30-day volume. At the moment of this Coinbase review 2018, taker fees range from 0.30% to 0%, while maker fees are constantly set at 0%.

Coinbase Customer Support Review
In order to contact client support at Coinbase, one has to use email or phone. Likewise, there is a possibility to benefit from the extensive FAQ and support bot. There is somewhat mixed perception over Coinbase customer support, as the latter is often critisized for serious delays in responding to clients. Some of the users report to not being answered 5 months in a row. Considering this, some users may have a feeling of being defrauded, but is Coinbase scam? We do not think so, but the backlash from the community should motivate Coinbase staff to take the necessary measures.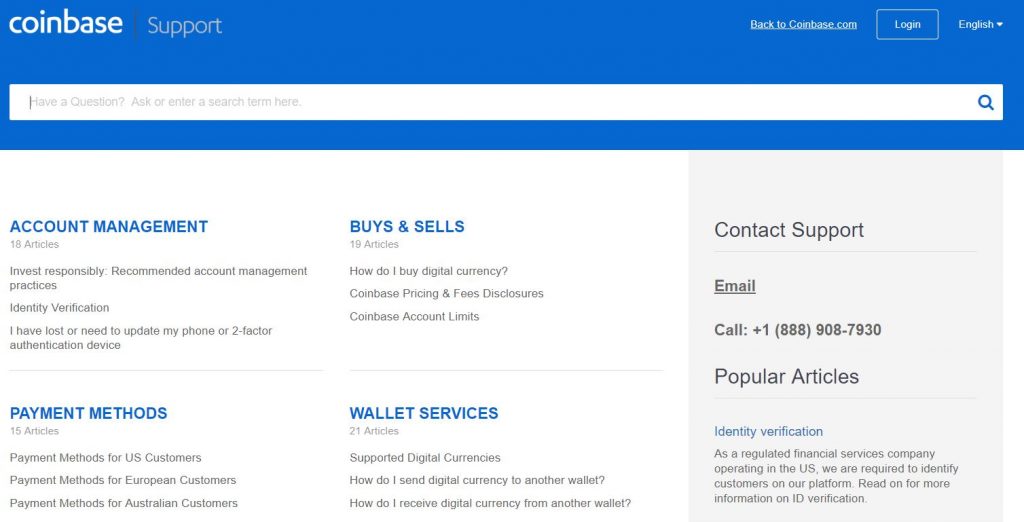 The Bottom Line
Overall, Coinbase is a promising cryptocurrency exchange with high degree of security and regulation. Low fees are also adding some credit to Coinbase rating. However, there is definitely a room for improvement for Coinbase. The company has to work on the fundamental aspects of its services, namely the trading platform and customer support.