Is Atecs Capital scam broker? This detailed review will let you know

Trading online, or offline for that matter, is always risky and dangerous. The market moves so suddenly and so many things can influence its outcomes that any long or short position can easily go against the trader, making them lose quite a hefty amount of cash.
But even the platform where traders open such positions can be dangerous at times. The internet is full of fraudulent brokerages that claim to have the most exciting and competitive offerings to their customers, while their true goal is to reap as much profit out of their customers as possible.
Fortunately, there are many firms online that specialize in reviewing such brokerages and offering their honest opinion regarding their trading terms and conditions, licensing, and other aspects.
Today, on Forex News Now, we'll take a look at the Atecs Capital FX brokerage and see, whether it's as trustworthy as the company claims.
Brief overview
Atecs Capital is a newly established brokerage that offers trading CFDs on cryptocurrencies. As there are a lot of scam brokerages popping up here and there almost everyday customers are usually considering that every new broker is leading some kind of scam scheme. And especially when it comes to the CFD trading which, as you may already know, depends on close communication between the broker and its client.
Here's what the broker is all about from the outside: established in 2019, Atecs Capital has a wide variety of trading assets, as it offers the most popular cryptocurrency pairs, and some of the less common ones as well. Traders have the possibility to trade up to 40 cryptocurrency pairs on the web-traders, which is the proprietary version designed by the broker.
When it comes to the Atecs Capital promotions, the broker claims to have no spreads – which we're going to explain a little bit further below, leverage up to 1:20, a minimum deposit requirement of 500 USD/EUR/other currency, and no visible bonuses. Now, many traders would fall into a trap of believing these are some of the best offers they can find online. And while they certainly are impressive, a further inspection can reveal some darker secrets about them. But before we jump into revealing those secrets, let's take a look at the website and see what it looks like.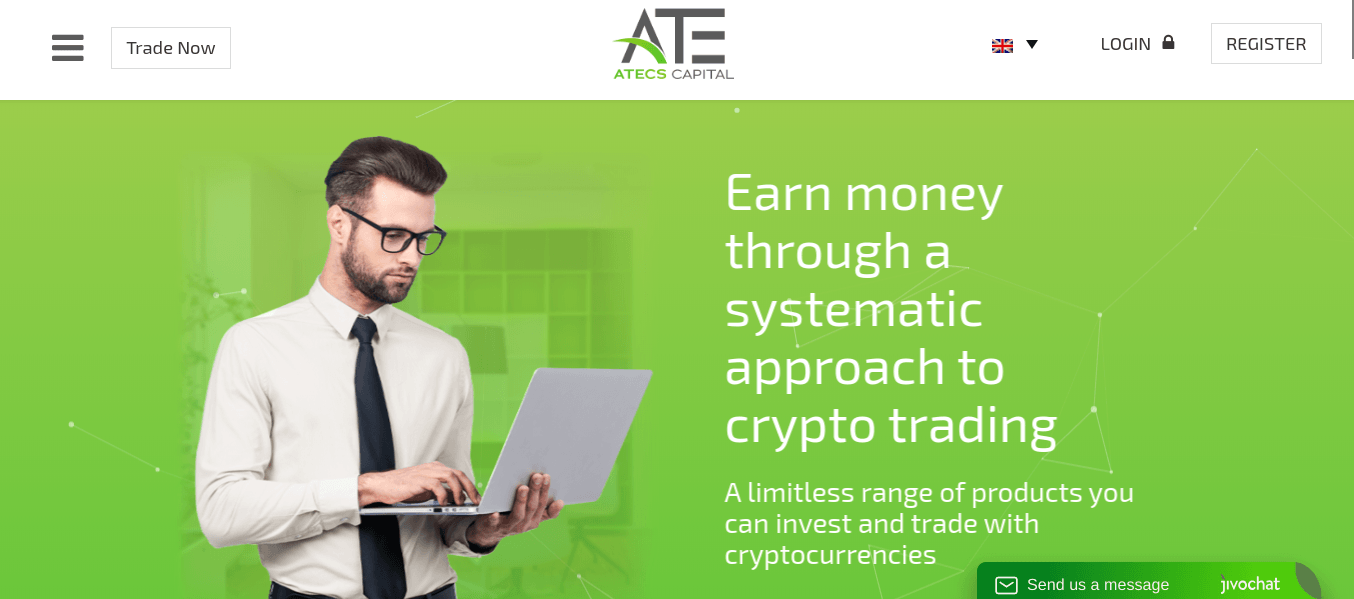 Atecscapital.com review
In some parallel universe, the Atecs Capital website would look pleasing and easily-discernible to the viewers' eyes. However, in our universe, the combination of blank whites and popping greens doesn't make for such a combination at all. That green is so vivid and saturated that if anyone has ever said that green is the most relaxing color, they'd certainly not have this iteration of green in mind.
But the isn't the problem on its own. There are many brokers that offer great trading platforms but have somewhat underwhelming websites. However, in the case of Atecs Capital, the decision to use this design may have a much deeper meaning. We suspect that the broker wants to hide some greyer spots in its platform by flashy decorations and colorful images. And when we actually check the offerings, we can see why this is true.
Another important aspect to consider is the educational section. Trading cryptocurrencies, Forex, or any other securities, as we have already mentioned, is very dangerous and if a trader doesn't have sufficient knowledge of the field, they may become victims of rapid market changes and cataclysms. And while we certainly appreciate the effort put into setting up such a section on the website, we still think that the Atecs Capital Forex broker failed to put up well-thought-out and professionally-written content.
All in all, this website review makes us suspect that the broker has put very little effort into setting up a professional and simplistic website, where the necessary information is just a click away.
Minimum deposit, leverage, and spreads
Now, let's turn our attention to the most important aspect of trading: trading terms and conditions. Let's begin by the minimum deposit requirement and see how easy it is for the beginner traders to actually start trading on Atecs Capital. As we have mentioned in the introduction, the broker requires its clients to deposit no less than 500 USD/EUR/GBP to their trading account and it says that this is requirement applies to the most basic account.
Now, we don't know about anyone else but for us, 500 USD or any other currency seems a bit too much for those who have no experience in trading and want to limit casualties as much as they can. And the broker certainly doesn't help them achieve that.
Next up, the leverage. Leverage is a feature that is offered by the majority of brokers and it allows traders to open larger positions than they can with their own money. For instance, if they deposit $1,000 and the leverage is 1:100, they will be able to open a position worth $100,000. One thing to quickly mention here is that higher leverage ratios like 1:50, 1:100, and so on are usually available for Forex brokers, whereas crypto trading offers much lower ratios like 1:2, 1:5, etc.
Atecs Capital offers 1:20 maximum leverage which is still normal for crypto trading. Therefore, we don't have much to say about this feature rather than the broker manages to stay within reasonable limits.
However, the reason quickly departs when we move to the spreads. The spread is the difference between the bid and ask prices and is the main source of income for the brokers with no commissions – which Atecs Capital certainly is. However, as the broker altruistically claims, its spreads start from zero pips, which means the bid and ask prices can be the same. This claim makes our Atecs Capital fraud suspicion even more prominent because no financial entity works for no financial gain. And if the broker doesn't earn from spreads nor commissions, where does it find resources to fund the services? A fair question, in our opinion.
Atecs Capital account types
Now, let's move to the trading account types and examine their differences. Atecs Capital offers five different accounts: Basic, Bronze, Silver, Gold, Platinum, and Black. The Basic account, as we have mentioned, starts from a 500 currency unit deposit requirement and as you move up the ladder, the requirements quickly increase.
The broker claims that these accounts are quite different and offer some of the most elite features to the experienced traders. The features like account manager, price alerts, SMS signals, etc. only become available for the higher account holders. However, in our experience, these features aren't drastic enough to improve the trading experience for their users. Therefore, our Atecs Capital opinion still remains the same – not overly impressive.
Atecs Capital withdrawal
As we have mentioned numerous times, Atecs Capital is a crypto trading broker that also offers CFDs. And as such broker, we would assume that it would support crypto payments for withdrawals and deposits. However, such an assumption would be wrong for Atecs Capital. The broker only supports credit cards, bank wire, and some e-wallets for transactions.
These platforms are known for a lack of security and convenience. For instance, the withdrawals can take up to 1-3 days to complete, which can often be irritating at best. Not only that, the bank wire transfers charge the customers 30 USD per transaction. All in all, the transaction system is, just like other platforms, underwhelming and lacks any professionalism.
Atecs Capital customer support
Okay, to give the devil its due, the customer support on Atecs Capital platform is pretty okay – or that's how it looks from the outside. The customer service department works 24/6 to offer assistance for any kind of issue traders have. But while this department is an exception in an overall low-grade platform, it doesn't dissipate our Atecs Capital fraud suspicions.
Is Atecs Capital scam real?
So, what can we say about this broker? Is Atecs Capital legit? Can it be trusted? We have a pretty straight-forward answer: probably not. The broker has a pretty overcomplicated website that diverts visitors' attention from the most important aspect which is the actual information about the broker. Not only that, the account separation lacks any significant difference between the Basic, Gold, or Black account types.
As for the terms and conditions, the leverage is the most down-to-earth offer from the broker. As for the spreads or minimum deposit requirement, the broker goes over-the-top and makes our suspicions even worse. And last, but not least, the financial platforms that drive the deposit and withdrawal features are quite old and not sufficiently protected.
In conclusion, we think that Atecs Capital is a faulty broker and people should try to avoid making business with it.