Coinmama Exchange Review
What is Coinmama Exchange?
Coinmama is a small crypto exchange that has a big way ahead of it. The firm currently serves more than 1 million customers coming from 188 countries – quite a wide coverage. In fact, they also operate in 23 states within the US. Coinmama was founded by two entrepreneurs, Asaph Schulman and Nimrod Gruber, in 2013. Although the company is registered in Slovakia, the brand is actually owned by the Israeli company NewBit Ventures Ltd.
Although the exchange is quite transparent about its activity and management, is Coinmama legit? After a short investigation, we found out that Coinmama's parent company is registered with US regulator FINCEN as a money services business. Additionally, Coinmama is fully compliant with GDPR. This is a good sign to trust Coinmama.
Unlike the exchanges that facilitate the trades between buyers and sellers, Coinmama allows only to purchase the crypto with credit/debit card from its own inventory, so to speak. Once the user executes the buying order for the specific virtual currency from Coinmama, the latter sends it to the designated wallet. Currently, there is no possibility to sell the digital currency on Coinmama. However, the exchange promised to implement this feature soon.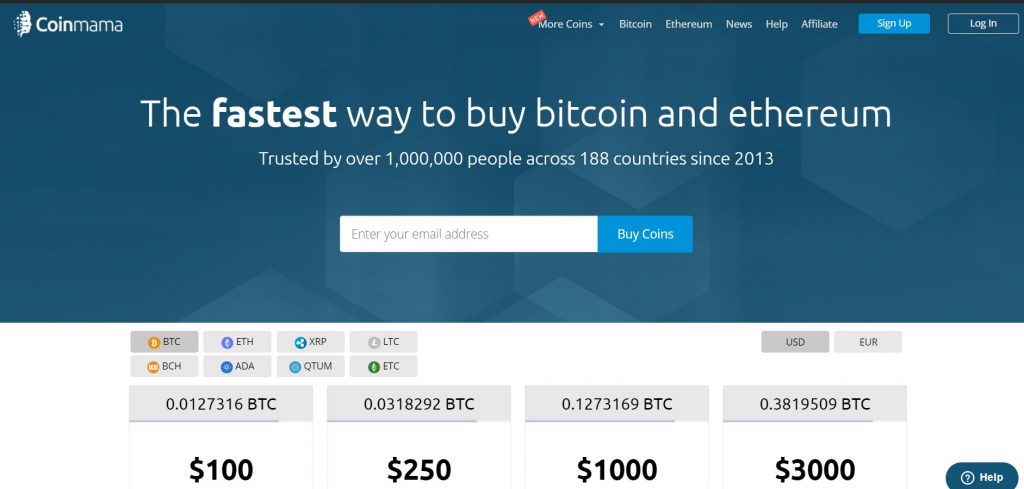 How Secure is Coimama?
Coinmama does not store the clients' crypto, does not provide their own wallet service nor does it keep credit/debit card information on its servers.  So, is Coinmama safe? Coinmama business model makes the exchange less susceptible to hackings, but it is somewhat controversial that there are no additional security features provided such as setting up 2FA. This leaves a mixed feeling about exchange safety, yet until this moment no security breaches or complaints in this regard were recorded.
Opening an Account at Coinmama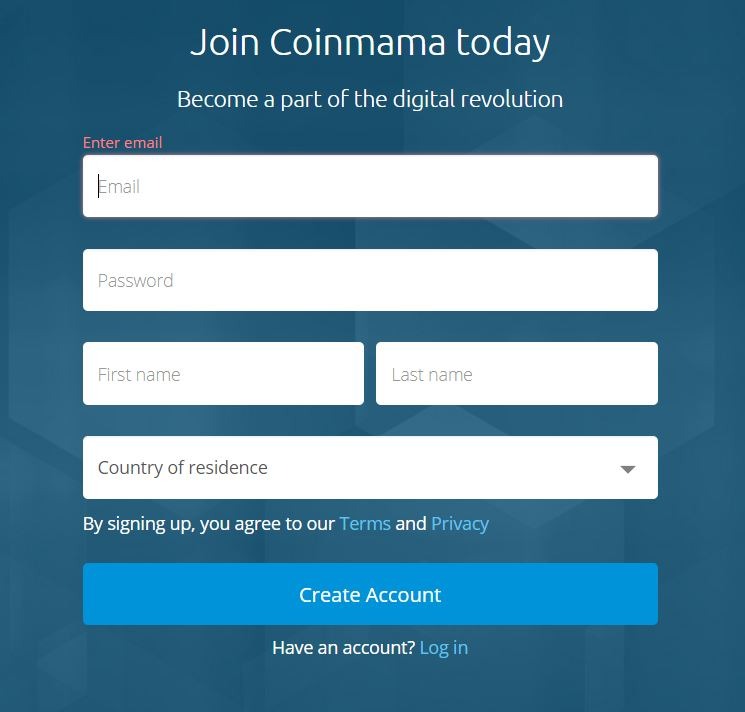 Registering account is quick and simple, just like on many other exchanges. However, in order to start off with Coinmama services, one has to pass the verification check. At the initial stage, Coinmama would request to complete the standard KYC procedure, by providing the ID (e.g passport, national ID or driver's license). Once done, the user would be able to purchase up to 10,000 USD worth of BTC with credit or debit card per day. Essentially, it should take no more than 1 hour for initial verification. However, to increase the limits some extra steps are required.
For purchases up to $50,000 worth of BTC,  the user would be asked to provide two valid IDs and/or make a selfie containing the ID and a piece of paper with the text "Coinmama" as well as the today's date.
The highest limit offered by Coinmama is up to $1 million. To achieve it, a short form would be sent to the user to fill in. Afterward, it has to be sent back to Coinmama for further checks.
Coinmama Review 2018: Payment
As we have briefly mentioned earlier, the exchange recognizes only one payment method and that is with credit/debit cards (i.e Visa or MasterCard). Although Coinmama displays all the pricing in EUR and USD, it does accept orders in all currencies but such would be liable to exchange fees. It is fair to say that Coinmama lacks the choice of payment options, lack of SEPA/wire transfers, e-wallets is definitely a disadvantage.
Coinmama Exchnage Fees
The simplicity of Coinmama services comes at a cost. For each transaction the user carries out on the platform, the exchange holds the 5.50% fee. Moreover, for using the credit/debit card another 5% commission is charged per transaction. As noted by most customers and various Coinmama reviews, using the exchange services is quite expensive at this moment.
Coinmama Supported Cryptocurrencies
In terms of digital currency selection, there 7 cryptos currently available. They include Bitcoin, Ripple, Bitcoin Cash, Qtum, Ethereum, Ethereum Classic, Litecoin, and Cardano. The minimum amount of cryptocurrency one can purchase is displayed on the website. Usually, it starts with $100 worth of digital currency. For example, the minimum amount of BTC to buy is 0.013 worth $101.53 with fees already included. As we already know, the maximum amount to be transacted depends on the account limits.

Overall, buying the cryptocurrency on Coinmama is almost a one-click procedure. However, it is only possible to conduct the transactions via the website. No mobile apps are available or planned at least for the time being.
Customer Support
If the user is looking for assistance, there are technically two ways to reach out to the support agents discovered by this Coinmama review. Namely, it can be done via the email/ticket submitting or Facebook page. Usually, one has to wait for a response within 2 hours from Sunday to Thursday.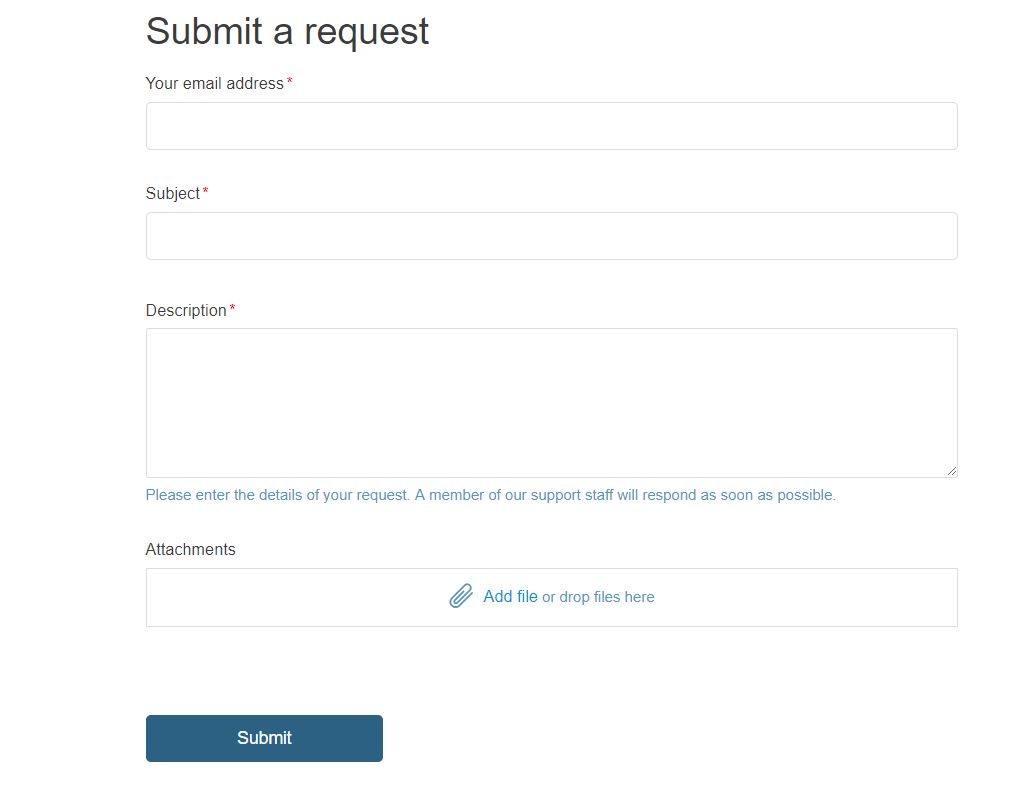 However, for indirect support, Coinmama encourages to utilize its FAQ covering most of the typical questions and issues.
The Bottom Line
On balance, Coinmama is a convenient way for basic purchases of mainstream cryptocurrencies with credit and debit cards. From the security side, some might have wondered, is Coinmama scam? At the end of the day, we are inclined to believe that no. However, for actual trading and bigger asset selection, it is better to look for the competitor exchanges. Besides, the service offered at Coinmama is definitely one of the most expensive in the market. Last but not the least important is the limited number of payment methods. In order to justify the fees, we think that Coinmama should extend the platform features and consider the existing flaws highlighted in this review.