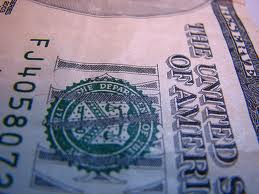 NEW YORK (Forex News Now) – After staging a brief rally, the dollar today dipped against all major currencies, with the index slipping by 0.33% to 79.33. While a dip in the dollar has not been unusual in recent online forex news, this downwards movement resulted in part from a comment made by a former Chinese central bank advisor on the dollar's viability.
The unnamed official stated that he believed a future devaluation of the dollar was inevitable, due to fundamental weakness in the American economy.
Chris Turner, head of forex strategy at ING, commented on the rumors, stating, "In the midst of all this talk, the currency war is just heating up and these comments from the Chinese could be a shot at the U.S."
In addition to this speculation, a poor American consumer sentiment report undercut support for the dollar.  In a report released today by private industry group The Conference Board, a survey of consumer attitudes regarding the American economy dropped from 53.2 in August to 48.5 in September – strongly suggesting that Americans are becoming increasingly pessimistic about the future of the economy.
Declining consumer sentiment often foreshadows decreased consumer spending and investment, which slows the world's largest economy and causes GDP growth to stall.
Pessimism prevails
The grim outlook for consumer confidence in this report is the lowest point since February of this year.
Together, these online forex news pieces resulted in the aforementioned decline in support for the dollar, which had briefly managed to gain on the euro before falling once again.  The extended losses throughout the last two weeks will more than likely increase pressure for the Federal Reserve to engage in quantitative easing – a practice which could stimulate the economy but will almost surely send the dollar down even further.
The dollar is down 0.46% to 83.87 against the yen, 0.8% to 1.3547 against the euro, 0.12% to 1.5788 against the pound, 0.47% to 0.9648 against the Aussie, and 1.03% to 0.9756 against the Swiss franc.  The dollar did manage to gain 0.12% against the Canadian dollar, though, moving up to 1.0312.
Those looking to take advantage of this online forex news should keep a close eye on the Bank of Japan.  Today's losses make a move by the Japanese government to devalue the yen an almost certain proposition, especially since USD/JPY has moved even closer to the 83 mark that spurred the previous intervention on September 15th.