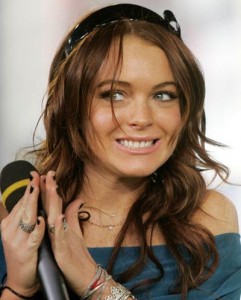 NEW YORK (Forex News Now) – Following my recent likening of Britney Spears to the euro, today I ask you to compare the recent tribulations of another embattled U.S. A-lister, Lindsay Lohan, with those of sterling.
The pound has certainly had a hard time of late. Remember the heady days in currency trading before the financial crisis?
In September, 2008 sterling broke above parity with the greenback in fx trading – to the joy of British tourists flocking to Disneyworld in Florida, and the distress of their American counterparts milling around Big Ben in London.
Alas, since then GBP/USD has fallen as low as 1.3502, as FX traders watched the British currency follow its younger and wobbly continental sibling, the euro, down amid Europe's debt crisis.
Lohan has also suffered something of a turnaround since the heyday of her Freaky Friday and Mean Girls years. On Wednesday, the 24-year-old was sentenced to 90 days in jail for failing to attend alcohol education classes.
We have seen sterling stage a small fightback against the dollar in recent weeks; only on Thursday, did the plucky British currency rise to a 2-month high. And, of course, the Hollywood actor-cum-singer will also bounce back, as she did in 2007 after spending 84 minutes in jail for drug and reckless driving charges.
There is another, perhaps even deeper, connection between the pair: Lohan, who will also be required to enter a rehabilitation program after her release, has signaled her desire to stop substances from further harming her career. British politicians, for their part, have sworn to go cold turkey on the U.K. addiction to public debt.
It remains to be seen whether the starlet and sterling will manage to rid themselves of their recent woes for good; but that is why second chances are so important, in Hollywood and in global forex.