Can Bitcoin sustain its upward rally?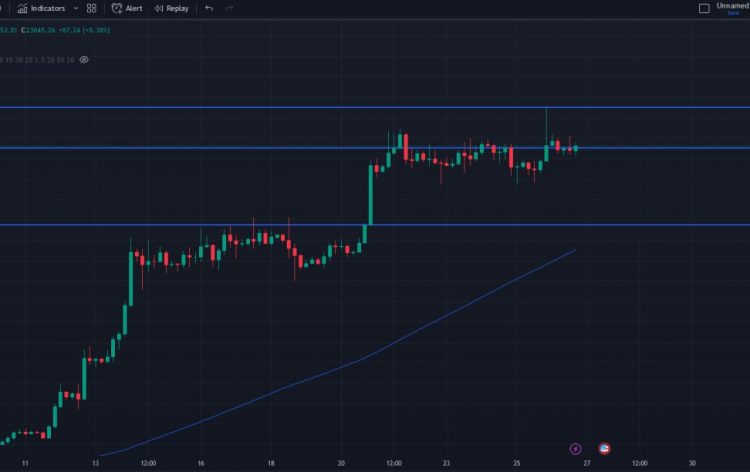 Bitcoin's price was in a downtrend for months. All the experts were predicting its price to crash to 10 000 levels, but suddenly BTC rose to almost 23k in a matter of days. In this research, we will analyze BTC's sudden bullish rally, and what to expect in the near future.
BTC status so far
US Fed's interest rate hikes and FTX's dramatic crash were so large and all-encompassing that it hit hard the crypto markets and all cryptos, especially Solana, tanked a heavy hit. Since then, cryptos mostly were in the sideways and bear markets. Bitcoin started its unexpected rally on 11 Jan 2023 and is in an uptrend since. This was unexpected and completely opposite of all events. No one could predict Bitcoin rising over 20k, let alone to 23k. Let's get to a business with price chart analysis.
BTCUSDT price analysis
Currently, as we can see from the chart, BTC is sitting at the 23k level. The closest psychological levels are 24 000, 24 500, and 25 000. It is advised to be very cautious if BTCUSDT reaches these zones, as volatile movements are likely to happen at these levels.
The most powerful new level will be the 23k price point. Professional traders will be sitting patiently and monitoring what Bitcoin will do here. If it breaks down, and all fundamentals are against the bullish rally, then the price is likely to drop to the next psychological level. If this unusual rally continues, the next level is at 23.5. The 23.8k level could be where many sellers are sitting as well, because the price couldn't break it on Jan 23. To be clear, we are only trying to make sense of what is going on right now on the BTC price charts and see where we are going, not advising anyone to buy or sell BTC.
This short rally could be a short-lived miracle, and we could see BTC falling from the current price to 20k levels. Only time will tell what is going to happen.
Summary
As many crypto scam companies and exchanges like FTX, Celsius, etc. crashed, everyone was predicting BTC to fall to 10k levels. But on 11 Jan BTC suddenly started an upwards movement and maintained its price at 23k levels. The next psychological level is located at 24k and if the price continues to approach these levels traders should be careful as BTC loves violent moves. 23k is the new level where traders will watch the price carefully, another scenario is the price breaks down the 23k level and drops to near the 20k zone. At any rate, the current sudden rally doesn't seem logical and aligned with current global tendencies. There is a higher chance of Bitcoin falling to the next support level than continuing the rally, and signs of the price stalling are already happening on the charts.
By ForexNewsNow Team
More content by ForexNewsNow Team