Brazil is a wonderful country with its busy and beautiful Copacabana and Ipanema beaches, wonderful Carnaval festival, breathtaking views, and billionaires. The five richest men in Brazil have wealth as large as the income of almost half the population of Brazil! The richest billionaires have acquired their wealth in many different fields and their stories are worth reading. See who are the Top 10 richest people in Brazil bellow
10. Joesley Batista
We open our list of top 10 wealthiest people in Brazil with Joesley Batista. He was born in 1972 in Formosa, Brazil. He is a chairman of the JBS S.A, the largest meat – packing company that is one of the main agribusiness companies in Brazil and the largest meat-packing company in the world.
Exactly Joesley Batista is the responsible person of the worldwide success of JBS S.A as he was leading the company's expansion and internationalization process.
If you will google his name you will find many articles about the allegations that were made against him. He was a suspect in the investigations of Operation Car Wash in 2016 as his company was involved in money laundering. Another investigation was made in 2017 about bribery allegations and later that year Batista was temporarily arrested by the Brazilian Federal Police, he was released the Federal Police's jail in Sao Paulo on March 2018, but till now he is not allowed to leave the country. He doesn't have a very clear history, but he has a net worth of 3.7 Billion which makes him one of the richest people of Brazil.
9 & 8 Roberto Ireneu and Joao Roberto Marinho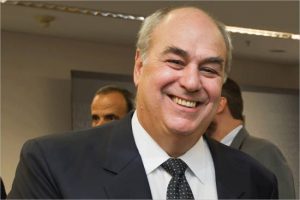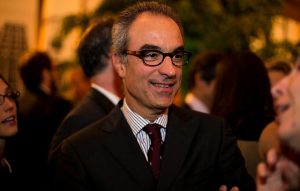 Marinho brothers are on ninth and eights places of TOP 10 Richest Brazilian's list. They each have a net worth of 3.8 Billion. In 1925 their grandfather Irineu Marinho has launched O Globo newspaper but unfortunately died only 25 days after the first issue was published. at that point, his oldest son took over the business.
Globo Group includes Brazil's biggest newspaper company, Largest broadcaster Rede Globo and the largest pay-TV provider.
Roberto Irineu was taking the position of the executive president of Globo Group but has resined in December 2017, with that, first time ever, a non-family member got executive president position. Roberto himself remains chair of the board of the directors now.
As for Joao Roberto, he was working in the newspaper on several positions and later became vice president of it in 1982. Now he is a deputy chair of the Globo Group's board of directors, as well as a chair of the Editorial Board and Institutional Committee.
7. Ermirio Pereira de Moraes
Ermirio Pereira de Moraes was born in 1952 in Sao Paulo. He has earned a bachelor degree in petroleum engineering from the University of Tulsa, in Oklahoma. With his sister, Maria Helena, who we will get to know later, as she is also one of the richest people in Brazil, he inherited control of Votorantim Group. Ermirio Pereira de Moraes died in 2018 and has left his net worth of 3.2 Billion to his seven children.
6. Maria Helena Moraes Scripilliti
Another member of Morea's family, the richest woman in Brazil, Maria Helena has a net worth of 1.13 Billion and is on the sixth place on the list of top 10 richest people in Brazil. Maria is a Brazilian businesswoman and the co-owner of the family business group "Votorantim." The company dates back to 1918 when Maria's father, Jose Ermirio de Moraes purchased a textile factory in Sao Paulo. The company grew eventually and became one of the largest conglomerates in Brazil. It is not only one of the largest company in Brazil but the Largest diversifies industrial empire in the whole of Latin America. The company runs in 20 countries in different industries such as aluminum, energy, pulp and paper, cement and agribusiness sector. Votorantim is still fully owned by the Scripilliti family, which is the third richest family in Brazil.
5. Eduardo Luiz Saverin
The youngest billionaire in Brazil, Eduardo has a net worth of 8 Billion. He was born in Sao Paolo in 1982. His family has immigrated to the U.S in 1993 and started living in Miami. This is how Eduardo's road to success has started. He was attending Gulliver Preparation school in Miami and later enrolled at Harvard University, where he managed to become the president of the Harvard Investment Association. While still, an undergraduate, Saverin made $300 000 via strategic investments in the oil industry. During his study at Harvard, he met Mark Zuckerberg and together they have launched Facebook in 2004.
Later on, Zuckerberg has cut Saverin from Facebook, stating that the agreement which was signed in 2005 by Saverin was not valid, after it Eduardo himself filed a suit against Mark, alleging Zuckerberg of spending his and Facebook money. In the end, the company affirmed Saverin's title as a co-Founder of Facebook and now he owns 2 percent of the stake.  Eduardo Saverin has launched Venture fund B Capital in 2016 and till now the fund has raised $360 million which they invest in late-stage tech firms in U.S. Europe and Asia.

4. Carlos Alberto Sicupira
Carlos Alberto Sicupiera has a net worth of 12.4 Billion and is one of the richest Brazilian men. He was born in 1948 in Sao Paulo and has graduated from the Federal University of Rio de Janeiro, where he earned a bachelor's degree in Business administration. Later in his life, Sicupiera also attended the Owners and President Management program at Harvard Graduate School of business and is a member of the Board Member of the Board of Dean's Advisors of Harvard Business School since 1998.
He is a co-founder of 3G Capital which was founded in 2004 and is its Founding Principal Partner and Director.
Most of his wealth is coming from his shares in Anheuser-Busch InBev, in which he owns about a 3% stake. We will talk again about the company as it is the main source of the wealth of two other businessmen in the list of top richest people in Brazil.
3. Marcel Hermann Telles
With Marcel Hermann Telles, we are opening our list of 3 richest Brazilian people.  Marcel was born in 1950 in Sao Paolo. He was studying at Federal University of Rio de Janeiro, and as many others in the list, Telles continued studying at Harvard as well.  With Carlos Alberto Sicuipira, he shares control of Anheuser-Bursch InBev and has a net worth of 14.6 Billion. His career includes being a partner of Garantia Merchant Bank, CEO of Brahma, being a board member of Burger King, Lojas Americanas and partner of GP Investimentos. For now, he is connected to 6 board members of 6 organizations across ten different countries! And when he is not busy with them, he likes to practice diving and spend time in Monaco.
2. Joseph Safra
With the net worth of 20.3 Billion, Joseph Safra is the second Richest person in Brazil and the richest banker in the world. Joseph was born in Beirut, Lebanon in 1939 and has Jewish Lebanese origins. His family has a long story in banking, which originated with caravan trade between Beirut, Aleppo, Alexandria, and Istanbul. Safra family moved to Brazil in 1952, where his father and brother started working in San Paulo in the finance industry. In 1955 Safra founded Banco Safra, which is 8th largest private banks in Brazil. Till now Joseph Safra is the chairmen of Safra Group which offers banking services in Europe, North and South America. He also owns 50 % Chiquita Brands International, which is a banana grower company.
1. Jorge Paulo Lemman
Let's talk about the richest person in Brazil Jorge Paulo Lemman. He was born in Rio de Janeiro in 1939 and was only 14 years old when his father died in a bus accident. He has earned his bachelor degree in economics from Harvard University. He describes those years as a horrible period in his life, as he was only 17 when enrolled there. he was saying that as a 17-year-old boy he was missing the beach and the sun a lot, which he used to have in Brazil. At the same time, he was not used to that much reading and writing, as Harvard University was requiring from him. So as he says his grades were the worst possible and at the end of freshman year he was even considering to leave, but decided to stay.
later on, Jorge Paulo started his career in investment banking and over time became a controlling shareholder of Anheuser-Busch InBev, which is the world's largest brewer. Lemann and his partners also have stakes in Restaurant Brands International, It is a parent company of brands like Burger King and Canadian coffee chain Tim Hortons.  He is a co-founder of Brazilian investment firm 3G Capital. The investment company owns Anheuser-Busch, Burger King, and Heinz.
Paul Lemann is a big fan of tennis and plays it like a professional. He has won the Brazilian national championship five times, has participated in the Davis Cup two times, once on behalf of Brazilian team and another time as a member of Swiss Davis Cup team, he has also played at Wimbledon.
Jorge Paulo Lemann has a net worth of 29.7 Billion, he is the 29th richest person on Forbes list of worlds richest billionaires and is the richest person in Brazil.