Ally
Ally is an online-based financial services provider that offers a diverse range of products including online banking, auto finance, home loans and more. Ally online bank is distinguished by its innovativeness and has attracted about $78 billion in deposits. The company traces back its history to 1920s when it became involved with the auto industry. In the 21st century, the company started to transform and became involved with a wider array of financial products. 2012 was the year when the Ally Bank reached one million customers and two years after that the company completed its IPO.
Banking with Ally
Ally bank doesn't have any physical branches and can be accessed only online. "We're an online bank, so instead of spending money on expensive branches, we pass the savings on to you. You get the benefit of rates that are consistently competitive, so you can make your savings work harder," – says the company. There are some features of the Ally online bank that differentiate it from the others. The interest at Ally is compounded daily which means faster growth for the depositors. The platform is available on multiple devices including computers, tablets and mobile phones. Furthermore, the deposits at the bank are insured by the FDIC so that the depositors can feel safe about their funds even if the bank itself encounters financial troubles.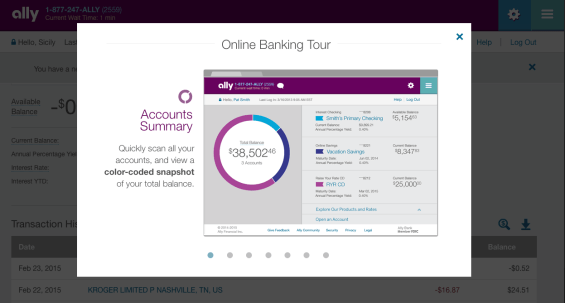 Ally offers several banking products including checking and savings accounts, certificates of deposit and individual retirement accounts. Furthermore, the company has introduced innovative features that make it easier to use the banking services remotely. Ally eCheck Deposit is a tool that allows users to deposit checks electronically by just taking a picture of the check. Money transfers are also facilitated by the platform. Not only can the users send funds between their own accounts easily, but it is also possible to make P2P transfers quickly and effectively. Ally has partnered up with Zelle in order to provide this service. "Send, receive or request money using an email address or U.S. mobile number with Zelle – it's fast, secure and money is typically available within minutes. Keep in mind, if your recipient isn't enrolled in Zelle, it could take 1 to 3 business days to receive the money once enrollment is complete."
0 out of 5 based on 0 reviews.
Overall rating: