Arachnys
Arachnys provides Know Your Customers, Anti-Money Laundering and Enhanced Due Diligence solutions to businesses in the financial sector. The company leverages modern technology to build superior products and increase the effectiveness of processes tackling illegal activities. It offers several products that each serve different functions.
Arachnys's core products ensure the clients' compliance with KYC and EDD requirements
Spotlight is one of the core products of the company that allows businesses to maintain a singular view of each client and thus avoid errors that are associated with manual processes. Spotlight facilitates the onboarding process, which according to some analysts can take up to 34 weeks and on average costs $25,000 per client. In the process, some of the clients are lost. This is mainly due to the repetitive requests for regulatory documentation and inconsistent client service. The solution offered by Arachnys provides businesses with tools to create an entity profile, which facilitates the data population and verification for each customer as well as automated content acquisition and KYC profile creation.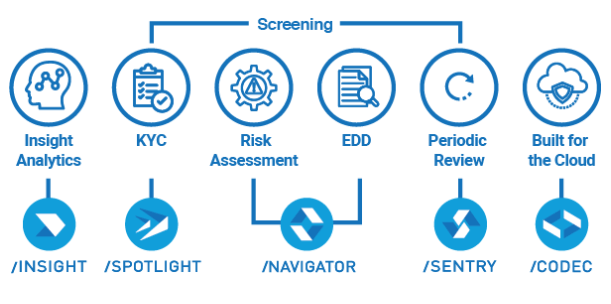 Navigator is another product of Arachnys which "provide a single investigative environment to support Due Diligence processes across enterprise." It is useful for tackling fraud issues and assessing the riskiness of the customers. The users are given tools to define their own processes and content sources, implement those processes and view the results. Other products of the company include Sentry, which is an automated monitoring and reporting tool for CDD and KYC, Insight, which "provides for a deep examination of risk, operational and usage activity data to  produce actionable insight for KYC, AML & CDD/EDD operations", Codec, a management tool for APIs and web services and Investigator, a stand-alone due diligence platform.
In addition to the core products, Arachnys provides its clients with additional services for enhanced customer experience
Besides providing companies with the products mentioned above, Arachny also offers services that enhance its appeal to the customers. Firstly, during the implementation process, each customer is assigned a dedicated solutions team which provides workshops that fit the particular business needs of the customer. The team also ensures that the business is keeping up with the most recent developments and updates. The Support of the company provides ongoing monitoring of the clients' Customer Risk Intelligence platform to identify problems and address them accordingly. Lastly, Arachnys also provides training to the employees of its customers to ensure the best use of its products. The initial trainings are followed up by refresher sessions to ensure the continued success of the company's services.