Awin
Affiliate Window, which has been providing affiliate network solutions to companies since 2000, was rebranded in 2017 as Awin. During its years of operation, the company has received many awards and accolades for its services. It was named the Best Managed Affiliate Program in North America and was included in the list of Top 7 Affiliate Marketing Companies. Awin operates 15 offices around the world and has over 1,000 employees. The company unites over 100,000 publishers for whom it has generated $734 million in revenue and 13,000 advertisers for whom Awin has generated $16.3 billion in combined revenue. "Awin is driven by a relentless desire to connect advertisers and publishers together for mutual success. We are privileged to work with many of the world's most recognised brands and our publisher network is rich with opportunity," – reads the statement of the board of the company.
Awin offers appealing services to advertisers and publishers alike
For advertisers, Awin offers an opportunity to reach the audience through the affiliate network. The network of publishers of the company can cover different sectors and thus encompass a wider range of customer segments. Awin has over 9,000 affiliates in the finance sector, 65,000 affiliates in the fashion and retail sector, 30,000 in technology and 21,000 in travel sectors. Furthermore, the company has an intensive screening process for its publishers, so the security issues are minimized. The advertisers are also assigned a dedicated publisher management which can offer consultations and technical teams which ensure the high-level performance of the programs.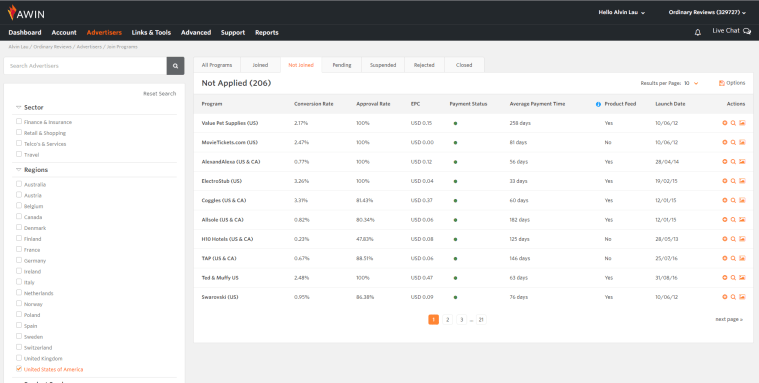 Publishers are offered appealing deals by Awin as well. 260 new advertisers join the company daily, which means more working opportunity for the affiliates. Furthermore, the affiliates are paid as soon as the company receives the funds from the advertisers. Managing the campaigns is easier as well with the user-friendly platform. "With clear, consistent labels and layouts, a wide range of simple but effective tools and features, and a full reporting suite, the Awin platform is designed to aid any marketing operation, whether you're a blogger, influencer or full digital marketing team," – says the company. The affiliates simply have to connect with advertiser brands, promote those brands to the audience, encourage them to click the advertisers' websites and get commissions.