Betterment
Betterment is an online investment company founded in 2008 in New York City. The company is registered with the Securities and Exchange Commission and manages over $13.5 billion worth of assets. According to the company, it is able to perform 2.66% better on average than a typical investor. "Our technology helps make this possible by lowering taxes, lowering fees, diversifying your portfolio, and enabling better investor behavior," – the company says.
Betterment offers several products including financial planning, retirement planning, trust management tools and more. In order to differentiate its products from the others on the market, the company has introduced innovative ideas that should be appealing to the customers. Firstly, Betterment uses "goal-based investing", which means that before coming up with the trading strategy, the goals of the customer are assessed. This is done by communicating with the customers through questions and suggestions.
The trading strategies, as well as the innovative products, set the company apart from the others
Betterment also offers a service called Smart Saver. Using this service, the customers can invest the extra cash in their bank accounts and earn returns on it. Majority of these funds are invested in low-risk assets like US Treasury Bonds for low risk, while a smaller part is invested in short-term investment grade bonds in order to have high returns. Customers can use auto-deposit to arrange the transfer of extra funds from their bank accounts to the Betterment account. This way they won't have to do the transfer manually each time. If they need the money, they can transfer it back in a matter of 4 or 5 days.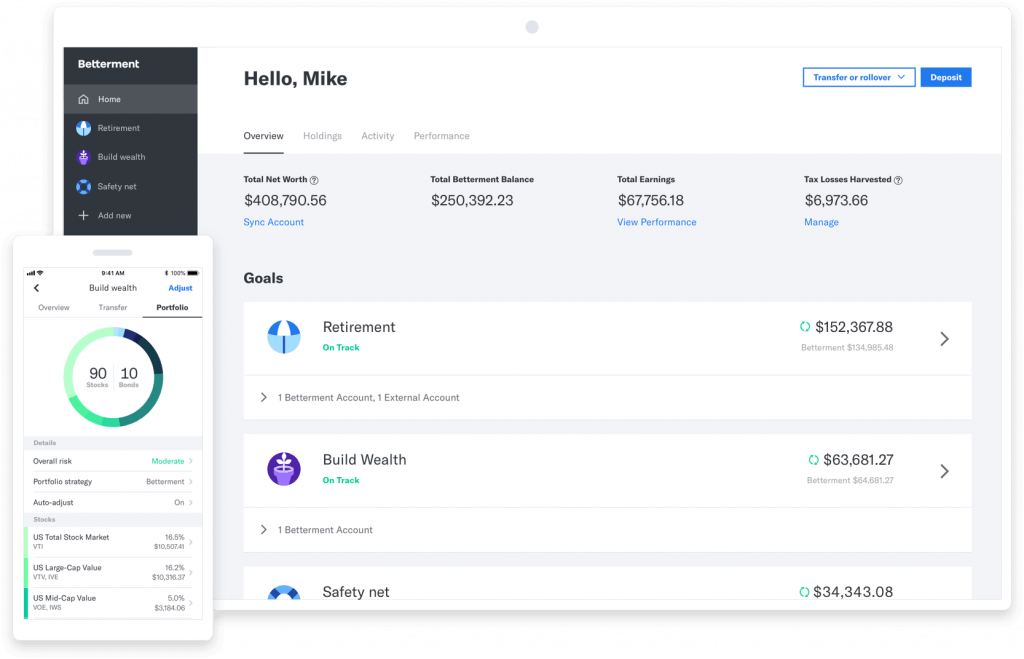 There are additional features of the company that make its services appealing. Betterment largely invests in stock ETFs and bond ETFs, which means their portfolios are diversified and carry lower risks. The company uses tax-loss harvesting in order to reduce the tax bills of its customers. "Tax loss harvesting is the practice of selling a security that has experienced a loss. By realizing, or "harvesting" a loss, investors are able to offset taxes on both gains and income. The sold security is replaced by a similar one, maintaining an optimal asset allocation and expected returns," – explains the company. Furthermore, Betterment has a team of financial experts that is ready to answer any questions the customers might have.