Charles Schwab
Charles Schwab offers an investment platform, a trading platform and a bank. The company's robo-advisory offers great innovative products that could be appealing to many customers. The company uses a goal-based approach as the users have to indicate their goals before making investment decisions. After the goals are set, it becomes easier to plan for various financial needs. Users can link their financial accounts, mortgages, 401(k)s and such in order to be able to plan for retirement, college, etc. Furthermore, customers of Charles Schwab get one-on-one advice from Certified Financial Planners through video or phone calls. "During the appointment, you'll fine-tune your plan, get recommendations for a diversified portfolio, and come away with an Action Plan to get you on track toward your goals," – says the company. Once a portfolio is chosen through this process, the robo-advisor monitors its performance continuously and rebalances it to keep the assets diversified and on track to meet the set goals.
A large selection of investment products differentiates Charles Schwab from the others
Charles Schwab offers a wide range of assets to invest in. While many investment platforms mainly focus on Exchange Traded Funds in order to avoid risks, Charles Schwab gives their customers many options in terms of what assets they can invest in. These assets include mutual funds, ETFs and money market funds, which help diversify the portfolio and lower the risk, stocks and international stocks, which help tailor portfolios to specific customer's preferences and drive growth, bonds and fixed income products, options, futures and more. This wide range of investment products really sets the company apart from the others offering similar services on the market.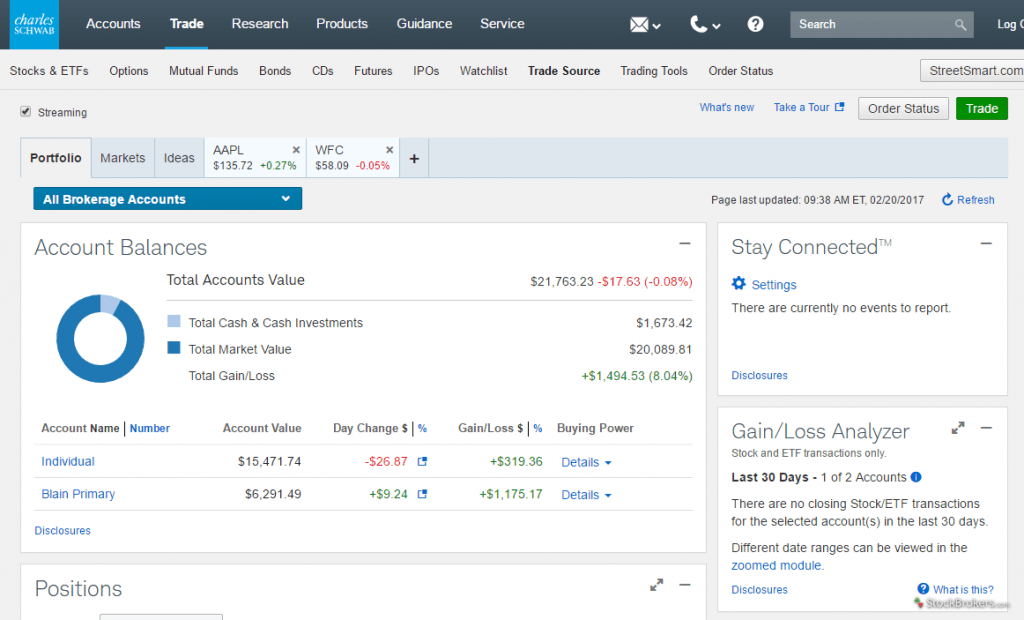 The company offers different kinds of accounts based on what services the customer will be using. There are brokerage accounts which can be individual and join, retirement accounts that include traditional IRA, Roth IRA, Rollover IRA. In addition to these, there are also Estate & Charitable Planning accounts and Schwab Bank Checking Accounts. There are no account opening or maintenance fees, which is another appealing feature of the company.