Cuvva
Cuvva introduces an innovative approach to the auto insurance model by offering temporary insurance to its customers. The company aims to create flexibility in the industry. Often the established insurance companies have lengthy procedures and rigid rules that ruin the customer experience. Cuvva, not only offers more options for car insurance but also accelerates the whole process through the use of modern technology. Furthermore, Cuvva values transparency and the need for clear communication between the company and the client. "We want to be open and honest with our customers at every stage, from receiving a quote swiftly and easily to driving a brand new vehicle home from the dealership. We want to ensure there is an understanding of what is happening and why – we intend to have a welcoming and inclusive atmosphere to achieve this," – states the company's website.
At Cuvva, an hourly car insurance costs £10.90 on average
The list of products offered by Cuvva includes hourly, daily, weekly and monthly car insurance. An hourly insurance is great for when a customer is driving a borrowed car. The fee for this service starts at £7.92 as the average customer pays only £10.90 for an hour and £13 for three hours. Daily insurance is a better option for customers who think they will spend a larger portion of the day driving. This type of insurance costs £37.80. Customers can reduce the costs by choosing a few hourly plans instead of a daily one. For those customers who will spend at least an hour a day in their cars, a weekly plan is a great option. The price for this service stands at £48.21. For more regular drivers, there is an option of a 28-day (monthly) insurance as well. If a customer doesn't plan to spend a lot of time driving during the month, it is probably a better option to go for a shorter term plan.
Cuvva offers plans to drivers with provisional drivers licenses
Besides the basic temporary plans, Cuvva also offers a Drive Away Insurance. This is a great option for customers who want to test drive a car before they purchase it or want to drive it away after the purchase. There's a Learner Driver Insurance as well, which covers those with provisional drivers licenses. For Van drivers, the company offers temporary van insurance.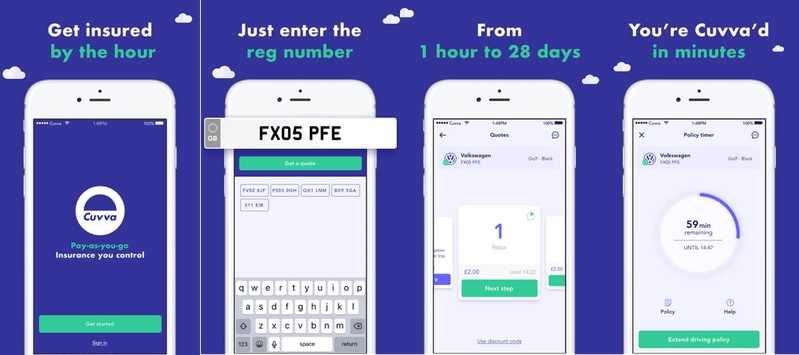 Signing up for the company's services is easy and fast. Customers simply have to download the Cuvva app and create an account. Then, using the registration plate, customers look up their cars and choose the plan they want to purchase. After the plan is paid for, the customers can feel safe to drive the car.