Deemly
Deemly is a company which wants to allow users to utilize their entire digital reputation for various online services. A digital reputation of a person consists of data gathered from multiple sources like social media platforms, reviews on different accounts and more. Combining all of these data into a single indicator helps other assess each other for peer-to-peer interactions. It also facilitates the interactions as the trust issues are minimized. Much like a credit score aggregates data from different sources to assign each individual a number that can be used by businesses to assess risk, Deemly aggregates entire digital reputation into one profile. According to the company, this facilitates the development of new platforms, as users will feel more comfortable being able to view others' ratings and reviews. "Similarly, less-active users of more established platforms will have an easier time participating when they can utilize their entire digital reputation to compete with the platform's most active users," – states the company.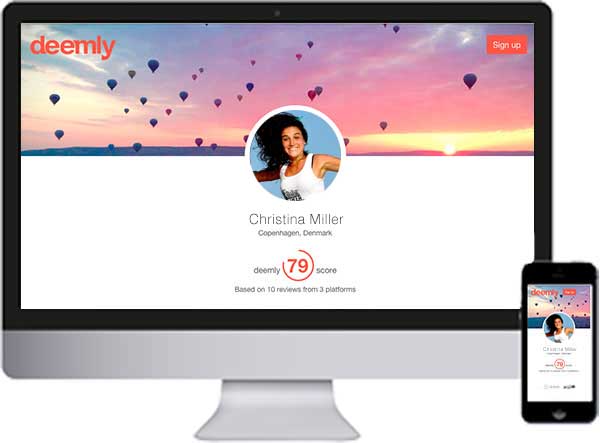 Users on Deemly are verified with government-issued IDs
Data sources for generating the trust profile include ebay, airbnb, SnappCar, BlaBlaCar, UpWork, Yelp, floow2, Trendsales, DanRent, Etsy, Lyft and more. Deemly plans to integrate more channels into its platform to get more accurate views on each customer. The process also includes government-issued ID verification. Once the data is compiled, the platform generates a trust profile for the users. The trust profile includes a basic info on the user, a trust score generated based on the digital reputation, average scores from the integrated platforms like ebay and Lyft and social media verifications. The company provides an API to various businesses which can integrate the service into their platforms and allow its users to view each other's trust profile within their own system. This way, the businesses are able to break down the trust barriers on their platforms and increase interaction among the users.