Dispatch
Dispatch Labs allows entrepreneurs to build decentralized applications. With the recent boom in cryptocurrencies, blockchain technology started to gain a lot of attention. Particularly, people around the world started to recognize the benefits of having a decentralized ledger for various purposes. Some of the most commonly mentioned benefits include the transparency in the system as all of the participants in the network have equal access to all information and the elimination of the need for intermediaries, which for a lot of services reduces fees and commissions. As a result, many companies started to launch dApps i.e. decentralized versions of applications. Furthermore, with the introduction of the shared ledger protocol, an alternative emerged to cloud services, which are still predominantly used by major companies. "Dispatch is the first fully data-focused shared ledger protocol to manage governance on-chain and data off-chain. Dispatch has no transaction fees, stores unlimited amounts (and types) of data, and is backward compatible with Ethereum," – reads the company's light paper.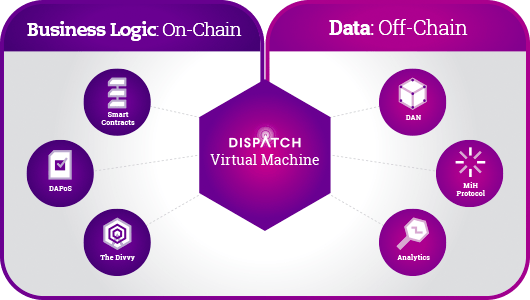 The services offered by Dispatch Labs can be used to build P2P content marketplaces, learning management systems and more
Dispatch Labs offers an on-chain business logic that facilitates many processes like digital asset transfer, usage of digital identity, supply chain management and more. In addition, the company also offers off-chain data management tools that allow businesses to control various processes. All of this is tied together with the Dispatch Virtual Machine giving entrepreneurs around the world capabilities to build decentralized, scalable applications. There are several use cases for such technology. It can be used to build a  peer-to-peer content marketplace, where people can put up their products and services for sale and others can purchase them. In the existing business models of this type, there are usually intermediaries which take a large portion of the generated sales. In decentralized applications, there is no need for such intermediaries. Another use case is the token sales. "Developers can use Dispatch smart contracts to create dApps on top of their own tokens," – says the company. This means that those who are working on various projects will be able to raise funding through the token sale. The technology has other applications too, like learning management system, aircraft manufacturing, electronic medical record system and more.