EQ Bank
"We'd rather build your savings than bank branches," – is the motto of EQ Bank. EQ Bank was launched by the Equitable Bank, a Canadian bank with more than 45-year history, in 2016. It offers its services exclusively online and doesn't provide debit cards or cheques to its customers. EQ Bank is expanding its range of services as well as the customer base quickly as currently, the total value of deposits at the company is over $2 billion from more than 60,000 customers. The company has more than 600 employees and over $25 billion in assets under management.
The main product of the EQ Bank
Savings Accounts remain the main product of the company. The way EQ makes its services attractive is by having competitive fees. There are no monthly fees or minimum balances at the digital bank. Furthermore, there are additional tools which make the saving experience more interesting and successful. The users are able to set goals and constantly monitor their progress towards those goals. In addition, the transfers to and from EQ accounts are unlimited. Users are also able to make electronic funds transfers for free. All these features make the savings accounts at EQ appealing for the customer and manage to differentiate the services offered by the company from the others on the market.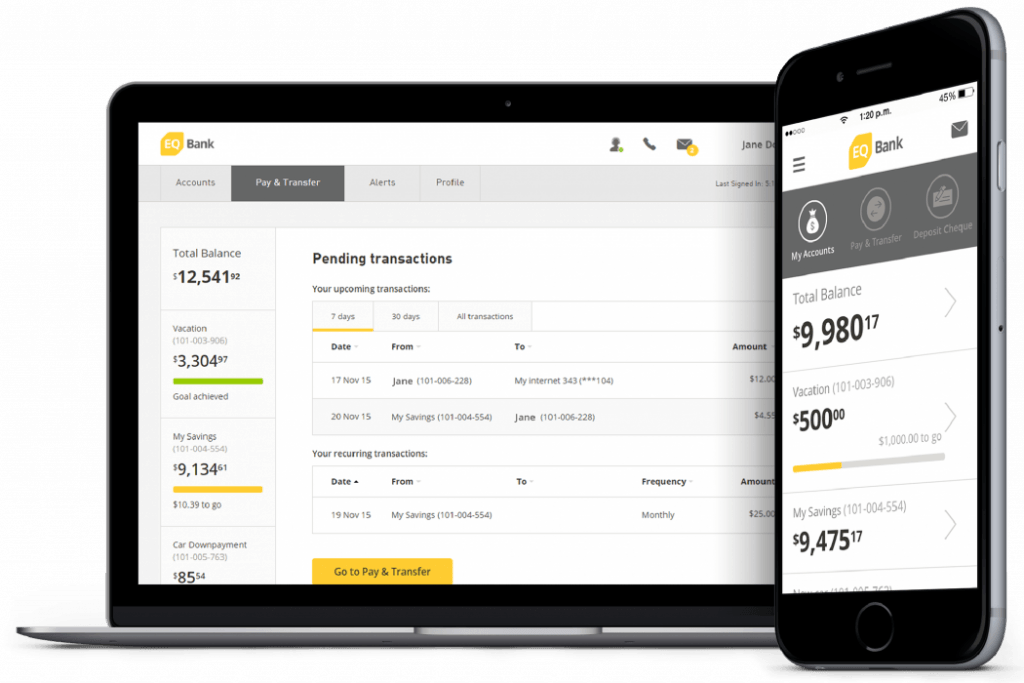 Guaranteed Investment Certificates or GICs are another product of EQ Bank. "Simple, safe and secure, our GICs are designed to help grow your money faster with guaranteed high rates. You'll have peace of mind knowing you're making money on your money with a 100% rate guarantee and confidence that your money is protected," – advertises the company. The protection measures alluded to in the statement refer to the membership of the Canada Deposit Insurance Corporation, which insures customer deposits at the EQ Bank up t a certain limit.