FICO
FICO is an analytics software company that uses Big Data and modern technology to forecast consumer behavior and give businesses tools to manage risks and meet regulatory requirements. The company was founded in 1956 and since then has become one of the most ubiquitous tools to assess consumer credit risk in the United States. FICO Scores, which measure this risk are widely used in many different industries. Usually, when companies are unable to assess consumer credit risk accurately, they decide to err on the safe side and offer worse terms to the consumer or avoid dealing with them altogether. With the tools introduced by FICO that enable aggregating information from many different sources to assign each user a standardized score reflecting their credit risk, companies have a better understanding of each customers behavior and can offer terms that are more accurate.
FICO's products allow customers to tackle fraud and money laundering issues
One of the solutions offered by FICO tackles fraud, compliance and cybersecurity issues. FICO's products help customers increase the automation of processes and thus reduce costs, detect risks accurately and adapt to changes dynamically. Furthermore, FICO allows its customers to stop people from using stolen identities. The products offered by the company that include these solutions are FICO TONBELLER Siron AML and FICO TONBELLER Siron KYC. Below you can see the review of these two products.
Siron AML is used to detect and counter money laundering. The software monitors customers' activities, investigates suspicious behavior and alerts the company accordingly. "This proven end-to-end transaction monitoring solution helps AML officers to easily keep up with new threats and comply with ever-growing regulatory requirements in a cost-effective way," – states the company. Some of the features of the product include alert processing and case management tools, rule editor that allows customers to modify the software based on their strategies, workflow for suspicious activity reporting, link analysis and more.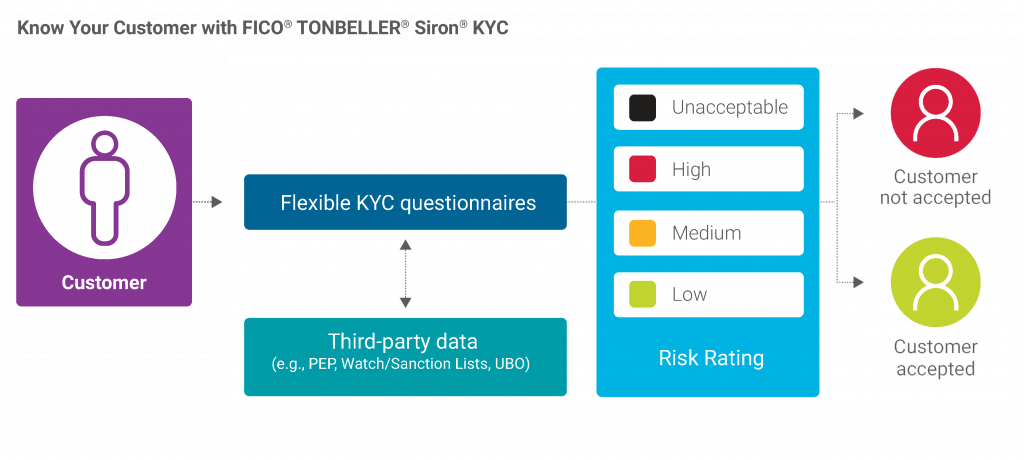 FICO facilitates KYC procedures for its customers
Siron KYC helps businesses manage KYC processes. The software uses third-party databases to check customer information on various sanction lists. It also detects politically exposed persons behind the company and identifies beneficial owners. Siron KYC allows customers to adapt to regulatory changes quickly and stay compliant without any hindrances. The features of the product include integration of existing customer onboarding processes, automatic retrieval of beneficial ownership, real-time risk classification, a tool for creating and maintaining dynamic KYC questionnaires and more.