FlexOffers
FlexOffers is a marketing affiliate network which offers appealing services to merchants who want to advertise their products as well as publishers who want to earn commissions. Currently, the company has over 12,000 advertisers as more are added daily. There are 500 premium advertisers which offer premium payouts to the affiliates. Net 7 allows the company to pay the publishers on a NET 30 basis, so they don't have to wait long to receive their earned commissions. This is oftentimes a problem with standard affiliate networks. Further features that distinguish the services offered by the company include a dedicated affiliate manager, who is ready to provide support to the advertisers as quickly as possible. The technology behind the company's platform is advanced as well. "Aside from standard network services like providing text links and banners, you will soon have access to APIs, FTP, and much more. There's no need to configure your website to work with every individual network out there when FlexOffers.com has it all!" – states the company.
FlexOffers offers advertisers two options for the fee structure
For advertisers, there are two options when choosing the fee structure. They can pay the publishers 5% of sales, in which case another 1% will have to be paid as the network fee to FlexOffers. In case the advertiser chooses to pay a fixed rate of $5 to the affiliates for each conversion, the network fee is a fixed $0.25. In order to be able to use the company's services, a one-time fee of $500 needs to be paid. Of this $500, $100 will be deposited in an escrow account and will be used to pay publishers for the sales. Thereafter, there are no fixed payments to the network, unless the accumulated transaction fees don't exceed $25, in which case that amount will have to be paid by the advertiser.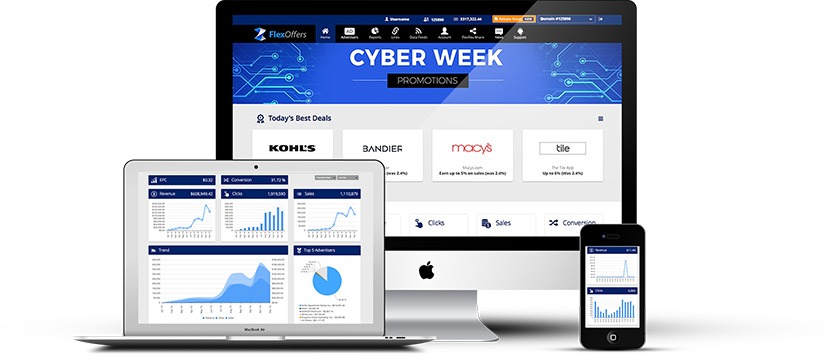 FlexOffers allows publishers to earn income on their referrals
The benefits of the publishers include an easy-to-use platform with a responsive design. This platform is used to manage existing campaigns and look for new network announcements. About 50 new advertiser programs are added each day, which gives the affiliates an opportunity to select the offers they think are more suitable to their capabilities. The platform also generates reports which allow publishers to assess the performance of their campaigns. FlexRev-$hare is another feature offered by the company, which should be appealing to the publishers. This creates additional opportunities, as those publishers who refer new affiliates to the network are able to earn a higher income. Such publishers earn more if their referrals earn more.