Questrade Portfolio IQ
Questrade is a Canadian online brokerage that offers its users self-directed investing as well as managed investing. It is one of the fastest growing companies in the industry as it attracts more than 30,000 accounts a year. Currently, the company manages over $8 billion in assets and has won the award for Canada's best-managed company 7 times. "We're the digital, low-cost alternative that gives Canadian investors a better choice in an industry that's historically been stacked against you," – the company advertises itself.
For self-directed trading, where the users take charge of their trading decisions, the company offers a fully customizable platform and several benefits like no account opening or closing fees, low commissions, free to buy ETFs and more. There are many account types offered by Questrade so that people with different goals can find the right fit for them. For example, Registered Education Savings Plan is better for those who want to save for college, Locked-In Retirement Accounts are used to manage retirement investments and so on. There are accounts for entities as well as individuals. The company offers Corporate, Sole Proprietorship, Partnership, Formal Trust accounts and more.
Questrade's Portfolio IQ uses rebalancing and diversification in order to reach the users' goals
Where the true appeal of the company comes in is with its managed investing service. Questrade Portfolio IQ matches customers with the right portfolio management strategies as the company takes over the trading decisions to lead to a more relaxed experience while still experiencing the benefits of growth. There are several aspects that make the Questrade Portfolio IQ successful in terms of trading. The company invests heavily in Exchange Traded Funds, which means that its investments are diversified as ETFs draw from a diversified pool of assets. As a result, the risk associated with the investments is lower. In addition, the portfolio managers use tax-loss harvesting to lower the tax bill. As the users set their goals, the system automatically rebalances the portfolio to be in line with the goals.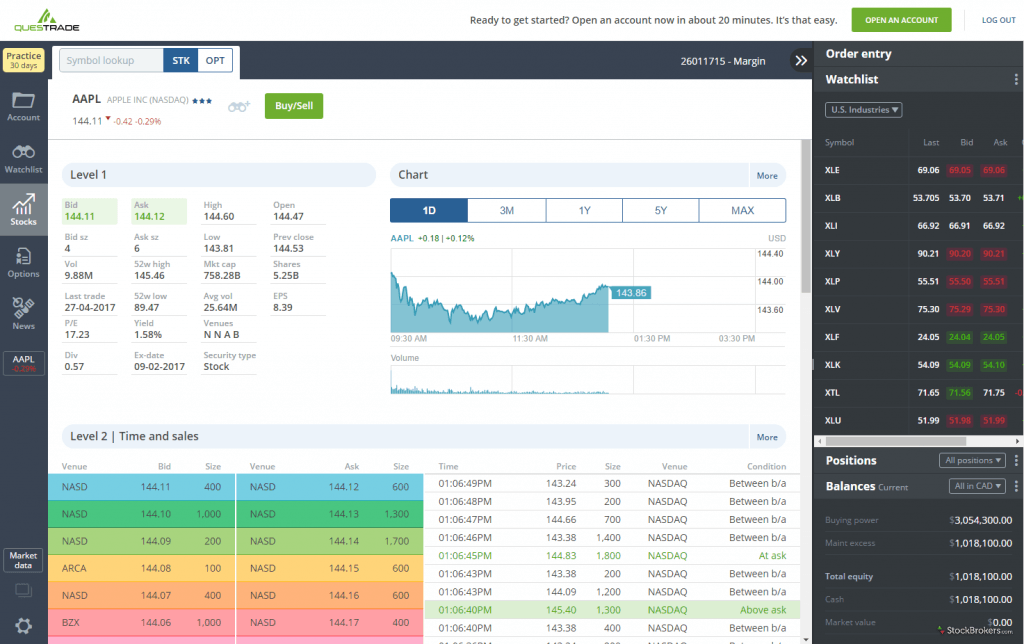 Opening an account on Questrade is an easy process and shouldn't hinder customers of any background from accessing the services of the company. Once the trading starts, there are additional tools that make the platform attractive. For example, the investor statements are presented in an easily understandable manner, so that the users are always up to speed with the developments in their portfolio.