Railsbank
Railsbank provides customers with simple APIs that allow access to banking and payment capabilities such as issuing debit cards, sending money transfers, converting money and much more. The company was founded by a team with over two decades of experience in the FinTech industry. The founders of Railsbank also boast other FinTech projects such as Evolution and Currency Cloud. The company aims to simplify the process of integrating with banking services for businesses. According to Railsbank, "complexities of legacy technology, managing global compliance and ancient bank processes […] create a slow, complex and costly experience for customers" and the company is trying to tackle this problem by introducing easy to use APIs that businesses can take advantage of in order to get access to banking capabilities. "We set out to make it super simple to access financial services by giving 'access to global banking with 5 lines of code'," – say the founders of the company.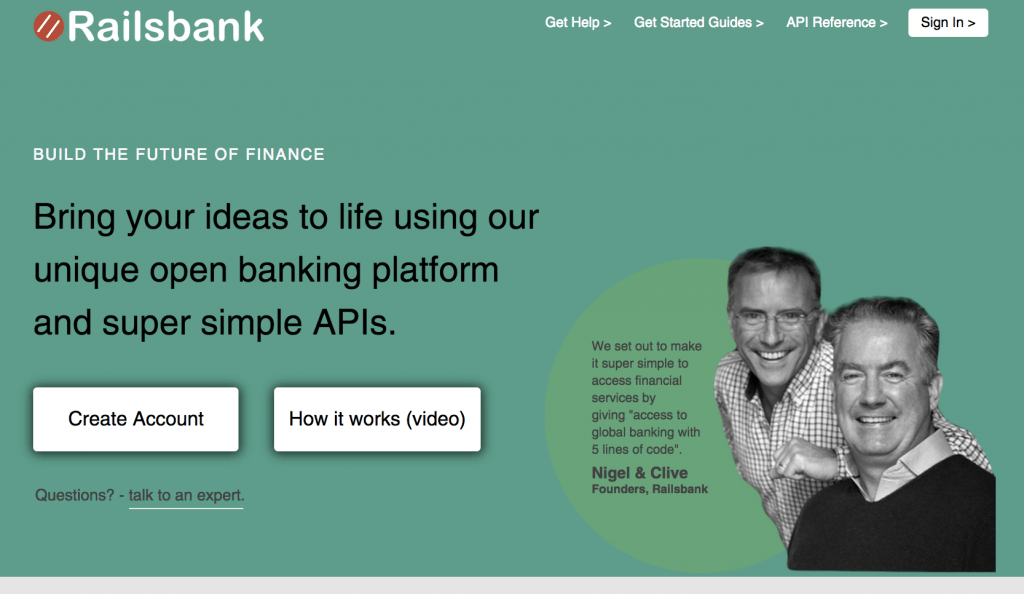 Railsbank APIs allow businesses to issue debit cards, process payments and more
The list of capabilities Railsbank's APIs gives to the users is vast. For example, the customers can issue ledgers and IBANs. Ledgers store value for different assets while IBANs provide uniques addresses for the ledgers. The customers will also be able to issue MasterCard debit cards which are connected to the ledgers and allow customers to spend money. If an account receives money, the ledger will be credited and for the spent funds it will be debited. Furthermore, using the APIs, customers will be able to collect funds from bank accounts or cards using payment schemes. This capability is extremely important for many businesses. It is also possible to gain the capabilities of converting value between different assets, whether it is different currencies or asset types.
Registering on the Railsbank platform takes under a minute. The customers then get to have a better look at the API guides and learn more about the capabilities of the platform. The company also offers a PLAY environment, where users can test the APIs with test data. The PLAYLive environment allows customers to use the APIs with real bank accounts and real funds.