Simplesurance
Simplesurance uses modern technology to improve the current practices of insurance companies. It offers its users convenience that some of the more established and larger insurance corporations might not be able to offer. The company achieves this through its online platform that accelerates many processes traditionally associated with insurance. "We believe in easy and smart insurance. That's why we constantly invest in our unique platform with transparent and efficient insurance services to connect people and business, anywhere & anytime," – says the company. On the website of the company, consumers can purchase insurance directly and easily for their property, that could include many things from computers and phones to bikes and washing machines. Furthermore, the company integrates with retailers to provide insurance directly at the point of sale. This way, when consumers are checking out on their favorite websites, they can add insurance to their purchase as well. The company has already integrated with over 2,500 shops.
Simplesurance offers a multi-device application for enhanced user experience
Simplesurance also offers a multi-device application that enables the customers to manage their insurance policies easily. The application stores information on the policies of the user and allows them to contact the company representative directly through the app via phone, messages or email. The technology is the main advantage of the company. It allows simplesurance to process claims in under 100 milliseconds on average. "Technology is our core competence. The best developers from all over the world are working on our solutions. We apply state-of-the-art technology and tools in an agile development environment to innovate the way insurances work online. We continuously explore new ways and drive the digital revolution of the insurance industry," – states the company's website.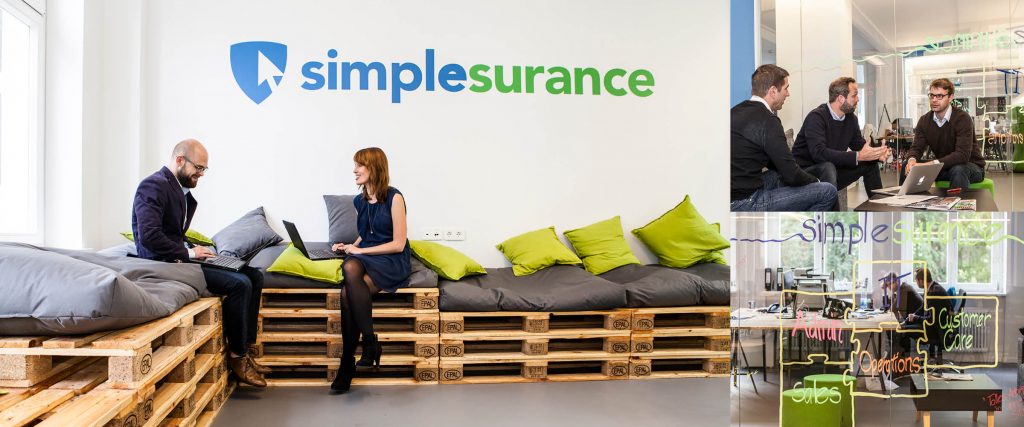 Simplesurance offers a 100% paperless experience
Some aspects of the company differentiate it from the others in the industry and make its services even more appealing to the customers. These include completely paperless user experience. As all the processes are automated and occur digitally, the consumers don't have to worry about filing reports and filling out long documents. They can simply enjoy the convenience of their mobile phones to handle their policies and claims. Furthermore, the company is focused on testing and optimization, which means that it is continuously developing and offering new features to its customers. Lastly, simplesurance coverage includes Europe, which is something not many insurance companies are able to boast of because of the strict regulations in the region.