SoFi
SoFi, or Social Finance, is a robo-advisor that provides online personal finance services. It was founded in 2011 by Stanford students and initially offered a $2 million loan program at the university. The funds to finance this endeavor were mainly generated through alumni contributions. In fact, at first, this was exactly the business model company was aiming for. Alumni would fund the education of current students and would receive a financial return, while the students would be offered lower rates than they otherwise would be able to obtain. Soon SoFi grew to include a range of other products and moved away from the alumni-funded model. Currently, the company offers services that include mortgages, mortgage refinancing, personal loans, wealth management and much more.
SoFi uses several strategies to select the right portfolio for each customer
SoFi offers a goal-based approach, which means that the users set their goals first and then start making financial decisions. This helps the advisors as well, as have to give user-specific suggestions. A goal-based approach has proven to lead to more satisfactory outcomes for the customers. The company also emphasizes the need for coaching and personal guidance. "As a SoFi Wealth member, you get access to financial planning with human advisors at no extra charge. We provide personalized advice based on your unique financial situation and goals. Simply make an appointment or call to meet with an advisor," – advertises the company. When choosing the right portfolio, SoFi focuses on diversification which reduces the risks and after the right assets are chosen the platform automatically rebalances the investment to meet the set goals.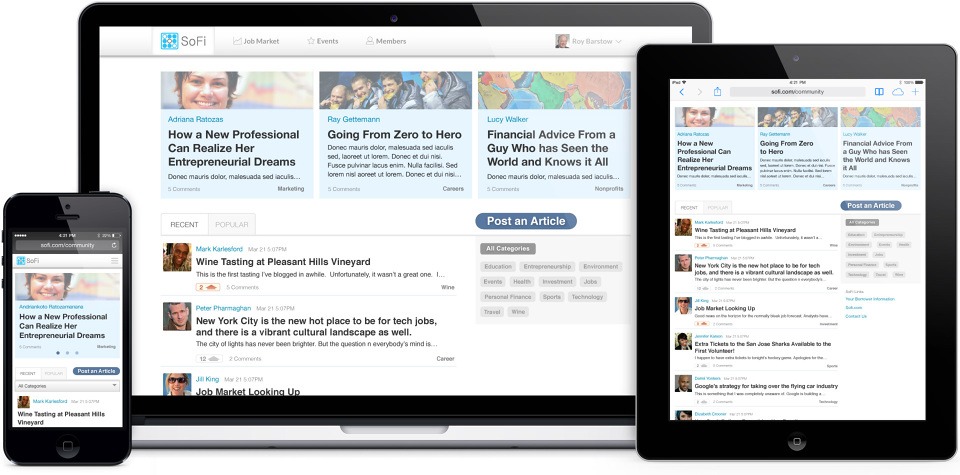 Customers have many options when it comes to student loan refinancing and mortgages
Student Loan refinancing remains one of the most popular products of the company. The company has refinanced $18 billion in student loans for more than 250,000 members. SoFi offers options for rate terms. There are fixed rates which range from 3.899% APR to 7.804% APR and variable rates that range from 2.480% APR and 6.990% APR. As the application process happens online, the whole experience is smooth and effective. Furthermore, there are no penalties or hidden fees. Mortgages are another product of the company. At SoFi, the downpayment can be as low as 10% and there are no application or origination fees. The only thing a customer has to do is to go through a two-minute pre-qualification process, select the desired loan and do the paperwork to receive the funds. There are several types of loans available including a 30-year fixed loan, 15-year fixed loan, 7/1 ARM and 5/1 ARM Interest-Only loans.