Sonnet
Sonnet offers its customers home and auto insurance in just under 5 minutes. With established insurance companies, many customers complain about the lengthy procedures to get insured and file a claim. Sonnet uses modern technology to offer an online platform that facilitates obtaining insurance. "At Sonnet, we believe that optimism is worth protecting. We offer customized coverage, in language you can understand, at a competitive price – and we do it all online. We've changed insurance for the better, so you can worry less and live more," – says the company. To get insured, the customers simply have to answer a few questions and choose from three plan options. Customers can make changes to the listed packages as well.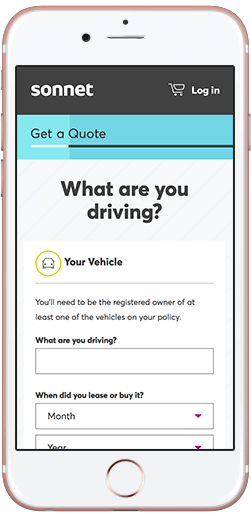 Sonnet's auto and home insurance include three different offers to fit different customers' needs
For the Auto insurance, the company offers three packages. The Essentials package includes liability, accident benefits, collision coverage and accident forgiveness. The Preferred package also includes a Rental Extension Bundle, which covers rental cars for collision but not for theft. The most comprehensive package, The Ultimate, adds Vroom Service Bundle, a reimbursement of up to $50 for related emergency expenses, replacement of the vehicle and ticket forgiveness. Ticket forgiveness simply means that a minor ticket doesn't impact the rate of the client.
For House insurance, The Essentials package includes special belongings coverage, liability, actual replacement cost for home and personal belongings, full sewer backup, overland water coverage and hail coverage. The Preferred package additionally includes Above & Beyond First Claim Forgiveness, which means that the rate doesn't increase after the first claim. The Ultimate package has better options for liability and special belongings coverage.

Sonnet's customers can file for claims via a phone call and get help right away
For customers who have Auto insurance filing a claim is as easy as making a phone call. After a claim is filed, the customer can visit any of the prescreened repair shops and book onsite rental. If the claimant is also the owner of the car, they get guaranteed body, part and paintwork as well. For House insurance, after a claim is filed, a prescreened contractor visits the site and starts work without any appraisal. The work is guaranteed for 2 years.