Trulioo
Trulioo is a global identity and business verification company which allows businesses to verify customers through access to hundreds of data sources. The company targets the need for effective Know Your Customer and Anti-Money Laundering processes in companies across various industries. Using Trulioo's services, businesses are able to verify more than 4.5 billion people and 250 million companies around the world. "Trulioo has developed a global ID verification solution that is not constrained by geography, economic status, age or gender, and available to any business or organization around the world at a low cost and frictionless manner – all with consumer privacy at the forefront," – says the company. Trulio has recently launched the first international mobile KYC solution which will be described in detail below.
Trulioo has solutions for Identity Verification as well as Business Verification
Trulioo provides customers with one API that has multiple integration options and provides Identity Verification capabilities. In over 100 countries, users are able to instantly verify a subject's identity, age and address. The platform also allows access to over 200 data sources which help companies with establishing adequate practices for Know Your Customer regulation compliance. Compliance doesn't end with identity verification. Once the customers are verified, they need to be monitored for anti-money laundering purposes. Trulioo's platform includes automated global AML watchlist checking as well. The product has a portal which doesn't require any software installation and is easy to use. Business Verification solution is similar. It can "automate the retrieval of company vitals from 180+ government registers, access shareholder information instantly from reliable sources, perform AML checks on both businesses and UBOs" and more.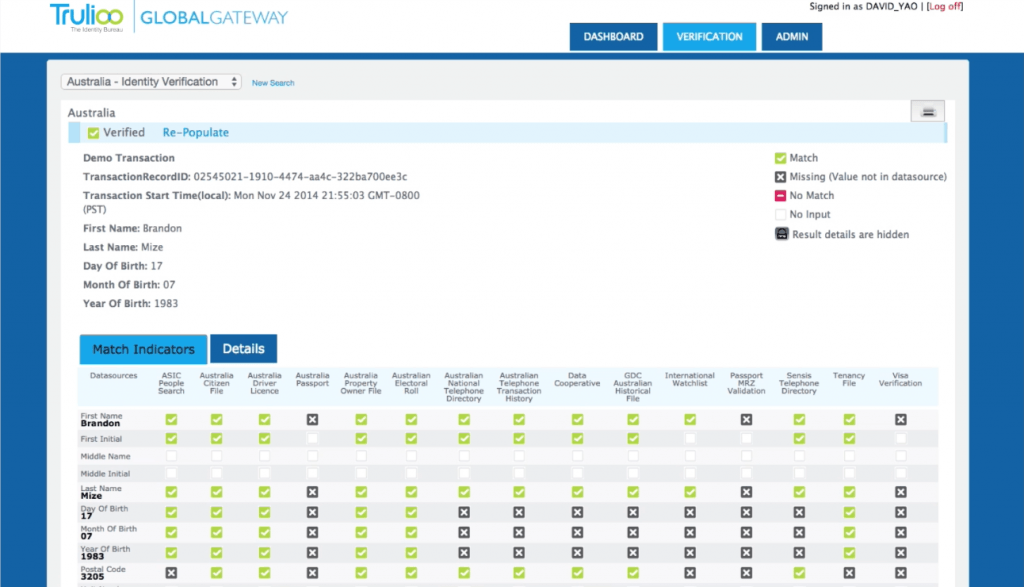 The latest service introduced by Trulioo connects with two dozen mobile network operators which gives the company access to information on over 1.8 billion people in the world. Furthermore, this service is able to perform better as there is a higher rate of matches in the demographics that were hard to cover before. The fraud detection functionalities are also improved for e-commerce and payments. "We are finding that young people, immigrants – as the world is becoming much smaller, those regional systems are becoming less effective at including as many people as they were intended to," – said Stephen Ufford, the CEO of Trulioo, when discussing the mobile KYC solution.