Walker Sands
Walker Sands Communications was founded in 2001 and since then has taken up the mission of bringing the modern technology to the world of Public Relations. The company provides businesses with various types of services that facilitate a product launch or create innovative market strategies and bring the product or services to the audience's eyes and ears. This is achieved through a team of digital strategists, writers, designers and PR professionals. In the modern world, where people receive thousands of daily impressions of different advertising campaigns, it is becoming increasingly important to differentiate one's own efforts and one way to do this is by hiring a company that has experience and understanding of marketing and PR strategies. This is exactly what Walker Sands' team brings to the table.
The list of services offered by Walker Sands includes content creation, media relations and data-driven PR
PR services are one of the core products offered by Walker Sands. As the company explains, its PR services are more suitable for businesses that have a strong technology component in their offerings, are a B2B company and are about to launch a new product or a service. Walker Sands takes on media relations as it secures coverage through various channels using its network of media contacts. The company also uses data-driven PR. "We dig through proprietary data, survey CIOs and poll consumers to generate thought-provoking data points to be packaged up into a data report and visualized through infographics. We then use these interesting pieces of research to drive massive media interest, thought leadership and sales leads through report downloads," – the company explains.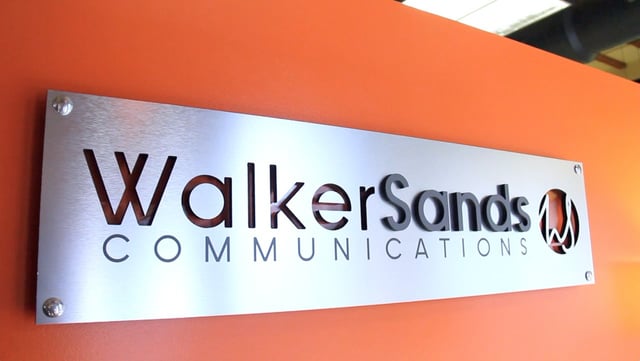 Content creation is another service offered by Walker Sands. This includes creating white papers, websites, video content, design and even setting up effective social media campaigns. The company also helps its customers with branding and strategy. This process has multiple steps including assessing the goals, creating a buyer persona to understand the target audience and mapping the customer journey. Once this is done, the company conducts a comprehensive audit of current marketing collateral and content. Then, based on the results of the audit, the messaging framework and visual brand identity are established. "While the messaging framework guides how we talk about the brand, the visual identity dictates the corporate look and feel," – the company explains.
Some of the other services offered by Walker Sands include demand generation, which is achieved through digital marketing and web services, search engine optimization, marketing automation, conversion rate optimization and other processes. Furthermore, the company offers integrated marketing services where one integrated marketing framework established for tactics that are usually used separately, such as SEO, social media and digital marketing and more.