Wealthsimple
Wealthsimple is a Canadian robo-advisor that was founded in 2014. The company manages about $2.5 billion in assets and is one of the most popular online investment management services. Wealthsimple has about 100,000 users and has won a Webby Award for the world's best financial website. 'Investing on Autopilot' – this is how the company describes its services. The company caters to businesses as well as individuals and for each has multiple products.
The products of the Wealthsimple range from investment to trading and savings
For individuals, the company offers three main products: Wealthsimple Invest, Wealthsimple Trade and Wealthsimple Save. The investment services of the company are appealing because they use a wide range of assets to invest in. The company mostly designs strategies that invest in ETFs, which draw from a diversified pool of assets. The strategies designed by Wealthsimple are backed by a Noble Prize-winning research of Harry Markowitz. Furthermore, the company places great emphasis on corporate social responsibility and allows users to only invest in companies that meet certain requirements in that aspect. The brokerage is also a member of Canadian Investor Protection Fund, which means that accounts of up to $1 million are guaranteed even if the company itself faces financial problems. Wealthsimple Trade allows individuals to trade using a mobile application.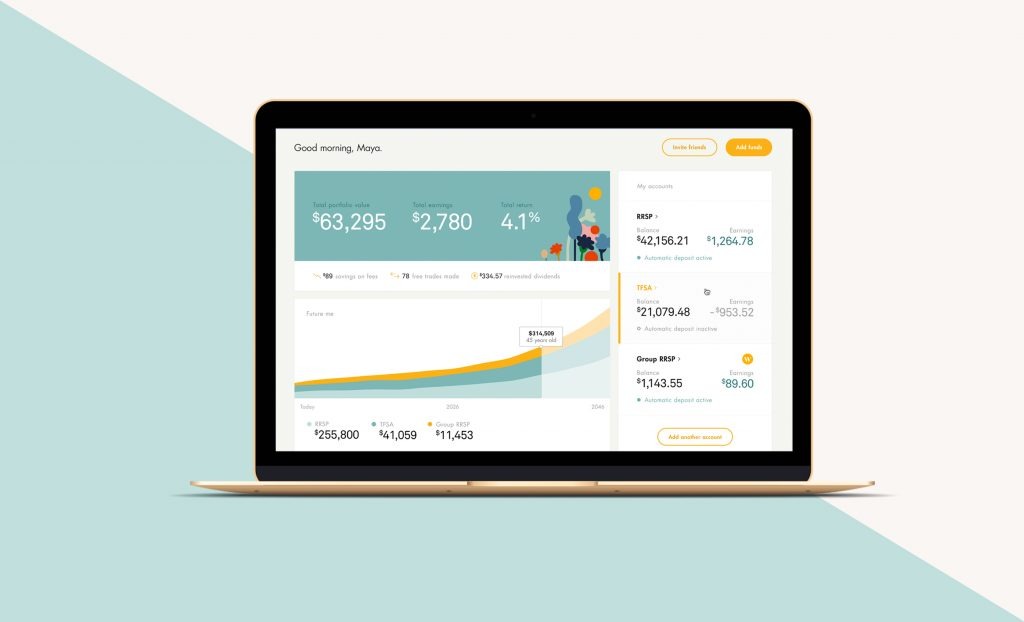 Savings are another appealing product of the company. There are no minimum deposit requirements for those who want to use Wealthsimple Save. Savers can benefit from the 1.95% interest rate and the convenience of controlling their funds from a mobile application. There are additional benefits as well. Those who invest $100,000 or more across all accounts get Wealthsimple Black, which comes with perks like VIP airline lounge access, lower investing fees and a dedicated money coach.
For businesses, the company offers Wealthsimple for Advisors. "It's simple: you create an account, set your fees and invite your clients by email. Wealthsimple controls the end-to-end investing experience, providing unrivaled speed and service that means your clients can be signed up and invested in 24 hours," – the company explains. Another product is Wealthsimple for Work which includes group savings for employees, payroll deduction, employer match and other services.