WeBank
WeBank is the first online-only bank in China. It was established by Tencent, Chinese multinational conglomerate the products of which also include WeChat, Tencent QQ, mobile games, smartphones, payment systems and much more. Tencent is one of the most valuable corporations around the world. WeBank is trying to modernize the banking sector in China, which has created many inconveniences for the public. Services offered by the state-owned bank are often ineffective. WeBank, on the other hand, accelerates the process on many different levels and facilitates the access to banking for a large part of the population.
WeBank offers quick loans of up to $31,000
One of the assets of WeBank is the access that it enjoys to the customer base of WeChat and QQ. There are over 1.2 billion users registered on these platforms, the data of which is available for WeBank as well. This way, the bank can be more precise in the appraisal of the credit risk of its customers and offer more tailored products. Sidestepping the background check completely, WeChat also offers another product that might be attractive for many customers. It is a quick loan which could reach $31,000 that is granted without any credit checks and within a matter of minutes. This product has been successful in attracting customers to the company.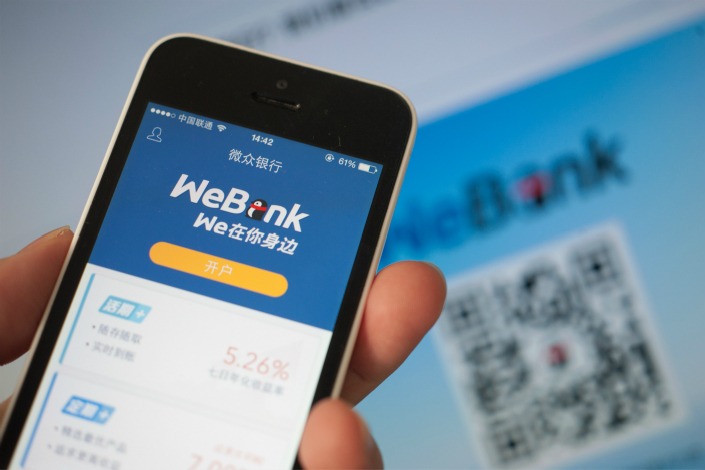 WeBank also offers the financial services that are encountered with traditional banks that have physical branches. Users can deposit money in their WeBank account, transfer money to different accounts, set up automatic transfers for salaries and so on. There are other services as well offered by the company that distinguish it from the rest of the market. These include wealth management products that allow customers to invest money in money market funds, actively managed mutual funds or even in bonds of various kind.
The registration process for WeBank includes presenting the company with personal information, a phone number and an active debit card that was issued by a traditional bank. These steps are required for a user to get an account on the WeBank platform. The security measures of the company are advanced and innovative as well. The platform asks the user to provide a voice sample and register facial features that will be used for the security.