101Investing Review – What should you know about this broker?
A trustworthy Forex broker is the one that radiates its credibility effortlessly, without the need for extravagant offerings or claims. Unlike scammers, such a broker is plain and straightforward with its promotions, never hiding anything nor artificially making it look appealing.
In our 101Investing review, we'll try to determine whether this broker represents a trustworthy broker or just another scam.
Initial roundup
101Investing is a Forex broker that is based in Cyprus and operates under the license from CySEC. Its actions are also regulated by the MiFID directives, meaning your funds are as protected as it can get.
By signing up at 101Investing, you get the chance to trade 250+ securities offered as CFDs. This means that you don't actually need to own the assets – your position is based on its upcoming price change. With these instruments come quite lucrative trading offerings, including 1:500 maximum leverage and variable execution modes.
As for commissions, 101Investnig tries to eliminate as many unnecessary charges as possible, which is why you don't have account commissions. There are, though, spreads that go as low as 0.03 pip.
On top of all that, there are lots of educational and research materials that can take your trading effectiveness to a whole new level.
Is trading with 101Investing safe?
Now, the first question we have to ask ourselves is can 101Investing be trusted? For that, we need to look at the regulatory obligations it has towards a financial institution.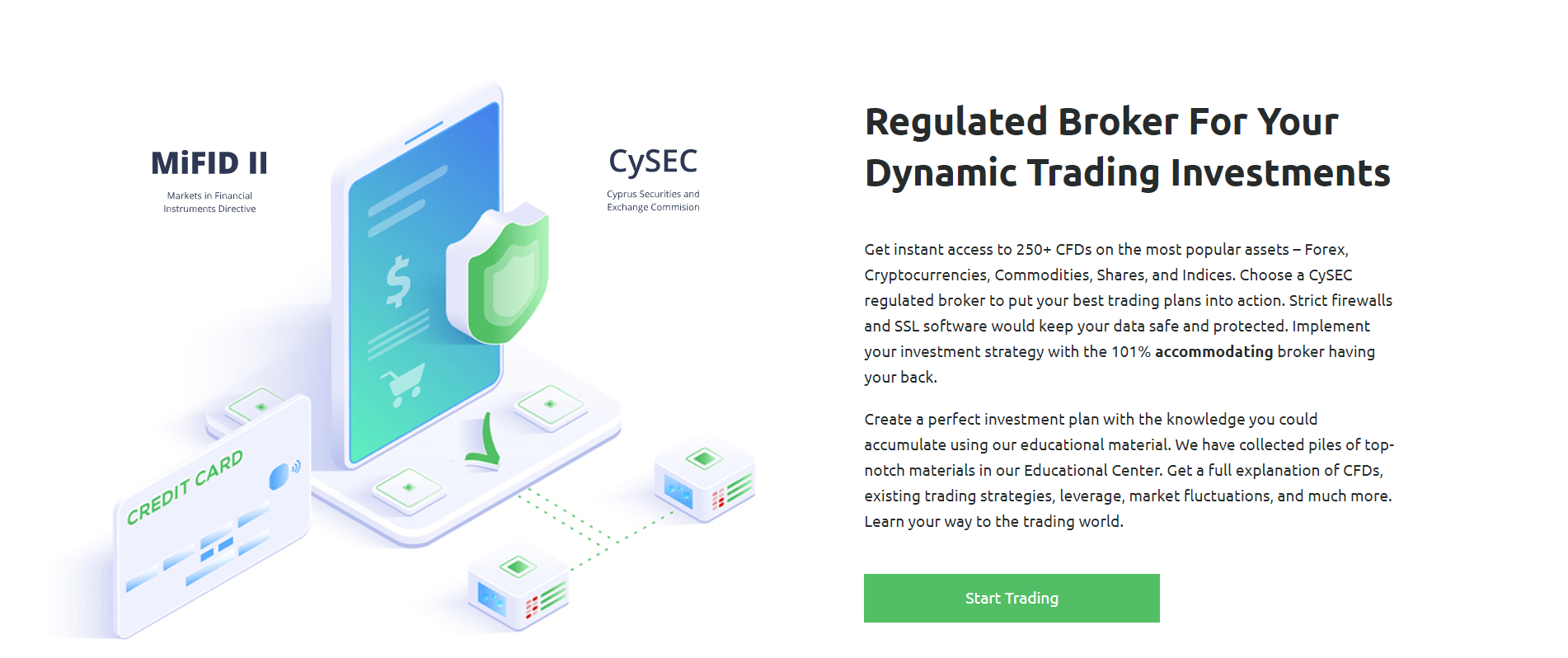 As we have found, 101Investing is regulated by the Cyprus Securities and Investments Commission (CySEC). What this license shows is that this is a Forex broker that can freely operate within the borders of the EU, one of the most financially-strict regions in the world.
Under the CySEC license and financial directives of MiFID (Markets in Financial Instruments Directive), 101Investing is offering quite a complex customer safety net that includes an Investor Compensation Fund of 20,000 EUR, segregation of accounts, and SSL firewall software.
In short, by choosing 101Investing as your main trading partner, you're putting your money in the most secure place possible.
What are 101Investing accounts?
Moving on, let's take a look at what trading accounts there are for you to use at 101Investing. During our review of 101Investing Forex broker, we found 4 different live accounts:
Silver
Gold
Platinum
Pro Exclusive
These accounts have lots of similarities, as well as differences. For instance, all of them showcase spreads in the fifth decimal, which allows for a shallower and more accurate spread quotes. Plus, all of them support a huge number of base currencies, including EUR/USD, GBP/USD, USD/JPY, AUD/USD, and many more.
As for differences, the Silver account goes up to a 1:200 leverage, whereas Gold and Platinum accounts offer 1:400 leverage ratios. And if you go for the Pro account, you'll get a whopping 1:500 leverage. One thing to note with these leverage ratios is that only the professional traders can get such high multiplication rates; regular clients are locked to a 1:30 ratio.
And when it comes to the minimum deposit requirement, 101Investing has a pretty standard 100 USD threshold for you to become its client. With just a 100 bucks, you can get shallow spreads, high multiplication rates, fast execution, and hundreds of instruments to trade.
Spreads and other commissions/fees
When conducting the 101investing.com review, we found out that trading fees, as well as non-trading fees, are either non-existent or very low.
When it comes to trading fees, 101Investing doesn't charge you an account or instrument fee, the only fee you pay is through spreads. And as we've already established in the brief overview of the broker, bid/ask spreads can go as low as 0.03 pip, which is to say that spreads are almost non-existent as well.
As for swaps, there are pretty standard rollover fees that 101Investing charges. However, if you go for a Gold or Platinum account, you can get a 25% or 50% discount on swaps, respectively.

Then there are non-trading fees. For deposits, there are no commissions whatsoever, which means you're getting exactly as much as you've originally deposited. However, there are withdrawal fees for certain conditions. In general, you won't be charged a commission for your regular withdrawals, yet if your account hasn't been/was insignificantly active, then you'll be charged 50 EUR per withdrawal. Plus, transactions below 100 EUR are also commissioned.
Finally, there's an inactivity fee that has the following levels:
Over 61 days of inactivity – 80 EUR
Over 91 days of inactivity – 120 EUR
Over 181 days of inactivity – 200 EUR
Over 271 days of inactivity – 500 EUR
These fees might seem like too much, but it's worth noting that the 101Investing FX brokerage never locks its clients into the platform – you can always deactivate your account if you don't think you're continuing trading anymore.
101Investing promotions and instruments
The next important entry in our review is trading instruments and conditions accompanying those instruments. As 101Investing points out, instruments on its platform are represented as contracts. What this means is that you don't need to actually own an asset to trade them; the broker offers underlying CFDs that allow you to speculate price movements and get profits like that.
There are 250+ CFDs available on the broker's platform. These include:
Forex pairs
Cryptocurrencies
Commodities
Stocks
Indices
Metals
For Forex pairs, there are no commissions (just like for other securities) and spreads go as low as 0.03 pip, while the maximum leverage can go up to 1:500 for professional traders.
These numbers will fluctuate depending on which instrument you choose. For instance, the leverage for cryptos goes up to just 1:2, while spreads for stocks are around 0.21 pip.
You can use 30+ different tools and indicators to improve your trading effectiveness for every single instrument that you see on the platform.
Which platforms power trading at 101Investing?
Next up, let's take a look at which pieces of software you can use to trade the above-mentioned securities at 101Investing. As we have discovered, there's the 101Investing MT4 that you can use for all trading endeavors.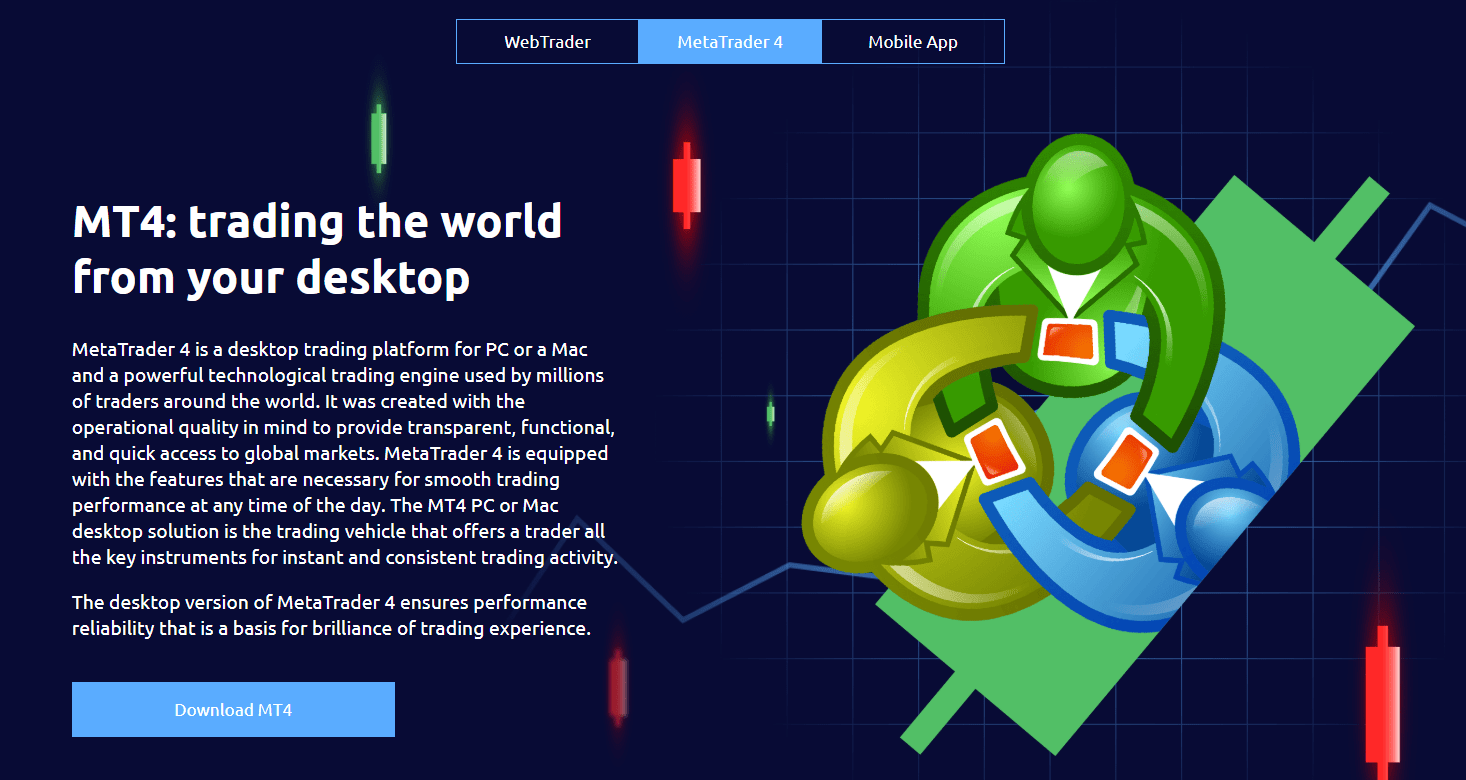 With MetaTrader 4 come lots of advantageous features and capabilities. For example, the platform allows you to place trades at four different execution modes: Instant, request, market, and exchange executions. This makes sure that you can have the fastest execution speed right at your fingertips.
What's more, there are over 30 indicators and 24 drawing tools within MT4 that help you enhance the profitability of your trades. And to top it all of, you can access your trading history to monitor all of your order types, sizes, and other trading details to better manage your finances.
Now, the main software is a desktop-designated platform of MT4, yet you can also use the same software for WebTrader and even for your smartphone, be it Android or iOS. This level of diversity means that you can have a trading companion on the go, no matter where you are.
101Investing withdrawal and deposit methods
When you decide to actually create an account at 101Investing, one of the main requirements, as we've said, is to deposit 100 USD to your balance. For that, you can use a bunch of financial platforms for your liking. Here are just a fraction of platforms you can use for deposits:
Credit cards (Visa, MasterCard, Maestro)
Wire transfer
Neteller
Skrill
Trustly
SafeCharge
Wirecard
Vpay
Usually, deposits take around 1 business day to complete, however, the 101Investing Forex broker points out that sometimes it'll take even more time. And one big advantage for 101Investing deposits is that there are absolutely no commissions – you're getting the same as you've deposited.
When it comes to withdrawals, you can use pretty much the same platforms you've used for deposits. First, you need to submit a withdrawal application, which, surprisingly for us, will usually be complete within the same day of application, or the next one at the most. In our reviewing experience, the same-day withdrawals are rarely the case and for that, we give 101Investing a big credit.
As for the fees, you usually won't be charged by the broker, but there are some conditions where commissions are applied. For instance, if your account had been dormant prior to the withdrawal, or you've placed only one or two trades, 101Investing will charge you 50 EUR. Plus, the withdrawals below 100 EUR will additionally be commissioned.
Improve your trading game with 101Investing education
Education at 101Investing is yet another segment that deserves our praise. Upon reviewing the broker's website, we found out that you can use lots of different methods to educate yourself and become a better trader overall. These methods are:
VOD (educational videos)
Ebooks
Tutorials
Courses
Within VOD, you can find dozens of educational videos that are categorized into different sections: Beginners, Advanced, Terms, and MetaTrader. These are very short videos that convey valuable information without wearing you down.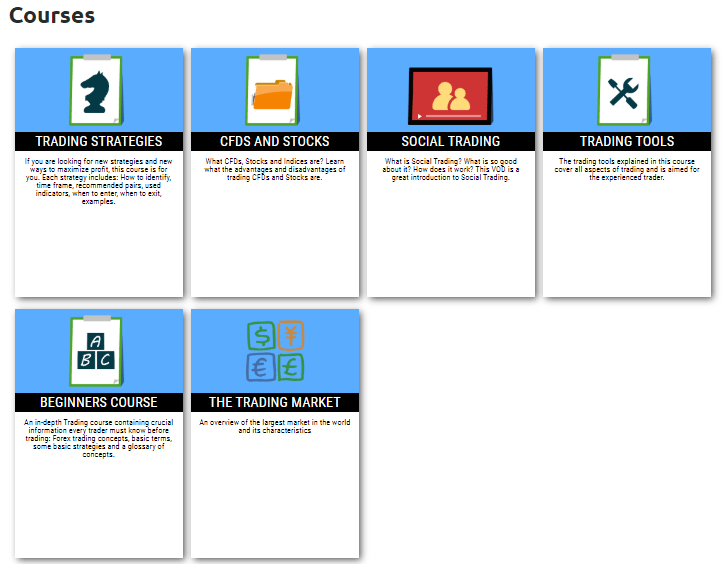 As for ebooks, 101Investing FX brokerage offers 10+ pdfs that range from the basics of the trading market all the way to the advanced trading strategies.
Tutorials at 101Investing explain how MetaTrader desktop and MetaTrader mobile work. This section contains a number of slides that break down the whole trading platform.
Last, but certainly not least, there are online courses. And impressively enough, there are six different courses that range from trading strategies all the way to trading tools and even social trading.
In short, if you really want to elevate your trading game, 101Investing's educational section will have you covered.
Customer support
Finally, let's talk about how you can communicate with 101Investing and get assistance from it. The first thing to point out is that the customer support team works from Monday till Friday between 07:00 – 17:00 GMT.
There are a number of ways you can contact the broker, namely:
One thing that is constant for all of these contacting methods is that they're all super helpful and the staff that actually responds is very friendly; they're willing to help you in any way they can, without rude answers or anything.
However, if you want the benefit of immediacy, you should probably use the live chat or phone support. Yet for more in-depth interactions, email support is the best way to go.
Our ultimate 101Investing review
Even though we've seen many 101Investing reviews on the internet, we wanted to dive deeper into the platform ourselves and examine its features more closely. And what a good decision it was!
We have found out that 101Investing is a Forex trading brokerage that also offers instruments from other markets, including stocks, commodities, and indices. The conditions that accompany these instruments are pretty beneficial, be it the 1:500 maximum leverage or 0.03 pip spreads.
101Investing boasts with a CySEC license that obliges the broker to provide the best financial service to its clients. That's why your funds are heavily protected by various mechanisms, such as the fund segregation or the insurance policy.
For these and many other reasons, we think that 101Investing is a top-tier brokerage that you can fully trust.