It has emerged that Russia quietly issued an order to government officials with relatives staying or studying abroad to fly them back home. That comes amid growing tensions that a new world war could be in the offing as Russia and Western powers continue to clash on several foreign issues including the war in Syria.
The call for Russian officials to return home their families comes after President Vladimir Putin of Russia himself decided to cancel a planned visit to France. Putin's order to return home reportedly affects all state employees. If the call is headed, many Russian children studying abroad would be pulled out of school to return home and perhaps continue their education in the motherland.
On the international scene, the order for officials to fly home their relatives is interpreted as a signal that Russia is trying to reduce exposure to its international enemies, especially in Europe and America. Russia is bearing economic sanctions slapped on it by the U.S. and the European Union because of its military actions in Ukraine that resulted in hiving off of a piece of the country.
Putin is reportedly stern on the call to return home that those government employees who fail to heed the order risk losing their jobs in the government.
Although Russia has not confirmed that it has order officials to recall their relatives living abroad, analysts widely see it as a preparation for a major war, perhaps World War III.
Defensive drills and bunkers
The directive to recall Russians living abroad is not the only suspicious action by the Kremlin. Russia reportedly recently conducted defense drills for its nearly 40 million citizens. That too pointed to a Russia spoiling or preparing for a serious war with its international adversaries, some of whom it has accused of attempting to sabotage its economy.
Earlier this month, it was reported that Russia has built bunkers capable of sheltering 14 million people and shielding them from a possible nuclear attack in the event of a new world war.
Putin decided not to travel to France after President François Hollande of France accused Russia of committing war crimes in Syria. For the same reason, the pro-Brexit British Foreign Secretary Boris Johnson called for protests outside Russian's embassy in Britain.
Constant conflict
Besides the accusations of brutal bombings in Syria, the U.S. has also accused Russia of sponsoring hacking attacks against it. Some have said that Russian's sponsored hacking activities against the U.S. could be aimed at influencing the outcome of the Nov. 8 presidential election.
Impact on the global economy
If Russia's aggressive foreign policies give way to a global conflict of the scale of a world war, the impact on the global economy could be near catastrophic given the fragile economic conditions. In the currency market, a global war could materially weaken Russia's own currency the ruble (RUB). Because a global war sparked by Russia would likely have its epicenter in Europe, the Euro (EUR) would also be adversely affected.
Russia is already struggling with the problem of economic slowdown. The country's central was last month forced to cut a key rate to 10% to 10.5% amid slowing inflation. More rate cuts by Russia's central banks are likely in 2017.
RUB predictions 2016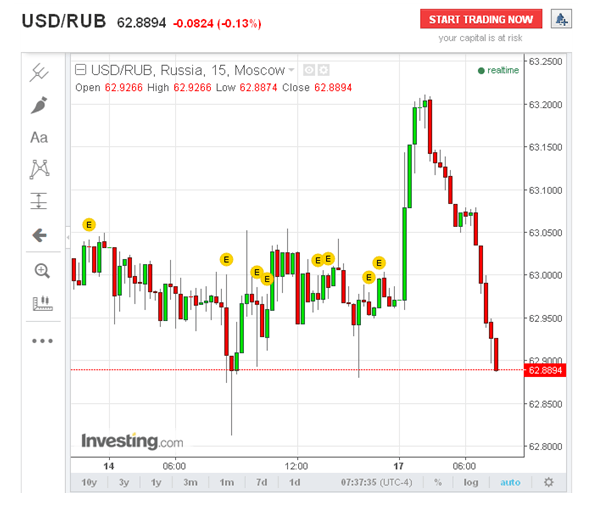 USDRUB is forecasted to end this month at 62.72. During the month, the currency pair is forecast to rise to a high of 63.97 and dip to a low of 61.47. The currency pair is expected to average 62.90 in 4Q2016.