ForexNewsNow – Forex Club is a major online forex broker that offers various services to a wide range of clients. FxClub is mainly specialized on providing services to traders who are new to forex, a fact that is pointed out by the extensive educational material provided.
Forex Club is one of the oldest forex brokers on the market. The company was founded in 1997 and has a very strong presence in various Easters European countries and South America. FxClub is an innovator in the business having introduced a revolutionary new trading platform called Rumus.
FxClub gives its users the option to choose a variety of forex trading platforms. These platforms were specially selected in order to satisfy both beginners and experienced traders. The platforms selected for beginners contain less complicated charts, easy to understand navigation and commission structures. The more advanced platforms offer complex charts and various extra features that allow expert traders to develop advanced strategies. Read the forex platforms review below for more info.
StartFX 2 Review
StartFX 2 is the simplest forex broker trading platforms available at FxClub due to the fact that it offers only a limited number of charts and contains several features that will benefit beginners in the forex business. The platform offers 4 stages to beginners, each stage unlocking new tools after the previous stage and its tools have been mastered.
Using the StartFX 2 platform is very easy. The navigational menus are easy to understand and straight to the point. They might be somewhat simplistic, but it's exactly because of this why it's so easy for a beginner of handle.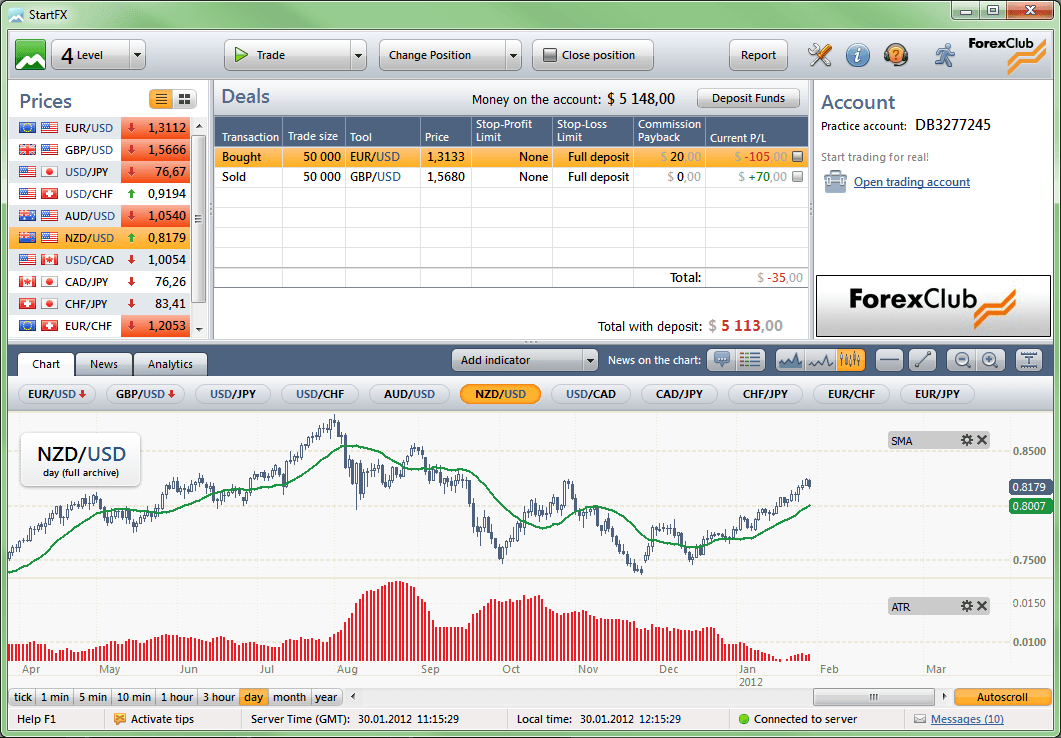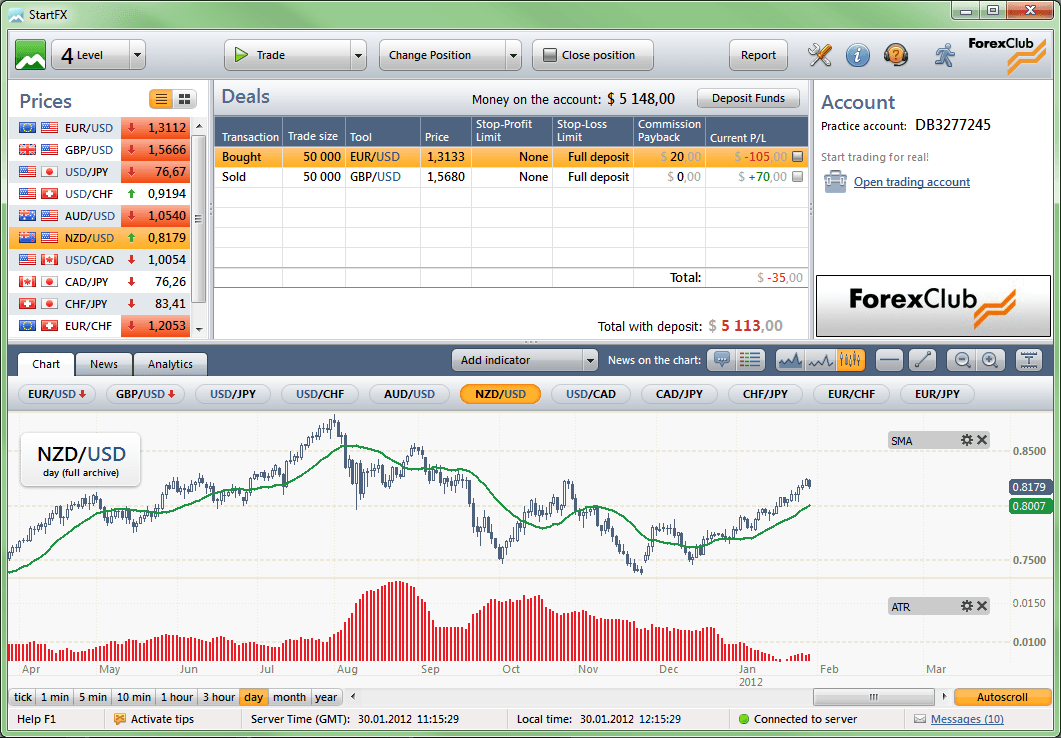 The StartFX 2 forex trading platform only provides 8 indicators and 2 graphics tools. These, however will be more than enough to teach a newcomer all about forex trading and statistics evaluation. Most conventional traders offer indicators and tools up to 30+ something that would be extremely difficult for a newcomer to accustom with.
StartFX 2, like most other modern platforms does provide instant execution of trades and real-time quotes. Some of its drawbacks when it comes to features is that it's not available in browser and mobile variants and that traders using StartFX 2 must trade through a dealing desk and it does not offer complex order types like trailing stops as an option.
StartFX 2 also uses the fixed price quotation method, meaning that you should never worry about spreads, slippage and requotes, because these will not be present at all. Instead the platform uses a transparent commission structure and will even repay all commissions in case of unprofitable trades.
(NOTE: The StartFX 2 platform is only offered to Non-US traders. US traders are offered the ExpressFX, a comparable platform, instead)
MetaTrader 4 Review
MetaTader 4 is one of the most popular forex trading platforms on the market. It's recommended to medium-skilled and advanced traders alike due to the large selection of features and extensive list of charts and statistical tools.
The MetaTrader 4 platform is a mainstream forex broker platform that is easy to use and navigate. It's somewhat more complex than the StartFX platform due to the larger number of features. The graphs in this platform are structured in a way that gives traders the best possible overview and trading experience.
The platform provides an extensive list of 30 indicators and 32 charting tools. These tools will satisfy the vast majority of traders and were designed in order to offer a clear overview that decreases the time required to analyze data.
The MetaTrader 4 provides instant execution of order and real-time quotes and well as advanced features such as automated trading, hedging, and various trading strategy optimizing and testing tools; however it does not support one-click trading.. Some of these features are not available in other platforms.
MetaTrader does not use the fixed price quotation method, meaning that requotes and slippage and cannot be avoided. One of the big advantages of the platform lies in the fact that it's available in mobile version for Windows Phone device users.
ActTrader Review
The ActTrader is very similar to the MetaTrader platform. It also offers an extensive arsenal of charting tools, but its main advantage over ActTrader lies in the fact that it's available in various mobile platforms and even in a browser version.
The navigational structure of the ActTrader platform is very advanced and modern. Using the platform is very easy even in the case of beginners; therefore, despite the large amount of features available, the ActTrader platform is also recommended for newcomers.
The ActTrader platform provides 32 indicators and 14 charting tools which is less than in the case of the MetaTrader platform. But the reason for this is that most other charts available elsewhere are not required in the case of the ActTrader platform, because all the relevant info is integrated in the available charts. ActTrader also integrates with ActForex's FXapps store where traders can purchase third party forex trading apps to integrate strategies and expert advisors into their trading routine.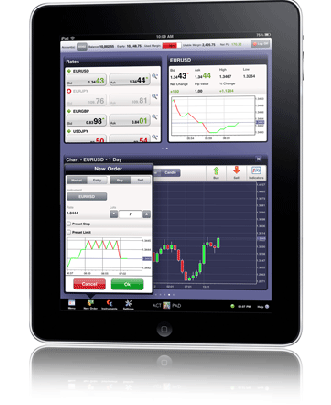 ActTrader executes trades instantly as well as offers real-time quotes. It does support advanced trade execution features such as trailing stops, hedging, OCO trades and strategy optimization tools. The biggest advantage of ActTrader is that it offers the lowest spreads from any of the ForexClub platforms: From 0.6 pips for EUR/USD & USD/JPY; 0.8 for USD/CHF; and 1.8 for GBP/USD & USD/CAD. The fact that it offers an iPhone/Android app, an iPad app as well as a browser version also makes it an attractive option.
Rumus Platform Review
Rumus is the most advanced forex trading platform available at FxClub. This platform contains the largest number of features and charts and is also available on various mobile devices and web browsers. For these reasons, Rumus is recommended mostly to advanced and expert traders.
Due to the multitude of features and charts, the navigation of the Rumus platform is very advanced and complex. For this reason some beginner traders might have a difficulty using it at first. Traders who already tried out most other platforms such as ActTrader and MetaTrader 4 should be able to use the Rumus platform without much difficulty.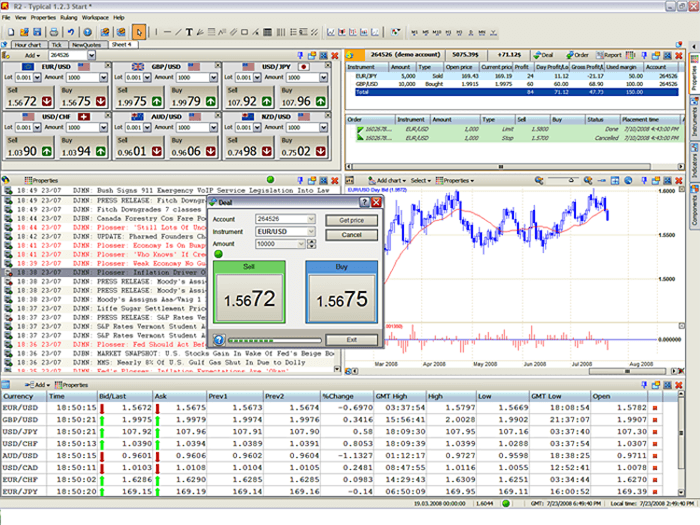 Rumus offers a total number of 77 indicators and 17 charting tools. This makes it the platform with the most tools and graphs at FxClub. The charts are very advanced offering an extensive source of information for advanced traders.
Rumus combines all the tools available at all the other platforms. It contains the beginner features of the StartFX 2 platform but it also contains all the advanced features and tools of the two other platforms. The biggest drawback to the Rumus platform is that traders must trade through a dealing desk, trailing stops are not supported and neither is automated trading.
Rumus is available for web browsers and for smartphone forex apps as well.
Conclusions and Recommendations
All the forex broker platforms available at Forex Club have a clear purpose. The StartFX 2 lacks most of the advanced tools, but is the best possible training tool for most beginners. Newcomers should definitely use this tool at first and only after mastering it is it recommended to try out some of the other platforms available.
ActTrader and MetaTrader 4 both offer advanced tools, automated trading capabilities and an easy to navigate structure. Based on the features available and the offered spreads, ActTrader might somewhat be a better choice between these two.
The Rumus platform is extremely advanced with a huge selection of features and indicators, yet it does not offer trailing stops or non dealing desk trade execution.
Something else that should be mentioned is that ForexClub offers its trader access to AutoChartist and TradeCentral two services that provide trading signals and investment advice for traders who open accounts of $500 and $1500 or more respectively. These two services can greatly help with one's trading by offering very specific trade recommendations. FxClub also offers trading accounts on Tradency's MirrorTrader trade copying platform.