These days, investors of all stripes – from beginners to experts – are looking for any advantage they can get to effectively and efficiently make a profit in the forex trading market. Demand for automated trading systems has soared, and there are a variety of products that offer flexible options for controlling and customizing online trades. One such product on the market that has gained traction in the trading community is the MetaTrader 4 Automated Trading System.
We'll review MetaTrader 4 and take a look at its features and options, then analyze the advantages and disadvantages of the product.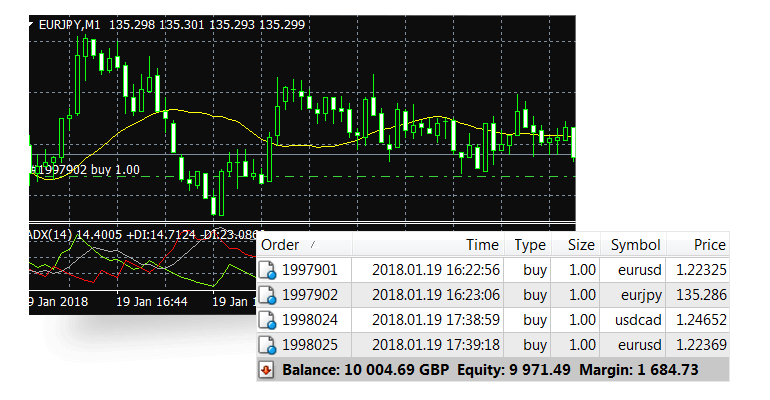 Product Overview
MetaTrader 4 is a forex charting program designed for automated, online technical trading. Used by over 100 banks and brokerage companies, MetaTrader 4 is a common system in the forex trading community.
The key defining capability of MetaTrader 4 is its automation. With this product, users can program and customize systems – such as automated trading robots – to make and place trades automatically. Built-in technical indicators are also included, which can be incorporated into the systems created by the user.
MetaTrader 4 is also capable of being viewed and used on a mobile phone.
Advantages
One of the main advantages of MetaTrader 4 is its level of automation that users have at their fingertips. Automated trading systems do not replace careful analysis and attention to detail in forex trading, but they do make the process easier and more convenient to manage. Plus, the ability to customize programs and script automated trading settings is a powerful tool for intermediate and advanced traders.
MetaTrader 4 also scores high on its ease of use, as well as its accessibility and wide variety of technical indicators at its disposal. Beginners in particular will benefit from a program that is convenient and simple to grasp. The program also has enough versatility and advanced features for intermediate and advanced traders who can use the indicators and analysis tools to analyze trends and other technical data.
Disadvantages
One commonly-quoted disadvantage of MetaTrader 4 is the lack of automated backtesting. Backtesting is useful to take a trading strategy and apply it to past periods to gauge the strength of the strategy being used. The lack of automation in backtesting with MetaTrader 4 is a disadvantage for intermediate/advanced traders (while beginners will more than likely not notice).
Users have also commented that manipulating certain features, like trend lines and Fibonacci charts, is difficult due to the way the program is designed. The graphs are not as user-friendly as some desire.
Finally, the support system offered for MetaTrader 4 is viewed as inadequate for many users. Customer service and support is one of the weakest aspects of this product and could be a sizable disadvantage for beginner traders – as well as individual traders in general (due to MetaTrader 4 being geared slightly to institutions rather than individuals).
Conclusion
There are several disadvantages for MetaTrader 4, but the advantages win out for most users. MetaTrader 4 is flexible and powerful for beginners as well as advanced professional traders and trading institutions, with a wide array of options for analyzing technical indicators and tracking them on charts and graphs.
The program's automation capabilities also make it very attractive for those traders who want a higher degree of control over their trades. The learning curve for this process may be beyond a beginner's desire, but useful graphs and an easy, accessible system make up for that.
In short, MetaTrader 4 is very common and popular because the advantages – flexible features, built-in indicators, and an easy-to-use interface and system – give the user or institution tools to succeed in the forex trading market.