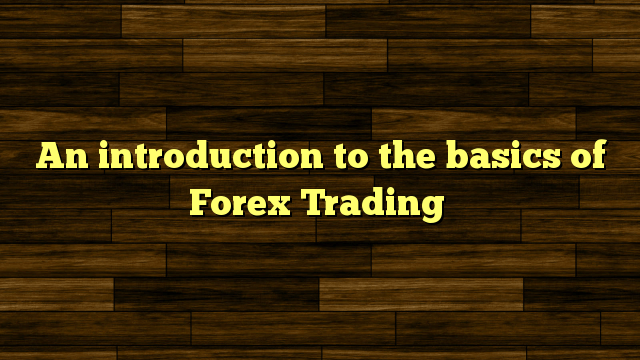 The Forex trading market is one of the most exciting markets that you could ever take advantage of. This is an impressive market that allows you to trade currencies against each other.
For instance, you can sell American dollars for Canadian dollars on the market. The exchange rate will change between these two currencies over time. You can buy into the pair between these currencies and potentially make money depending on how well the currency pair changes.
Forex trading can work for all sorts of currencies. It can work in that you can exchange one currency for another and sell it back later on.
History of the Market
The Forex Trading market has been around for quite a period of time. Countries have been using their own currencies for generations and have held their own particular pairs over all this time.
In particular, the value of a currency pair will change over time based on the supply and demand for it. If more people are buying one currency to exchange another one with then the value of that pair will increase over time. For instance, the exchange rate between the American and Canadian dollars can increase in value if more people sell their American dollars to get Canadian dollars. The supply will be greater and the demand will increase too.
Currency trading has been around for generations. However, it has not been until after 1973 when the general public started to become able to trade currencies.
The nation-state controlled foreign exchange market operated prior to 1973 but it ended up disbanding after then. This came as the Bretton Woods Accord failed to keep currencies under control. This accord was signed after World War II to allow currencies to move within a 1% range to the par value of each other. However, changes in the supply and demand for currencies made it harder for the exchange rates around the world to actually be kept under control. Individual economic factors within these countries only made matters worse.
After 1973, the Bretton Woods Accord was abandoned. Individual countries started to allow people to trade forex pairs; this started with China in 1981 and eventually moved on to Europe and soon after the entire world.
The online trading world has only made it easier for people to trade forex pairs. People can do this with online programs that can automatically measure and calculate different totals.
What People Trade
People today will trade currencies from all corners of the world. Currencies can be paired with each other in many ways. The USD/CAD, or American-Canadian dollar, pair is a good example as it refers to how one American dollar can be transferred to a certain number of Canadian dollars.
The currencies that are available for trading purposes include the following popular options:
American dollars
Euros
Canadian dollars
British pounds
Swiss francs
Australia dollars
Japanese yen
Practically any currency can be traded although these are the most popular ones to look for today.
Pairs can even be traded against each other in some cases. The USD/CAD can be traded with the USD/EUR pair, for instance.
You can even trade with the US Dollar Index, or USDX, if you are interested. This is a choice where the weighted average of currencies is traded against the American dollar. This is a very popular option for trading purposes.
The USDX works in that the value of the American dollar is put against a combination of currencies. More than half of it belongs to the Euro with the British pound, Japanese yen and Canadian dollar making up about ten percent of each. The Swedish krone and Swiss franc are included too.
Why Do People Trade?
The Forex trading market has become one of the world's most popular markets. It is available twenty-four hours a day, five days a week and includes billions of dollars being traded by people from all corners of the world. People are trading today for a number of reasons:
They can trade from any part of the world.
People can trade without needed any physical brokers for the process.
Computer programs can be used to help people take a look at the individual trends and measurements that come with individual pairs. These include measurements of how much individual pairs may be worth right now.
The market is very liquid (depending on individual pairs) and will change throughout the entire day.
People can get profits during any market. The values of currency pairs can improve even when the economy in one market is declining. In fact, this could be used as a means of making one's portfolio a little more diverse.
People can even start trading with just a few hundred dollars on hand. It does not cost far too much to get a trade running these days.
If anything, the Forex market is a truly fascinating one that deserves to be explored. This guide will help you learn about how the Forex market works and what you can get out of it so you will be more likely to succeed within this special and appealing market.