Trading the minors means to establish long or short positions in currencies or currency pairs that tend to have lower liquidity than the major currency pairs that are most commonly dealt for speculative purposes when engaged in forex trading online or in the Interbank forex market.
Some of the top forex brokers offer a wide range of minor currencies to trade, while others tend to prefer to focus on offering tight dealing spreads in the currency pairs that involve the majors and commodity currencies versus the U.S. Dollar
If you are interested in trading the minors, you may want to review your trading strategy or plan to see if it is suitable for lower liquidity markets.  For example, day traders and scalpers might find that the wider dealing spreads involved in trading the minors can significantly challenge their overall profitability.
On the other hand, keeping in touch with what the minors are doing can result in excellent periodic trading opportunities, as well as offering steady, long term trends that may not be occurring in the majors.
What Exactly are the Minors?
The term minor currency or minor currency pair refers to those that have a smaller forex market share than the generally acknowledged major currency pairs like EURUSD, USDJPY, GBPUSD and USDCHF.
As a result, the minors tend to exhibit lower market liquidity — and hence wider dealing spreads — than the majors.  Nevertheless, the exact boundary differentiating which are major and which are minor currency pairs can differ somewhat depending on who you are talking to.
For example, many traders and market analysts consider the relatively liquid AUDUSD, NZDUSD and USDCAD pairs to be the minor currency pairs, while others would include those pairs along with the majors or might instead give them the alternative designation of commodity currencies, or even comdollars for short.
Another frequently debated terminology question involves whether or not the more liquid major currency cross rates like EURJPY, EURGBP, GBPJPY and EURCHF — that often even have their own professional Interbank market makers and foreign exchange brokers— would be included among the minor currency pairs.
Some forex traders also include among the minors the more actively traded currencies from among the currencies of Africa, Scandinavia, the Middle East, South America, South East Asia and other developing regions.
On the other hand, the less actively traded currencies from those regions would usually be considered exotic currencies, and their markets often experience very low liquidity. As a result of the challenges in offering reliable prices, currency pairs involving these exotic currencies are rarely offered by online forex trading brokers as trading instruments.
Pros and Cons of Trading the Minors
The primary disadvantage of trading the minors is the relative lack of liquidity that can significantly widen dealing spreads compared to those observed in the majors.  This can increase transaction costs to the point where otherwise successful day trading and scalping strategies are no longer profitable.
Such low liquidity can even make obtaining prices difficult in fast markets that can result in considerable trading losses if you happen to have a leveraged position and be on the wrong side of the market.  Order slippage can also occur more frequently in illiquid markets.
Nevertheless, if you are not a short term trader and have deep enough pockets to weather significant portfolio drawdowns due to the occasional bout of illiquidity, the primary advantage of trading the minors via one of the top forex brokers is that you can have more forex trading instruments to review for high probability trading opportunities.  Volatility can also be higher in such instruments.
Also, minor currencies can display notable and persistent long term trends based on capital flows into and out of their respective countries, depending on the prevailing interest rate differential and the current risk appetite of international investors.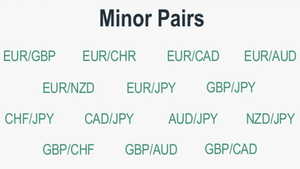 For more exclusive content, follow us on Twitter or join us on Facebook.