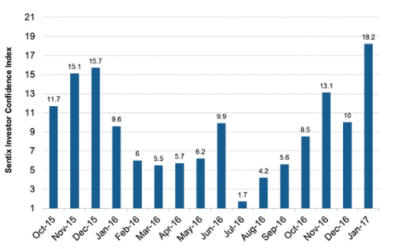 The Sentix Investor Confidence report is a monthly gauge of current business conditions in the 17-member eurozone. Conducted by German market research firm Sentix, the Investor Confidence report is designed to evaluate the sentiment of investors as it pertains to the current and future performance of the economy. This is thought to be important because investment is a major driver of economic activity, which is related to foreign exchange trading.
The report is also conducted in the United States but is viewed as more influential in the European Union and as such is more closely followed in the eurozone.
Sentix Investor Confidence: Purpose and Usage
As mentioned, the purpose of the Sentix Investor Confidence report is to serve as:
A direct gauge of investor sentiment in the eurozone
An indirect indicator of economic activity and growth/decline
It is designed to work in conjunction with other economic indicators to develop a complete picture of the economic outlook for the eurozone. This news is of particular importance to those who trade in the euro and is used as a monthly gauge on which foreign exchange traders can base their moves. Investors also use this report when considering what – if any – investments to make in a given area, especially if a prolonged trend takes place with several consecutive declines or increases in the report's results.
Methodology of the Sentix Investor Confidence
The report is composed of as many as 36 different economic indicators that all relate to the health and well-being of the economy. Most versions of the Sentix Investor Confidence report utilize surveys of anywhere from 800 to 1,000 participants, who are mostly private investors and members of firms and companies.
Questions in the survey involve two distinct groups: questions involving the current economic situation in a given region; and questions involving the expectation for future economic performance over the next six months in a given region.
The results are then taken together and indexed on a scale from -100 (extremely poor outlook) to 100 (extremely positively outlook). Readings around 0 indicate a bivalent opinion. The survey is based on the internet and is released on the first Monday after the first Friday in the month at 10:30 am GMT. These numbers are never adjusted or revised.
Impact on Forex Trading
Tracking consumer confidence is different from investor confidence since they represent two different drivers of the economy. Investors refer to financial professionals and other professionals who expend capital either in real terms, i.e. directly in companies and projects, or financial terms, i.e. through stocks, bonds, and assets.
Evaluating the sentiment of investors is thought to be important because investment is a major economic activity. Some believe that the sentiment and confidence in an economy of investors as a whole is more indicative of the economic outlook as a whole than consumer confidence because investment activity drives the economy more.
As a result, among many foreign exchange traders, the Sentix Investor Confidence report is valuable. However, it suffers from the same limitations of timeliness and vagueness that other confidence surveys do; as such, it does not move the market very much unless there is a sustained trend in play.