Bollinger Bands® are one of the most popular tools used in forex trading.  Traders with an interest in technical analysis regularly use the bands to determine when a currency pair may have been overbought or oversold, or to identify trends.  This article looks at how Bollinger Bands® can be used in forex trading, what their strengths and weaknesses are and where you can go to find out more.
How they work
The best way to understand Bollinger Bands is to see them in action: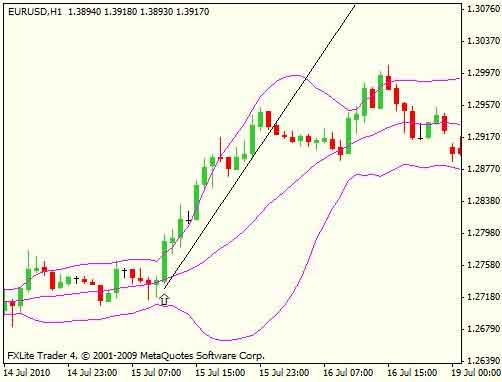 Here is an example of Bollinger Bands® being used in EUR/USD forex trading.  There is an upper band, middle band and a lower band.  The basic premise is that traders begin to sell a currency pair once the candlestick starts to break the upper band, as the pair is seen as overbought.  Conversely, when a candlestick chart breaks the lower band, the currency pair is oversold and so traders will start to buy the pair again.  This is often referred to as 'selling the top' and 'buying the bottom'.  The whole idea of Bollinger Bands is that the price of the currency pair, or whatever is being monitored, is traced by the centre band.
Signals vs. Trends
While being a popular indicator in forex trading, Bollinger Bands® should not be seen as definitive signals for when to trade.  The price of a currency pair will often "walk the band".  That is, it will breakout from the band and not bounce back straight away.  John Bollinger, who created and coined the term, said himself that the bands should not be seen as buy or sell signals on their own.
That's why some traders prefer to use bands to spot trends.  Let's look at the example once again: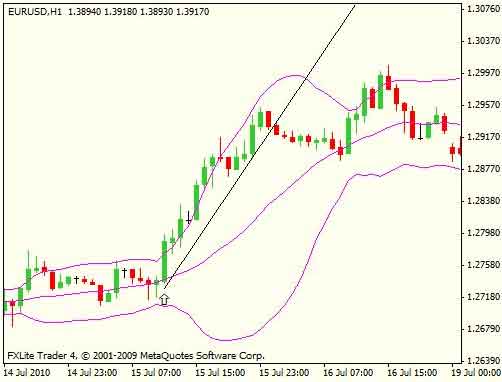 You should be able to notice the distance between the upper and lower bands fluctuate quite dramatically.  The tight band range on the July 14 shows that there was little volatility in forex trading for this day.  When compared to July 15, the bands show significant volatility in the market, triggered by the EUR/USD bull-run.
Establishing low volatility trends with Bollinger Bands® can be very useful, as it allows traders to anticipate a successful break-out.  If the range of the bands is tight, sometimes referred to a Bollinger Squeeze, a big bullish or bearish pressure on the currency pair, indicated by the length of the shadow on the candlestick, might break the band resistance and set the currency pair in an upwards or downwards trend.