We are certainly living in the best time for technological companies. There are a lot of start-ups that quickly become grow-ups and eventually get listed. Most of such companies are designing the products and services we have not been using just a decade ago. Google, Facebook, Apple and Twitter are the most common examples. However, there are also companies like Playtech that are focusing on a very old field – gambling.
Unlike regular casinos or slot machines, Playtech focuses on bringing in technology into the world of gambling. This company also offers quite innovative products, one of such could be bitcoin gambling software for Playtech Bitcoin casinos. One may ask, how successful is Plyatech?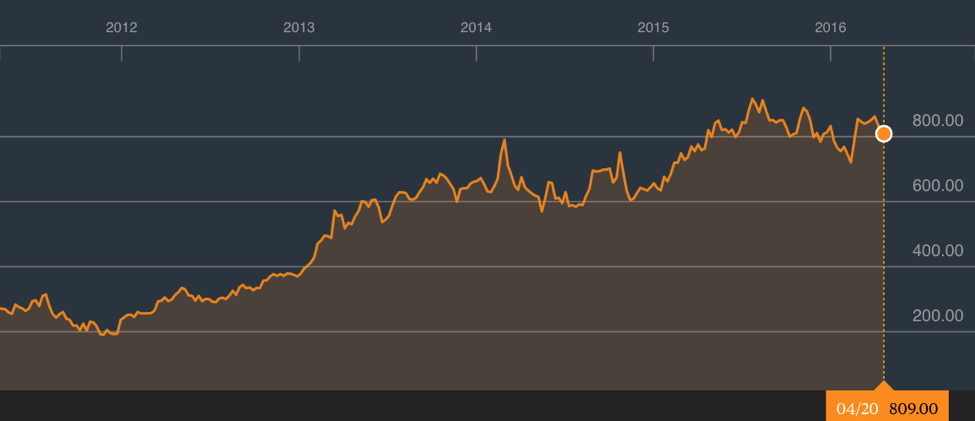 The answer is obvious. Very successful. Within just a period of four years the company has quadrupled its price per share. Listed on London Stock Exchange under the ticker PTEC, the company can certainly be treated as a leader in the online and bitcoin gambling industries. Nevertheless, between the year 2013 and the year 2015 there was quite some stagnation in terms of the share price growth. Let's find out what has contributed mostly to the Playtech's growth after the year 2015.
Impact of Forex and binaries
Online gambling is certainly saturated. The amount of players is limited and the regulators never make the industry easier to accomplish success. This is why such companies as Playtech are required to look for new verticals and additional niches to sustain their growth.
In the year 2015 Playtech started acquiring various FX brands. The major move cost around 450 million euro and it has gotten Playtech one of the largest FX brokerages in terms of client count – markets.com. Since then Playtech hasn't stopped. A few months later it has purchased AvaTrade for 105 million US dollars.  The same time Playtech was looking to acquire another listed company – Plus500. The price was significantly higher and amounted to 460 million pounds. Nevertheless, the deal has not been sealed due to the regulators.
Today Playtech owns a great number of various Forex and binary brands, most notably markets.com, keystock.com, trade.com and around 40 more. Most of those brands were either launched or acquired within the year 2015.
What to expect in 2016?
It is obvious that Playtech has achieved quite some success with the acquisition of FX brands. The timing for this couldn't be better. Many brokers were wounded by the notorious decision of the Swiss National Bank. Hence, we can say that Playtech has made a very good bet on the FX market at the right time. As its gambling business is rather stable, the main fluctuation in its share price in 2016 would depend on the performance of its FX and binary divisions.
Currently it is possible to observe more and more Playtech brands on various FX sites and it is certainly a possibility that by the end of the year, between 30% and 40% of binary accounts will be opened with one of the Playtech's brands. The situation in the FX market is not as bright, the market is larger and the competition is more severe. Nevertheless, whether Playtech decides to invest heavily in the promotion of its trading brands, get rid of these brands by re-selling them or simply maintain the brands without any heavy marketing investments, the stock price is expected to grow as FX sector is currently recovering quite rapidly.