A trailing stop is a popular order strategy used by forex traders that involves moving a stop loss order closer to the prevailing market once the market has moved in the direction that favors an established trading position.
The ability to leave trailing stops is now offered by many of the best foreign exchange brokers, and trailing stops can also be implemented locally in a software format by using some popular forex trading platforms.
Example of a Trailing Stop
As an example of using a trailing stop, a forex trader might establish a long position in EUR/USD with an online forex broker at 1.4500. They might then initially place their stop loss order level at 1.4400 in order to manage the risk in their online trading account, while also entering a take profit order at their objective of 1.4700.
If they wanted to use an automatic trailing stop of say 50 pips, they might instruct their supportive online forex broker to move their stop loss level up by 50 pips once the market has moved up by at least 75 pips from its last stop set level.
This means that if the market trades at 1.4575, their stop loss order will be automatically trailed upward to the 1.4450 level. Furthermore, if the market then trades at 1.4650, their stop loss order will then be trailed up to the trade's 1.4500 breakeven point.  Note that using the trailing stop does not affect the take profit level and that it will not be lowered in the case of an unfavorable movement in the market.
Traders who prefer to judge and watch the market themselves might prefer to use discretionary trailing stops. In this example, implementing such a strategy with an online forex broker would just involve entering a new higher stop loss say at 1.4450 when the market moved up to 1.4450, and simultaneously canceling the old lower stop loss order at 1.4400.
Possible Advantages of Trailing Stops
Using a trailing stop when trading via an online forex broker can offer considerable advantages to the trend trader who seeks to follow a prolonged market movement until it reverses significantly. A trailing stop order strategy is commonly used by such traders to protect substantial profits accrued on a position and helps them avoid the classic trading pitfall of letting a winning position turn into a loser.
Trend traders might elect to use trailing stops in their online trading account as part of their trade plan whenever a trading position becomes profitable by a significant degree. They can then move their initial stop loss level on the position up to the breakeven point for the trade to help avoid losing money on the position unless slippage occurs on the trailed stop.
Possible Disadvantages of Trailing Stops
Although trailing stops can certainly help protect profits and reduce losses, trailing stops can also present some disadvantages for certain trading strategy types or in some specific circumstances. For example, swing traders might find that trailing stops can cramp their style as they look to take advantage of the back and forth price action common in the more volatile financial markets.
Unlike the trend trader that primarily follows the prevailing market movement, a swing trader's main objective is to trade both with the trend and then to reverse direction to trade along with any subsequent corrections in the hopes of capturing even more potential profit in their online trading account from the market's volatility.  Hence, using a trailing stop rather than just exiting the market when it seems ripe for reversal may result in lower overall profits for an active swing trading strategist.
Another possible disadvantage of using trailing stops is that a trend trader might be taken out of a position prematurely by their online forex broker at the trailed stop level that has been moved closer to the prevailing market when the original trade would otherwise have been a substantial winner if they had just left their stop loss order at its initial level.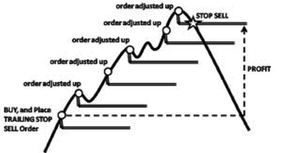 For more exclusive content, follow us on Twitter or join us on Facebook.