EXMO Exchange Review
What is EXMO Exchange?
Unlike the giants like Binance or Bitfinex, EXMO is currently a relatively small cryptocurrency exchange. Founded in 2013, EXMO is located in the UK with headquarters in Polegate, England. While we were preparing this review, EXMO has almost reached an important milestone of 1.5 million users coming from 170 countries globally. However, EXMO shows quite modest figures of 39990 active traders and only 6022 BTC 24h volume.
Oftentimes, there is a certain distrust surrounding small crypto exchanges, as lack of spotlight makes it difficult to confirm the legitimacy of such businesses. Fearing that EXMO would not be an exception, we decided to verify the available information. Although there is no necessity of having the license or regulation outside the US, we did not find any info about the partnerships, company's management etc. Therefore, is EXMO legit? We would not make such a conclusion about the firm's transparency but one should be aware.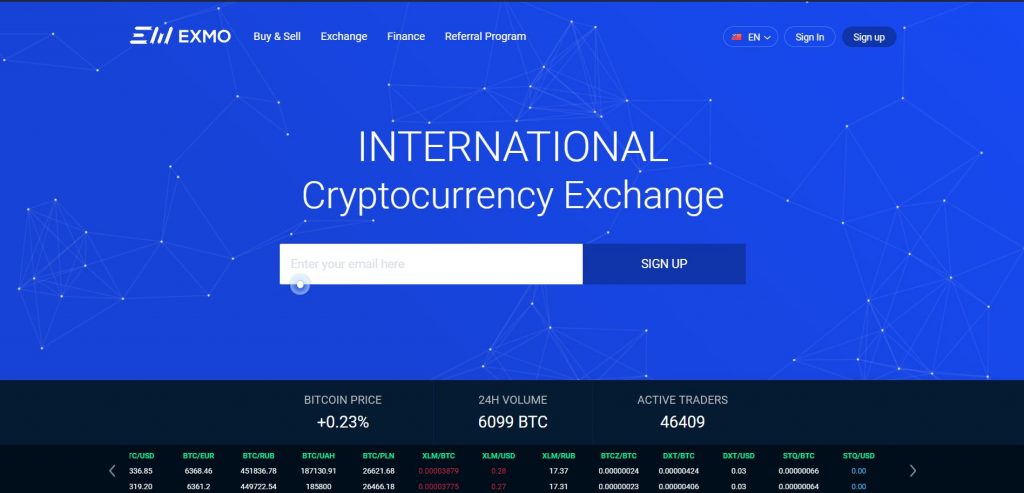 How Secure is EXMO?
Another significant issue for each crypto exchange is the degree of security. When examining EXMO in this regard, we found out that the exchange allows setting up 2FA as well as designating the specific IP Adress for authorized transactions. That's basically it. As for the way EXMO stores the clients' money, the exchange does not reveal such information. However, it is known that EXMO provides the wallets for its users to keep the virtual currency. One can assume that the exchange does not have cold storage facilities to ensure the high degree of security.
So, is EXMO safe? Although EXMO does not have any record of past hackings (likely due to being a small business), we believe there are more secure cryptocurrency exchanges on the market other than EXMO, e.g. Kraken.
Opening an Account at EXMO
EXMO keeps the registration simple. In fact, the account can be created within 1 minute. No verification is required upon the account opening, but this may be useful to make for other purposes. More specifically, EXMO grants the access to additional services such as bank transfer services (SEPA/Wire Transfers), Skrill, Neteller, Payza, USD and EUR cash withdrawal to the bank card.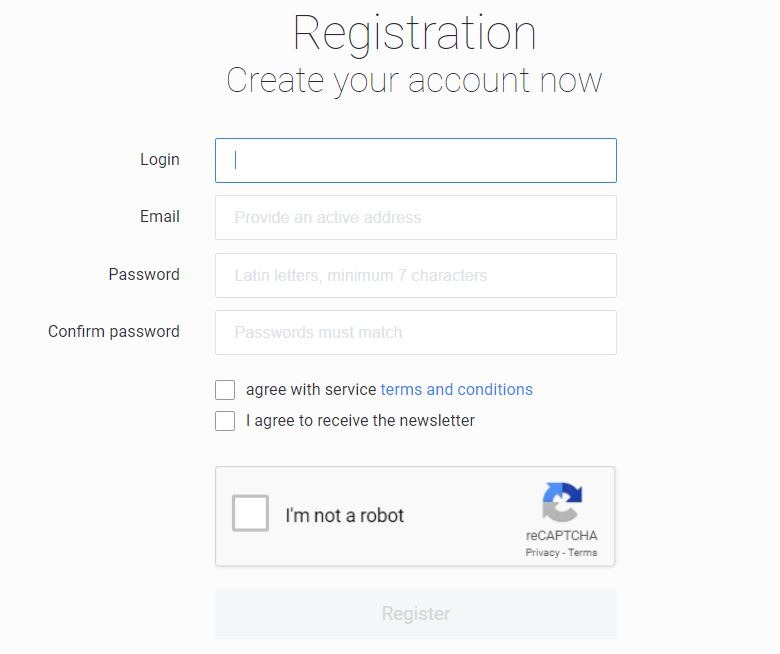 EXMO Payment Options
As this EXMO review figured out, there are multiple payment options offered at this exchange. The user can deposit with credit/debit cards and bank transfers using 5 fiat currencies (USD, EUR, RUB, UAH, PLN),  e-wallets (as mentioned above) as well as cryptocurrencies such as BTC, LTC, DOGE, DASH, ETH, WAVES, ZEC, USDT, XMR, XRP, KICK, ETC, BCH, BTG, EOS, HBZ, BTCZ, DXT, STQ, XLM.
For all transactions, EXMO may charge fees that depend on the payment method. Generally, they range from 0% to 8%.  While all other funding methods incur a commission for the transaction, making deposits with cryptocurrencies is mostly free, although there are exceptions like 5 USDT, 65 HBZ, 20 DXT and 100 STQ. However, the withdrawal fees apply to all virtual currencies. For example, for Bitcoin it would be 0.0005 BTC.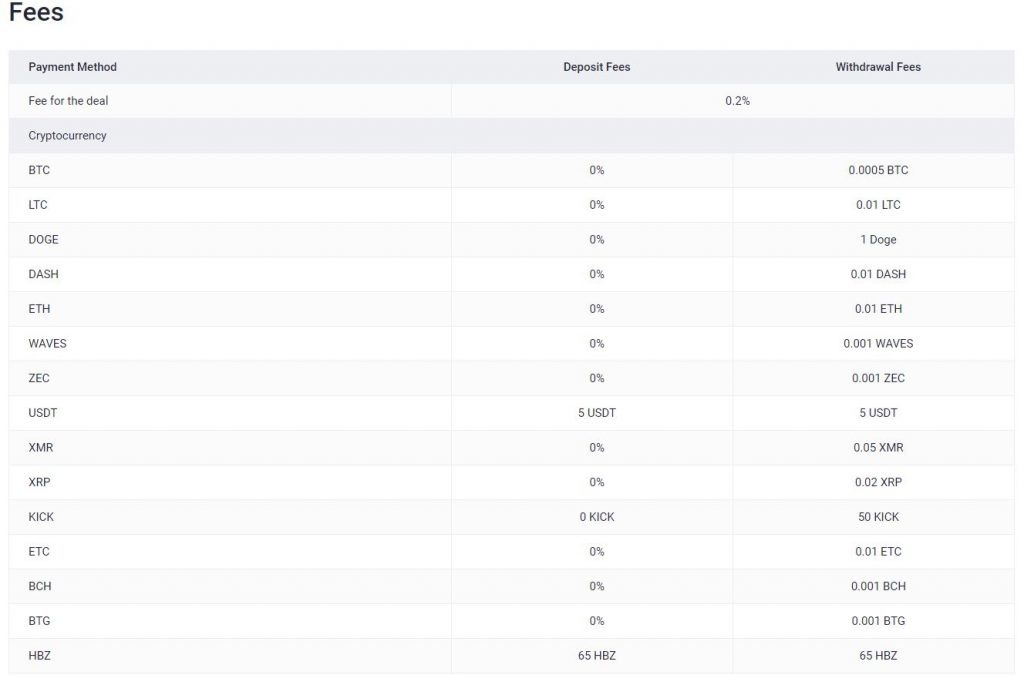 Supported Cryptocurrencies
At the time of this EXMO review 2018, the exchange allows trading 63 currency pairs linked to BTC, ETH, XRP, LTC, USD, EUR, and RUB. For all the deals conducted on EXMO, the exchange charges a flat fee of 0.2%. Such fee policy generally makes EXMO slightly more expensive than the peers.
EXMO Trading Platform Review
For buying and selling the cryptocurrency, EXMO designed its proprietary trading platform. It is entirely web-based, with the mobile applications available for iOS and Android.
Overall, EXMO trading platform is easy-to-use, with all the functionality displayed on the single screen. It provides basic charts (price and volume), with 4 timeframes only – day, week, month and year. Also, traders can post two types of orders, i.e limit, and instant. As an extra feature, on the trading platform, there is a live chat where EXMO traders can freely communicate with each other. On top of that, the platform is accessible in 11 different languages, which is a rarity among the crypto exchanges.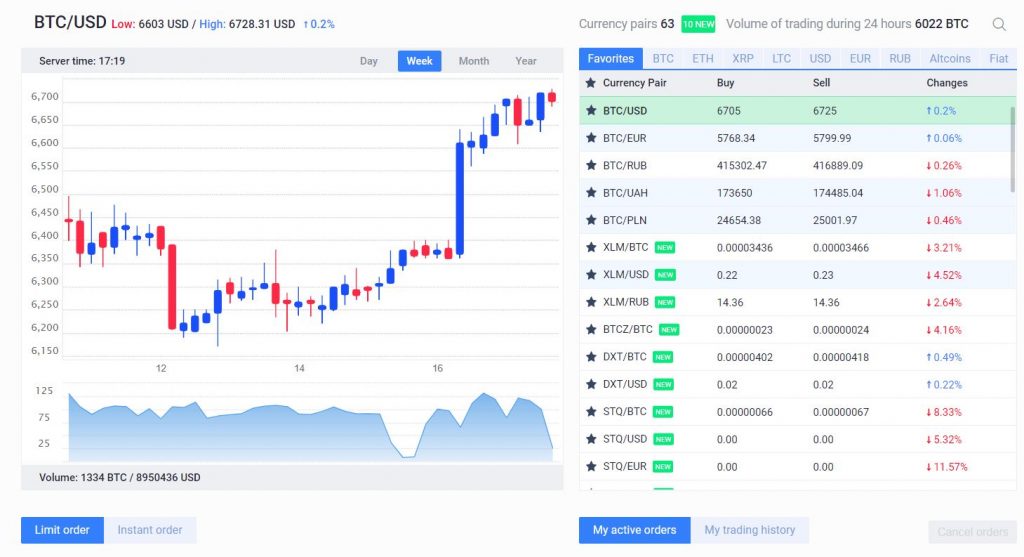 We believe that EXMO is quite suitable for beginners from the simplicity standpoint. On the other hand, advanced traders might be disappointed by the lack of in-depth charting, technical indicators, order customization and margin trading.
Customer Support
The customer support at EXMO is presented only by email. However, for most of the fundamental questions, EXMO designed a special FAQ called Knowledgebase. There is no phone or live chat support available on the website.
EXMO Bonus
In order to increase its clientele, EXMO encourages its existing users to join the referral program. EXMO allows receiving 25% of EXMO's commission for every exchange transaction the referred person carries out. In other words, the program participants will get the 25% of 0.2% flat fee applied to the transaction.

EXMO Review Conclusion
Despite the fact that EXMO is the small exchange with low volume figures, it has a potential for growth. Among the advantages of EXMO, we can outline the availability of multiple payment options, intuitive trading platform, and a multilingual website. However, there are things that exchange should take a closer look at. Indeed, our main concerns are about the security, specifically about the way EXMO preserves the clients' money. Some users ask, is EXMO scam? Although we do not think so, the exchange should disclose more legal and security information to put aside any doubts.
From the trading perspective, EXMO is on the right track. If EXMO extends the number of tradable currency pairs and introduces the advanced functionality to attract professional traders, it will certainly improve the quality of the services.