Kraken Exchange Review
What is Kraken Exchange?
Kraken entered the cryptocurrency industry in 2011 and from that moment transformed into one of the most popular exchanges on the market. As we discovered, Kraken is quite transparent about its company information. We learned that the exchange is owned and is being operated by the company named Payward Inc with Jesse Powell as the actual CEO. Moreover, Kraken headquarters is located in San Fransisco, California, United States. From its main office, Kraken currently offers its cryptocurrency trading services in US, Canada, EU and Japan.
When the cryptocurrency emerged as the global trend, many scams flooded the market trying to deceive the traders. Hence, it is good to ask – is Kraken legit? Although there is no regulation in a conventional sense, Kraken can be trusted. Besides being widely selected by the crypto traders worldwide, the company was the first exchange to pass a cryptographically verifiable proof-of-reserves audit. Such audit confirms that the customer funds are appropriately held. Moreover, Kraken is the partner of various reputable institutions, among which are Germany's BaFIN-regulated Fidor Bank and Tokyo's Government's court-appointed trustee.
How Secure is Kraken?
In the recent years, crypto traders became especially cautious when choosing the exchange and mainly because of the security reasons. Even well-known exchanges like Bitfinex were hacked which led to the severe loss of customer funds. Therefore, is Kraken safe?
At the moment of this writing, there are no reported cases of Kraken security breaches. Furthermore, the exchange has several means of efficiently protecting its clients' data. First of all, Kraken is keeping most of the customer funds in the cold storage (offline) to ensure maximum safety.
Additionally, the exchange utilizes the two-factor authentication, PGP/GPG encryption for email communication, the master key and even the global settings lock. The last one is the ultimate security measure which prevents any changes to be made to Kraken account settings. In addition, this feature hides the sensitive account information.
When conducting our research, we heard about single occasions, when incautious traders got their accounts hacked. Thus, some people were asking, is Kraken scam? In our opinion, no. As it turned out those cases took place because the traders ignored 2FA, so keep this safety measure in mind.
Opening an Account at Kraken
The initial account opening is almost a one-click procedure at Kraken. One has to simply submit the name, email, and password. Once verified, the exchange offers the 4 trading account types – graded from Tier 1 to Tier 4. At the moment of registration, the user is at Tier 0 level – no deposits, withdrawals or trading are enabled at this juncture. Any trading activity starts only with Tier 1 (basic account).
In order to access the actual trading accounts, one has to provide the following info:
Tier 1 – Personal Information (Name, Date of Birth, Country of Residence, Phone Number)
Tier 2 – Adress Verification
Tier 3 – ID confirmation, verified proof of residence, social security number (the US only)
Tier 4 – all of the above. However, to access this account one needs to contact customer support
Each account type determines the limits for deposits and withdrawals as well as the maximum volume.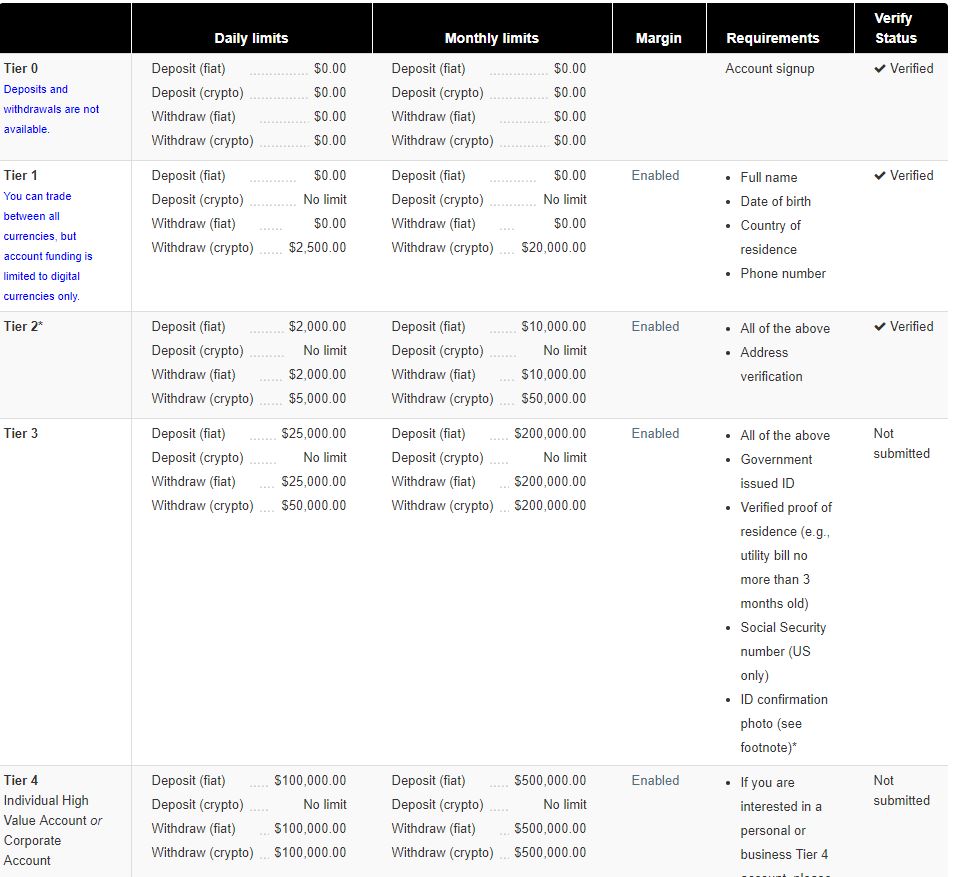 Kraken Banking Options
This Kraken review identified that the exchange allows funding and withdrawing with fiat currencies like EUR, USD, GBP, JPY, and CAD, while also offering 17 crypto funding options including Bitcoin, Ethereum, Ripple, Litecoin etc. Note that depositing with fiat currencies is available only upon reaching Tier 2 account level. In addition, one can utilize Kraken Voucher Deposit code if such is present.
Speaking of the payment means, withdrawals and deposits at Kraken can be made via wire transfers, SWIFT and SEPA (for EEA). Overall, both procedures take about 1 up to 5 working days.
Take into consideration that Kraken applies some fees on deposits and withdrawals, with SEPA being the only free option. You may see the full fee table on the image below.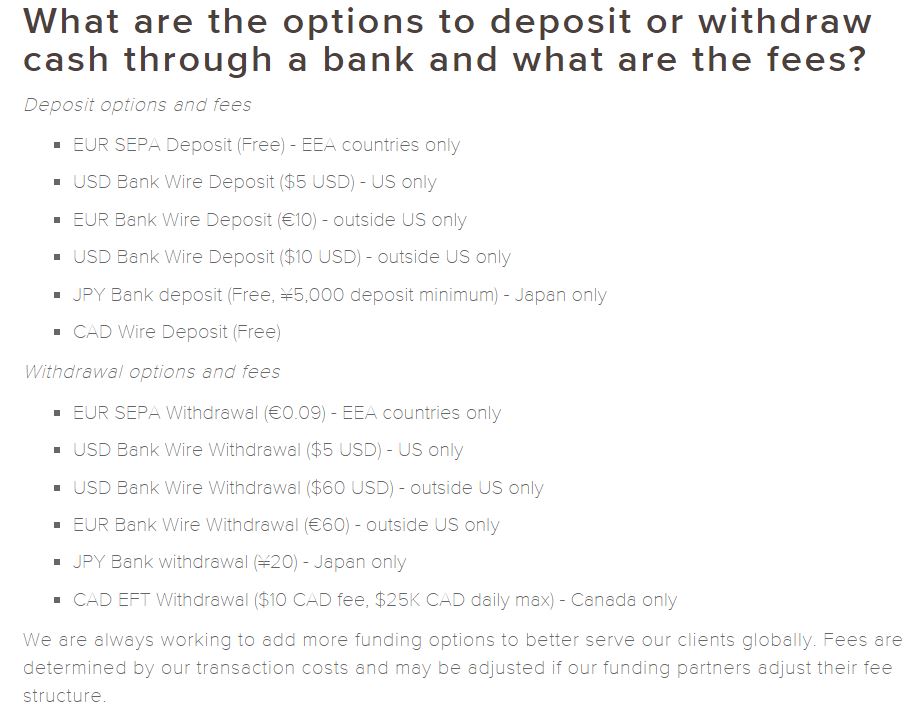 Supported Currencies
Now we suggest moving to the Kraken products, i.e supported currencies to trade. We defined that traders can access the wide range of other virtual currencies on their platform.  These include: Bitcoin (XBT), Ethereum (ETH), Ripple (XRP) Litecoin (LTC), Dash (DASH), Ethereum Classic (ETC), Zcash (ZEC),  Monero (XMR), Bitcoin Cash (BCH), Stellar/Lumens (XLM), ICONOMI (ICN), Dogecoin (XDG), EOS (EOS), Gnosis (GNO), Augur REP tokens (REP), Melon (MLN), Tether (USDT). Furthermore, there are over 100 currency pairs to trade.
Although all of the pairs are intended for spot trading, Kraken enabled the possibility of margin trading as well. In fact, one can use the leverage of up to 1:5. The margin trading comprises of the following pairs: XBT/USD, XBT/EUR, ETH/USD, ETH/XBT, ETH/EUR, ETC/ETH, ETC/XBT, ETC/EUR, ETC/USD, REP/EUR, REP/XBT and REP/ETH.
Kraken Trading Fees
It would not be an exaggeration to say that the trading fees on Kraken are genuinely among the lowest in the industry. To be more specific, the size of the fee depends on the account type – the higher tier permits higher volumes, which in turn translate into lower fees. However, note that the taker ("buyer") pays more than the seller ("maker"). Overall, Kraken review 2018 pinpointed that fees range from 0% to 0.26%.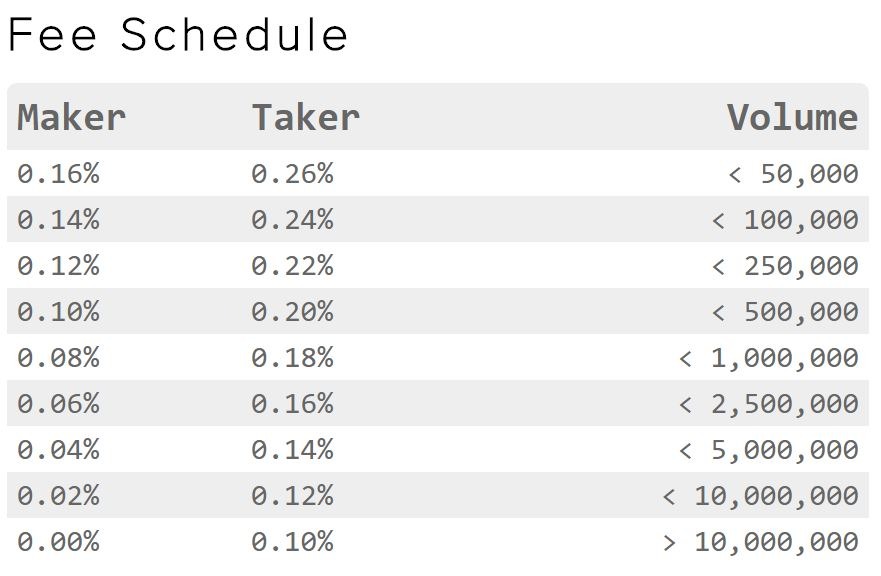 Kraken Trading Platform Review
When it comes to platform, we should certainly underscore the simplicity of using it. Directly on the website, one can place different kinds of orders (e.g. market, limit, stop loss, take profit, settle position), directly select the leverage in case of margin trading, and also choose the preferred fee currency.
However, the strongest asset of Kraken is their "Charting & Trading" Tools. In fact, this feature represents Cryptowatch platform that they acquired in 2017. The platform enables in-depth charting tools – 8 technical indicators, 9 overlays, 13 different time frames and so on. What's more, instead of default order placing on the website, one can trade directly from Cryptowatch too. The whole functionality is available on the single all-inclusive screen, which is great.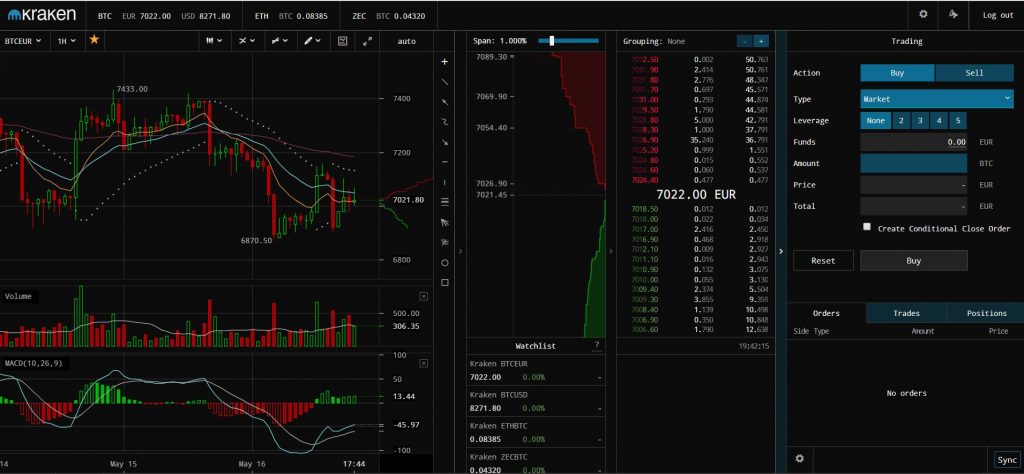 Customer Support
The closing part of this review we should devote to the customer support. In order to contact client support, one has to use the online request form or the live chat. For indirect support, there is a basic FAQ and a quite extensive trading guide. We recommend trying live chat as the response is much faster than submitting a ticket. Apart from us, many Kraken reviews noticed that the response time on the tickets may take up several days which is not good for urgent matters.
Mentioning languages, the website is currently available only in English and Japanese.
The Bottom Line
On balance, Kraken is a good choice for the crypto exchange, especially if the low fees and outstanding security are your priorities. Another advantage is Cryptowatch, as its rich functionality can provide a pleasant trading experience. Although the impression one can have about Kraken is strongly individual, it is hard to deny that the weakest point in Kraken services is the mediocre customer support. Thus, there is certainly a room for improvement here.