Poloniex Exchange Review

What is Poloniex Exchange?
Launched in 2014 in the United States by the current CEO Tristan D'Agosta, Poloniex is a crypto-to-crypto exchange (i.e no fiat) with the established presence in the market. In February 2018, the company was acquired by Circle – the firm backed by Goldman Sachs. Right after the $400 million deal was sealed, Circle already envisioned new strategic goals for Poloniex. At least for time being, it is known that Circle is planning to make Poloniex the first fully regulated crypto exchange. More specifically, the owners want to register their Poloniex brand with SEC and FINRA as a broker/dealer and as a licensed electronic trading marketplace.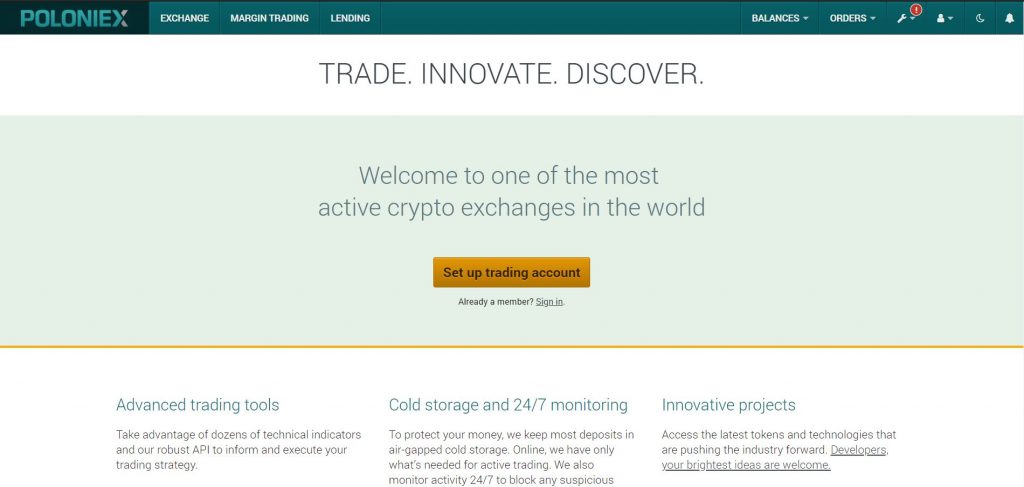 So, is Poloniex legit? Apart from the regulation plans mentioned above, Poloniex is already registered with FinCEN as a money services business.
How Secure is Poloniex?
Back when the exchange was still new in 2014, Poloniex suffered a hacking attack. Although all of the victims got a full compensation for the damage taken, many became discouraged to trade on Poloniex. However, since that time things have changed a lot and here is why.
Poloniex has implemented several layers of security. First of all, the majority of the clients' funds is kept in the cold storage – offline. Just a small portion of funds is stored online, but that is made for facilitating active trading only. Additionally, the exchange has developed the auditing programs, operational 24/7/365. They tirelessly look for and eventually prevent any suspicious activity. Poloniex does not go into specific detail about how actually the auditing programs do their job, but such confidentiality is completely understandable. Platform users can also amplify their account by enabling two-factor authentication (2FA).
After Poloniex invested significant funds to prevent future breaches, their efforts paid off. No hackings were recorded after that incident. Therefore, is Poloniex safe? We believe that yes.
Opening an Account
It is rather easy to open an account at Poloniex. After filling in the basic information and creating the account, one can access Poloniex. However, before trading one will have to get verified, as deposits and withdrawals are disabled at this stage.
In order to start using all of the exchange services, one has to pass the verification check. To do so, the trader would have to provide the personal data such as photos of ID/passport, address (both physical and postal) and phone number. Once Poloniex reviews and verifies the account, the trader will enjoy high deposit/withdrawal limits – $25,000 per day.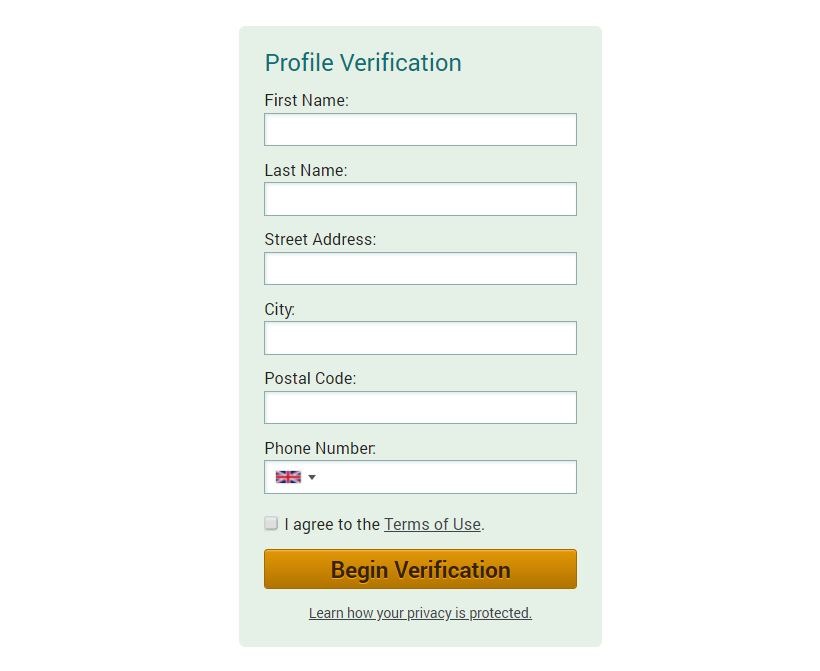 There is also an option to obtain even higher limits, which is especially handy for the high volume traders. However, one has to contact the client support beforehand.
Poloniex Exchange Payment Options
As Poloniex deals in cryptocurrencies only, it is impossible to make any transactions using fiat money, i.e no credit/debit cards or bank transfers. On top of that, for those who want to make their initial investment in the digital currencies, one should look for the different exchange, e.g. Kraken.
Hence, Poloniex offers the wide choice of deposit and withdrawal options – 68 cryptocurrencies are supported.  Both types of transfers are free, only network fees apply. Additionally, it is important to note that there is a minimum deposit requirement on this platform. For example, for Ethereum it is 0.5 ETH. However, considering that the 0.01 ETH is charged in the network fee (same applies to other cryptos too), the trader has to deposit actually greater amount than the specified minimum deposit.
Poloniex Review 2018: Platform
The cornerstone of Poloniex services is its trading functionality. On the platform, the user can trade 97  pairs in total. The margin trading is available too, but the limited number of pairs and in Bitcoin market solely. With the maximum leverage of 2.5x, one can trade ETH/BTC, STR/BTC, XMR/BTC, XRP/BTC, DASH/BTC, DOGE/BTC, LTC/BTC, BTS/BTC, MAID/BTC, FCT/BTC/ CLAM/BTC.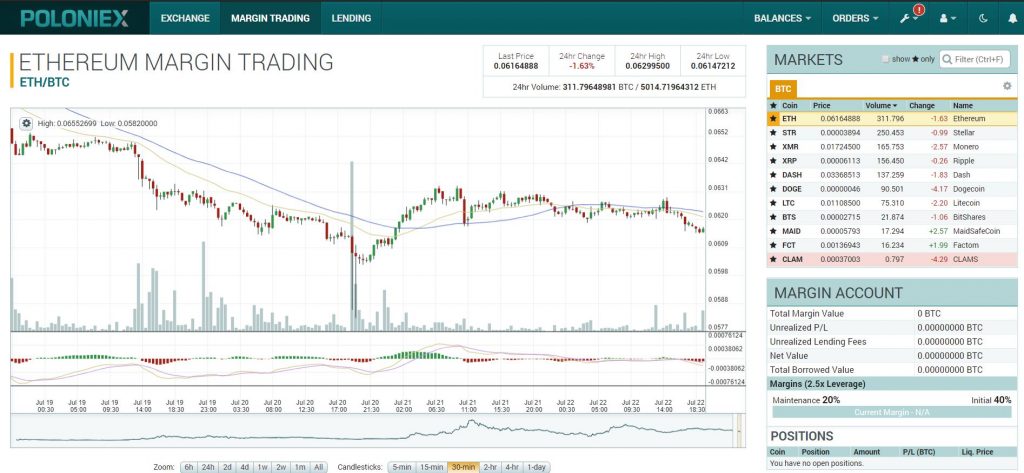 Unfortunately, Poloniex platform would not be suitable for novices. The interface is not beginner-friendly, with a lot of information displayed that might be confusing. In addition, trading with leverage could be very risky for those who only start out.
However, the advanced traders can actually like what Poloniex offers here. Firstly, the platform shows the detailed charts for each pair traded. There are several technical indicators – Fibonacci Levels, SMA, EMA and Bollinger Band. Furthermore, one can zoom the charts in 8 different modes and utilize the 6 timeframes for candlesticks.
There are 3 order types on Poloniex platform – buy, sell and stop-limit. It would be fair to say that the platform lacks more order customization such as one in Bitfinex, for instance.
Last but not the least important is that Poloniex allows its clients to trade on the go, using the mobile apps for Android and iOS. However, those apps are not really good in the current state and have the performance issues.
Poloniex Fees Review
The fee policy is the next point we would like to give special attention to in this Poloniex review. Essentially, Poloniex has chosen to determine the fee size based on the maker/taker status and the 30-day volume in USD. For makers, fees range from 0.10% to 0%, while for takers it is from 0.20% to 0.10%. Generally, the commissions Poloniex charges seem to be quite low and fair.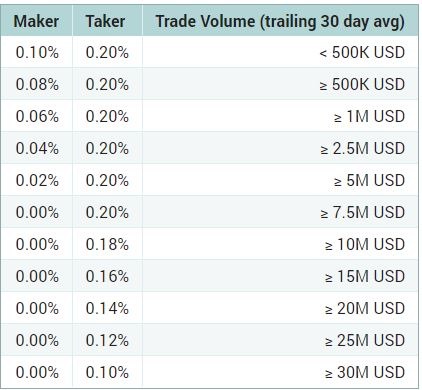 Customer Support at Poloniex Exchange
Perhaps the biggest downside of using Poloniex is dealing with their client support. It has drawn a major criticism from the community and not accidentally. Poloniex allows only to submit the ticket, no phone support or live chat available. Many users on Reddit complained that client support at this exchange is horribly slow and in some extreme cases, it took from 3 to 6 months for agents to reply. After reading so much negativity in the user feedback, somebody may ask – is Poloniex scam? We presume that the support staff simply cannot cope with the huge demand from the customer side. This, however, does not justify Poloniex. Some improvements should happen in this regard.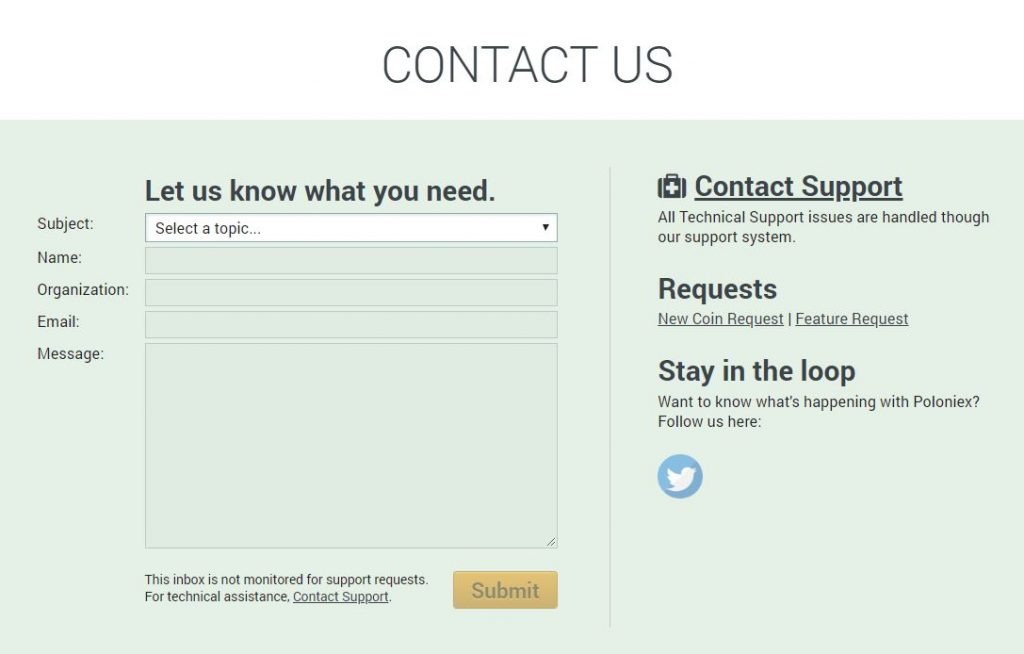 There is also an indirect client support presented by FAQ section, which might be useful.
The Bottom Line
Despite all its problems and visible downsides, Poloniex remains a secure and credible exchange with the great cryptocurrency selection and advanced trading features. For professional traders oriented to trade only in cryptocurrency, Poloniex can provide something they look for, unlike beginners.
We hope that the exchange management listens to complaints and will resolve its current issues, especially long waiting for customer support.