Looking at the GDP growth rates of developed countries compared to developing countries' will certainly raise your eyebrows. It would seem that the growth of economies in developed nations has slowed down and yet there's an economic boom in developing nations.
For example, GDP growth in the United States rose slightly toward the end of the year 2016, 3.5% from the previous 3.2% earlier in the year, after the Federal Reserve raised interest rates. Meanwhile, GDP growth in the UK is still under 1% and expected to drop slightly in the coming months due to the Brexit poll. These relatively small figures can be seen across Europe in countries like Germany, France, Belgium, etc. and in others like Japan.
On the other hand, developing nations are showing excellent economic growth, and Africa, in particular, is showing great promise this year. There are various reasons for the difference in GDP growth rates, among them:
the decreasing population growth rates
investment into developing countries by companies in developed countries
catch-up growth as developing nations adapt proven technologies from developed nations
developed nations already have a huge GDP, and even a slight growth translates to a big number
Given these reasons, one should not jump to invest in a country just because of the GDP growth rate. However, the compounded annual growth rate (CAGR) is a much better measure to determine the growth of a country's economy. It is with this measure, that we're going to analyze some of the best performing African economies to keep an eye on and their currencies.
Ivory Coast
Also known as Côte d'Ivoire, the country's 2017 GDP is projected to rise to 7.5% and with a CAGR above 7.8, it is certainly a rapidly growing economy. The country had been going through tough times, economically speaking, with increasing poverty from 10% in 1985 to 49% in 2008. The economy faced an even tougher downturn when there was political upheaval between 2010 and 2011. Afterwards, the country's economy rebounded and started growing rapidly under new leadership and reforms to the constitution including the eradication of poverty.
These reforms have not gone unnoticed, and there has been a huge increase in donor funding by the World Bank and other independent donors into the billions of dollars. The economic plan adopted it titled the National Development Plan and it aims to raise the country's economic status from developing to emerging just like India and China. The leadership has even managed to keep inflation low, below 1%, to keep this promise.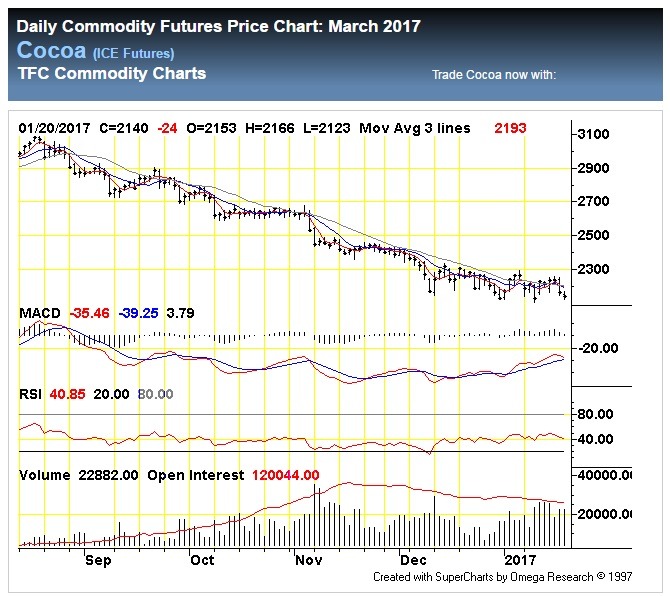 Besides the investments, other boosts to Ivory Coast's expected growth in 2017 include agriculture and mining. The country is the largest exporter of cocoa beans worldwide, and although the price of cocoa has been decreasing throughout 2016, the country still maintained excellent growth. Now, cocoa futures at the Intercontinental Exchange (ICE) shows potential growth as investors are taking long positions, and this could boost the economy even further. In addition, rising crude oil prices, of which Ivory Coast is an exporter will also bring in additional revenue to the country.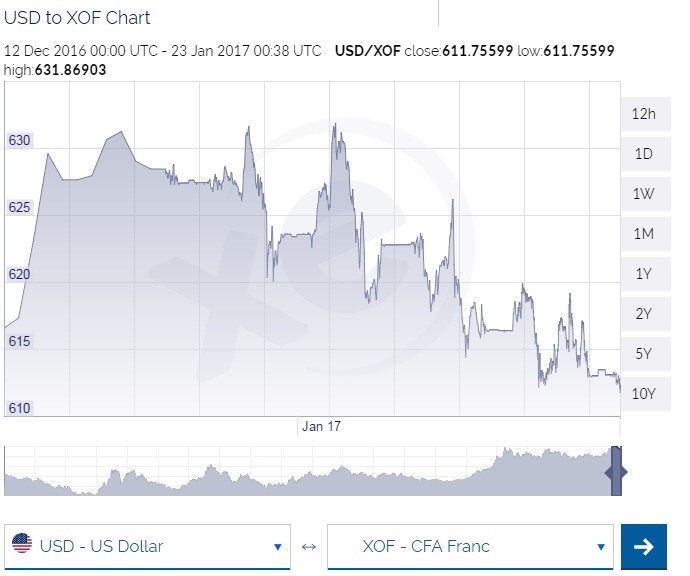 For all the above reasons, you can expect the West African CFA Franc (XOF) to strengthen accordingly, as the economy improves throughout the year. Already, there has been significant improvement with the USD/XOF rate dropping 30 points so far this year, and signs point to further improvement.
Senegal
This westernmost country in Africa is among the most stable countries in Africa, politically speaking, and there have been hardly any political uprisings since 1960 when it got its independence. This political stability has made the country a headquarter to many West African companies, and this has really boosted the service sector which contributes more than half of the total GDP. During the 2011 political upheaval in Ivory Coast, many companies shifted their headquarters to Dakar, Senegal's capital city, improving the country's banking sector and other services such as telecommunication.
In 2016, the country's growth rate was 6.4%, among the highest in the world, and an expected CAGR of more than 6 in 2017 placing it just behind Ivory Coast. The growth of Senegal's economy has been boosted by the Plan for an Emerging Senegal (PES) which seeks to make Senegal an emerging economy. The plan aims to reduce poverty, which is a major concern, and support from the World Bank Group and other investors have seen the poverty gap being narrowed in recent years.
Other dormant areas include the mining sector, such as gold, titanium, marble and phosphate rock. Senegal is already a leading exporter of phosphate rock, but it plans to expand this area and make it among the top producers worldwide. The inclusion of private investments to find other minerals such as oil and precious metals may also boost the country's economy in 2017, as all part of the PES strategy.
Senegal also uses the CFA franc, just like Ivory Coast, and the currency has been growing so far this year and expected to grow even further as the year progresses. However, unlike Ivory Coast which is an oil exporter, Senegal enjoyed the decreasing oil prices, being primarily an oil importer. Now, we shall have to wait and see how this affects its economy in 2017.
South Africa
South Africa has been receiving quite a lot of praise as one of the financial leaders of the African continent. This powerhouse of an economy has been on the top charts of the continent for several years now, only growing as the years pass by. Some of the banks that the country currently hosts have become the best ones the African continent can offer.
Also, there have been numerous occasions when South African financial experts supported other African states in their financial developments. One of the most popular being George van der Reit. Thanks to the teachings and guidance of some of the best South African Forex brokers out there, the continent of Africa has been seeing a lot more activity in terms of Foreign Exchange. This not only helps countries like Nigeria and Zimbabwe to manage their currency rate but also the whole continent as more foreign currencies start circulating in their economies.
Because of such activity are we able to see some of the African states have their currencies appreciate at least a little bit. In terms of South Africa itself developing its economy, it is prevalent that they are quickly becoming a hub for financially literate people. One of the primary reasons why you should be looking at South Africa as a major player in the future of Africa's economy is the migration of thousands of European investors who will soon be restricted of high volume trading on their local platforms. Because of the availability and relatively same timezones, their primary refuge destination will be South Africa, ultimately bringing in more foreign currencies and strengthening the ZAR.
Tanzania
Away from West Africa, Tanzania is a real beacon of hope in the East African and the greater sub-Saharan regions. For a long time, Tanzania's economy has been predominantly agricultural, employing about 80% of the country's residents. With the other main earner being the tourism sector. Ever since the election of President John Magufuli in 2015, though, the country has diversified its economy away from these 2 sectors.
The new president emphasized on expanding the infrastructure, finance and mining sectors in order to diversify. Ever since the new president's tenure, inflation has dropped from 6.5% to 4.9% in a year, and GDP growth rate remained above 7%. The CAGR is also expected to remain above 7% this year, too, and this is bound to attract even more foreign investment. This is going to be crucial because President Magufuli's plans are considered ambitious, although feasible.
So far, there has been a $3.6 billion commitment by the World Bank Group to finance these plans, and the effects can already be felt. The poverty levels are gradually decreasing and production of energy through natural gas has increased electricity supply to more areas in the country. Together with the strides made in infrastructure, more of the country which remains unexplored is expected to become more productive, contributing to the economy's overall growth.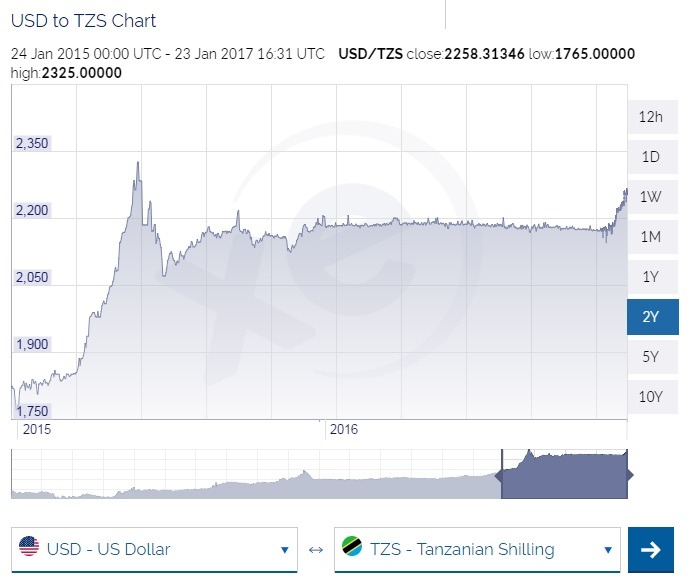 As for the Tanzanian Shilling, there haven't been any improvements, but this is only due to the broad investments being undertaken by the government. It is not clear whether there is going to be any change this year, but the Tanzanian Shilling is definitely a currency to watch this year.
Risky economies
For investors, it is not only about keeping an eye on the promising economies, but also on the riskier ones which could be an opportunity for a profitable short position. The main risk with African economies lies in political instability which affects most countries. A good example is the recent ousting of Yahya Jammeh of Gambia who lost the elections last year but refused to cede power.
Later on this year, there are going to be general elections in Kenya and Rwanda, with the former being prone to political violence. This could bring about a withdrawal by foreign investors during the year in these countries as they keep an eye on events. For these reasons, investors should be wary of any countries facing general elections or referendum polls.