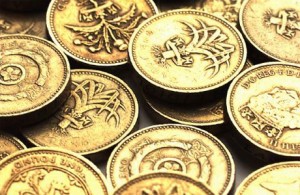 On Wednesday, EUR/GBP extended the rebound at started on Monday. The moves were in the first place order driven. The UK labor market were close to expectations and the CBI reported sales were much better than expected.
However, EUR/GBP even spiked higher after the CBI report. At that time, the move was supported by an (albeit very moderate) rebound in EUR/USD. The pair breaking north of the 0.8500 level triggered additional stop-loss euro buying/sterling selling.
The pair reached an intraday high at 0.8548 late in European trading. From there, a moderate correction (in step with broader EUR/USD sales) kicked in. The pair closed the session at 0.8500, still slightly higher compared to the 0.8480 close on Tuesday evening.
Looking at the price action of EUR/GBP, yesterday's move should be considered as disappointing from a sterling point of view.
Today, the calendar of economic data contains the UK retail sales. Considering recent evidence of other indicators from this sector, the risk might be for the figure to come out on the strong side of expectations. However, as was illustrated yesterday, even such a scenario is no guarantee for a comeback of sterling.
Content provided by: KBC Bank