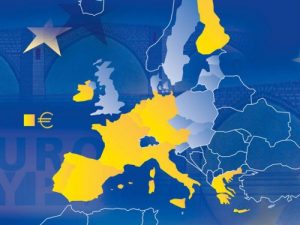 NEW YORK (Forex News Now) – FX traders have shrugged off poor GDP reports out of the euro zone this morning as the French, German, Italian, and EMU reports all fell short of expectations. Industrial Production out of the Euro zone also disappointed.
The French Preliminary Quarterly GDP report came out at a weak 0.4%, which was less than the 0.5% that was expected by economists this morning. The Germans released their quarterly GDP report, and it printed a number of 0.7%, below the consensus estimates of 0.8%. The Italians also disappointed this morning with a quarterly GDP printing of 0.2%, compared to the expected 0.4%. The EMU quarterly GDP fell short, coming in at 0.4%, instead of the expected 0.5%.
The European Industrial Production monthly report printed -0.9% this time around, while most economists expected a reading of 0.4%. This represents a huge miss, and could spell trouble in the future, as the Euro has been pushed northward by FX traders over the last few months.
The driving force this morning seems to be speculation that the ECB might be preparing to step in and stabilizing the situation in Ireland, which has seen Irish 10 year bonds jump from 6 to 9% in just a couple of weeks.
Looking to the charts, the 1.37 level has provided nice support for this pair over the last month, only being broken yesterday. The move today seems to be a retest of that area, and until we get a close above 1.38, should be considered as such. A closing candle above the 1.38 area would certainly bring the 1.40 and 1.42 areas into play.
Being a Friday, it is highly unlikely that traders will be willing to start a major move in one direction or another. As depicted by the two lines, you can see that the area being retested now is significant. A move lower upon proving the retest of the support line could move this pair down to 1.33 in the near future.