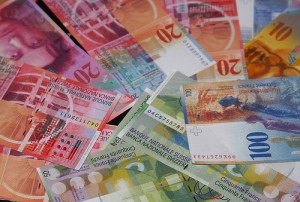 NEW YORK (Forex News Now) – The dollar climbed against the Swiss franc on Friday, extending a rebound, after official data showed that Consumer price inflation in Switzerland unexpectedly ground to a complete halt in August
In European morning currency market trading, USD/CHF struck 1.0142, up 0.3 percent on the day – still close, however, to Wednesday's 9-month low of 1.0065.
Switzerland's statistics agency said its consumer price index, was flat during the month, after dropping 0.7 percent in July. Analysts had expected the index to rise 0.1 percent in August, two realtime forex news outlets reported.
According to intraday analysis, GBP/USD was likely to touch support around 0.9958, the low of Dec. 3, 2009, and encounter resistance around Tuesday's high, 1.0259.
FX traders, meanwhile, awaited key a report from the Bureau of Labor Statistics on U.S. nonfarm employment change in August, as well as data on the U.S. manufacturing sector.
Elsewhere, the Swissy slid versus the euro: EUR/CHF traded at 1.3004, up 0.21 percent.