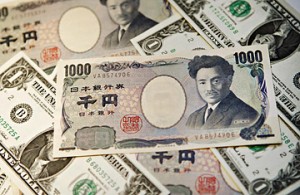 NEW YORK (Forex News Now) – In forex trading news today, the Japanese government released a strong Q3 2010 GDP growth report, accompanied by a slightly better-than-expected industrial production output report.
The Department of National Accounts today released its GDP growth figures for the third quarter of 2010, revealing that the Japanese economy grew by an annualized 3.9% – over twice the rate witnessed in the previous quarter.
Further analysis suggests that a major driver of the surge was consumer spending, which grew by 0.66%. Unfortunately, other movers are in downward trends, which suggests that consumer spending and domestic demand will be the key to sustained growth in the fourth quarter.  Analysts predict that with unemployment stubbornly hovering around the 5% mark and consumer demand struggling to sustain momentum, GDP growth in the fourth quarter will be flat.
Another sign of this possibility came with the forex trading news provided by the industrial production report from the Ministry of Economy, Trade, and Industry.  The agency reported that industrial production in Japan fell 1.6% in September on a month-on-month basis, slightly lower than the estimated 1.9% drop predicted earlier.
Inventory rose by 0.1% – hinting at slowing demand – and shipments dropped by 0.5%.  Exports did increase by 2.4%, but imports offset the gain, rising by 2.7%.
Combined, the two articles of forex trading news create a good deal of information to digest for traders looking to make a move with the yen.  The main trouble with the Japanese economy has been deflation spurred by a strong yen in an export-driven economy.  A strong yen makes Japanese goods more expensive, which results in fewer orders and an overall weaker economy.
The strength in the currency – especially relative to the dollar as of late – is one of the main culprits behind a drop in shipping and rise in the inventory ratio that cannot be reliably offset by domestic demand for much longer. Plus, with the Federal Reserve's controversial QE2 stimulus program announced earlier this month, the dollar will likely weaken – resulting USD/JPY falling too far for comfort.
The agreements tentatively reached at last week's G20 Summit regarding currency manipulation may further hamstring the Bank of Japan in dealing with a rising yen, slumping exports, and flat GDP growth for the next quarter.
Minutes for the Bank of Japan's October meeting will be released on Thursday, and could give hints as to the bank's plans regarding possibly easing monetary policy in the country.