Market Overview: The civil war in Libya escalated last week as troops supporting leader Qaddafi used artillery and helicopter gunships in an attempt to block the rebels' moves to the west from the oil hub of Ras Lanuf.
Oil prices extended gains in the Asian session on today (Monday) amid news that fighting in Libya intensified as Qaddafi's army launched counter-attacks against the rebels. The front-month contract for WTI crude oil price rallied to as high as 105.92.
On the macro side, the February US Nonfarm payrolls report released on Friday indicated that the us job market added 192,000 new jobs, slightly better than expected. US February Unemployment dropped to 8.9%, good news and back down to where it was in April 2009
The US ISM Service index rose to 59.7, the highest level since 2005. On a related note, the ISM manufacturing index hit a multi-year high of 61.4, exceeding the Briefing.com consensus of 60.5.
In USD news, the US dollar has not been much of a recipient of safe-haven flows lately, Due to the comments regarding the ECB raising its interest rate next month while In the US a Rate hike is expected in the first quarter of 2012 only.
EUR/USD analysis: The Euro jumped to a fresh four-month high above 1.40 during Friday's session after European Central Bank President Trichet said the central bank may need to raise rates as early as next month. The Euro currency rallied against the US Dollar from a low of 1.3939 after Trichet told reporters in Frankfurt an "increase of interest rates in the next meeting is possible" as inflationary pressures mount.
Resistance; 1.4000, 1.4091, 1.4121, 1.4280
Support; 1.3912, 1.3870, 1.3804, 1.3780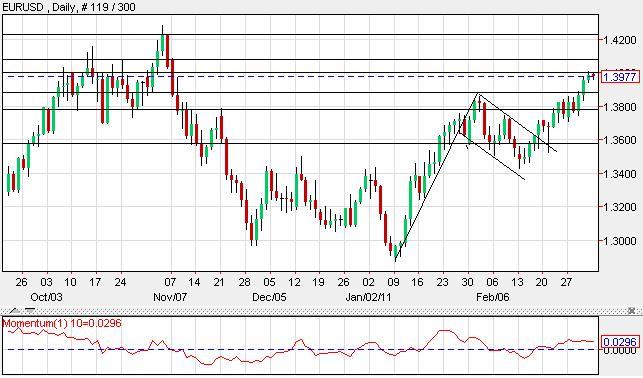 GBP/USD news: During Friday's session, the currency peaked at 1.6304 and there was little to encourage further buying after the England House Price Index fell 0.9 % in February. Weak economic data is hampering the pound at the moment and it may not get much assistance this week when The Bank of England is expected to leave interest rates on hold at 0.50 % on Thursday.
Resistance; 1.6304, 1.6347, 1.6494
Support; 1.6250, 1.6282, 1.6094, 1.600